News
Creative Action Taken for Better Health
Youth Program Brings Community Issues into Focus
Hundreds of sixth, seventh and eighth graders from Boston and Cambridge came to campus on June 4 to learn about health issues prevalent in urban communities. The event was Reflection in Action: Building Healthy Communities (RIA), established by the HMS Office for Diversity and Community Partnership. Prior to the event, students entered a contest, submitting written, visual and performance pieces on topics such as heart, lung, and blood diseases; sleeping disorders; oral health; and health disparities. The winners displayed or performed their projects during the program. Participants also took part in activities such as a health fair and the Health Bowl, a quiz show–style game.
This year's program also included the inaugural Youth Leadership Awards, which recognize two middle schoolers and two high schoolers who exhibit leadership qualities and who represent the vision and purpose of RIA.
Pictured above with Joan Reede, HMS dean for diversity and community partnership, is Leadership Award recipient Andrew Edge from Lilla G. Frederick Pilot Middle School. The fourth annual Ruth M. Batson Social Justice Award, which recognizes commitment to social justice, civic engagement, building community and advancing equity, was also announced at the event. The award went to James Mullen, CEO of Biogen Idec, Inc.
Maurizio Fava First to Hold Slater Family Psychiatry Professorship
Maurizio Fava might have become a basketball phenom for his play in the farm league in Italy, or a rock star since his group's recording still sells decades after being pressed, or a mediator since his negotiations for better conditions led to changes in the Italian military. But instead, Fava took up medicine and psychiatry. On May 21, nearly 100 people celebrated his appointment as the first incumbent to the Slater Family Professorship in Psychiatry in the Field of Depression Studies at HMS and Massachusetts General Hospital.
Alvin Slater, who died in 2006, earned a JD from Harvard Law School in 1946. A real estate attorney, Slater represented many Boston-area banks. Above all else, said his son Kenneth, Alvin Slater saw education as a virtue.
Kenneth Slater, codirector of the Slater Foundation, which, together with other family resources, is helping fund the professorship, said that establishing the professorship has given his family deep satisfaction. "My family is happy to be a part of two great institutions—Massachusetts General Hospital and Harvard Medical School—and to collaborate in the effort to keep Maurizio Fava working with both."
Fava is executive vice chair of the hospital's Department of Psychiatry. A world leader in research on depression, he also directs its Depression Clinical and Research Program.
"Our department," said Jerrold Rosenbaum, the Stanley Cobb professor of psychiatry at HMS and psychiatrist-in-chief at MGH, "is often the court of last resort for patients who have been failed by medicine's treatments for depression." Referring to the clinical reputation that since 1996 has garnered his unit a top national ranking in U.S. News & World Report, Rosenbaum continued, "But if Fava were the only one who remained in our department, we would still be number one."
To Slater's widow, Shirley, Dean Jeffrey Flier presented a commemorative Revere bowl. "Our institutions are strengthened by your commitment and our partnership is enhanced," he said. "For that, we remain forever grateful."
Rabkin Fellows Named for Leadership in Medical Ed
The Shapiro Institute for Education and Research at Beth Israel Deaconess Medical Center has named the 2010–2011 Rabkin Fellows in Medical Education. They are Peter Clardy, HMS instructor in medicine at BID; Lauren Fisher, HMS instructor in anesthesia at BID; Katherine Johnston, HMS instructor in medicine at BID; T. David O'Halloran, HMS instructor in medicine at BID; Diane Stafford, HMS instructor in pediatrics at Children's Hospital Boston; and Corrie Yablon, HMS instructor in radiology at BID.
The Rabkin Fellowship in Medical Education was established in 1998 to give faculty an opportunity to develop the expertise and skills needed to launch or advance academic careers in medical education or academic administration. Rabkin fellows are required to undertake an analytic study, research or educational project focusing on an important issue in medical education and present the results in a written report as well as orally at a concluding symposium. They work with a mentor and support to one another by reviewing their co-fellows' projects. Many graduates of the program have subsequently led significant curricular and programmatic changes at their respective HMS-affiliated institutions and have assumed educational leadership positions at local, regional and national levels.
Ophthalmology Chair Takes Award for Advancing Women Faculty
Joan Miller, the Henry Willard Williams professor of ophthalmology at HMS and Massachusetts Eye and Ear Infirmary and chair of the Department of Ophthalmology at MEEI, recently recieved the 2010 Joseph B. Martin Dean's Leadership Award for the Advancement of Women Faculty, which recognizes faculty members committed to the recruitment, retention and advancement of women at HMS and HSDM. In 2007, the award was renamed to honor its creator, Joseph Martin, former dean of the Faculty of Medicine, who initiated the award in 1998. Miller is the 16th recipient.
"I am delighted that HMS is able to honor Joan Miller with this important award," said HMS Dean Jeffrey Flier. "Dr. Miller has shown tremendous leadership in helping advance the careers of women faculty and is truly a role model for our senior faculty in this regard."
Miller, who is also the chief of ophthalmology at Massachusetts General Hospital, is both the first female clinician–scientist to become professor of ophthalmology at HMS and the first woman to chair the department. During her tenure, she has contributed to the recruitment of 17 women faculty to MEEI and has greatly increased the number of female residents and has appointed women to leadership positions in patient care, teaching, research and administration. In addition, she restructured the maternity leave policy to reduce the impact upon the salaries of those taking leave. Miller is a founding member of Women in Retina and a member of the advisory board of the Women's Eye Health Task Force.
Superb Mentors Receive Their Laurels
The 2009–2010 Excellence in Mentoring Awards were presented amid a full house on June 1 in the TMEC amphitheater. The awards, which consist of the Young Mentor Award, the A. Clifford Barger Excellence in Mentoring Award, and the William Silen Lifetime Achievement in Mentoring Award, recognize the efforts of extraordinary mentors and celebrate the impact that mentoring has on both the mentor and mentee. To that end, many of the recipients said it was a thrill to be recognized for a part of their jobs from which they derive so much joy.
"It's just a pleasure and an honor to get an award for something that's the most enjoyable, rewarding part of my job," said Wanda Phipatanakul, a winner of the Young Mentor Award, whose family, including her father from St. Louis, turned out for the event. "It's a pleasure to help people younger than me succeed." Phipatanakul, HMS assistant professor of pediatrics at Children's Hospital Boston, is pictured above with one of her nominators, HMS instructor in pediatrics William Sheehan.
Banner Day for Haiti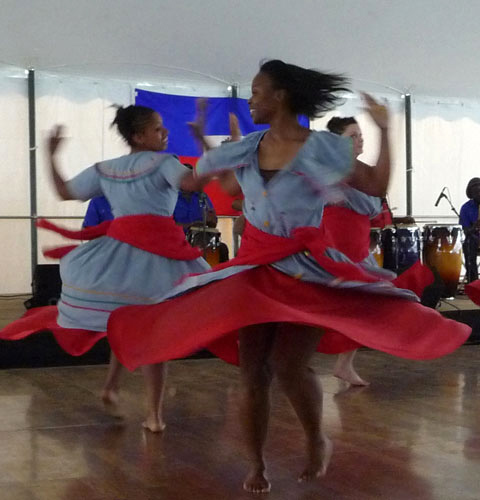 To celebrate Haitian Flag Day, and to raise awareness of the ongoing needs of post-earthquake residents of Haiti, HMS, HSDM and HSPH held a program called Honoring Haiti on May 18. Participants sampled Haitian cuisine and enjoyed performances by a Haitian poet, musicians and dancers. Rubber wristbands proclaiming support for Haiti were available for purchase, with the proceeds benefitting Partners In Health. Above, Jean Appolon's dance ensemble enlivens the Kresge Courtyard.
Top Faculty Teachers Recognized
The Program in Medical Education presented the HMS Teaching Awards to 12 recipients on May 10. The awards honor faculty and staff who have made significant contributions to medical education on the Quad and at the affiliated hospitals and institutions. Students nominate the teachers who make the biggest impression, and a committee made of up faculty and staff selects the recipients.
"Today is one of my favorite days of the year," said Jules Dienstag, HMS dean for medical education, in his opening remarks. "It's the day we take time out of our busy schedules to recognize our most valued teachers, our most successful teachers." HMS is fortunate HMS is to have so many talented and dedicated teachers, he said, the kind that leave an impression on students long after they earn their diplomas.
The recipients of the 2010 HMS Teaching Awards appear below.
Donald O'Hara, PhD, Faculty Prizes for Excellence in Teaching
Lee Gehrke, professor of health sciences and technology and professor of microbiology and molecular genetics
David Jones, lecturer on social medicine

Charles McCabe, MD, Faculty Prize for Excellence in Teaching
Maren Batalden, instructor in medicine at Cambridge Health Alliance
Elizabeth Breen, assistant professor of surgery at Brigham and Women's Hospital
 
HMS Special Faculty Prize for Sustained Excellence in Teaching
Daniel Goodenough, the Takeda professor of cell biology

S. Robert Stone Award for Excellence in Teaching (Beth Israel Deaconess Medical Center)
Amy Ship, assistant professor of medicine at BID
Leo A. Blacklow Award (Mt. Auburn Hospital),
Patrick Gordon, instructor in medicine at Mt. Auburn Hospital
The Bernard Lown Teaching Award at Brigham and Women's Hospital
Tracey Milligan, instructor in neurology at BWH
Cynthia N. Kettyle Teaching Award (HMS Psychiatry)
Robert Goisman, associate professor of psychiatry at Massachusetts Mental Health Center
Michael Kahn, assistant professor of psychiatry at BID
AAMC Humanism in Medicine Award HMS Nominee
Valarie Pronio-Stelluto, assistant professor of medicine at Mt. Auburn Hospital
L. James Wiczai Award for Leadership, Excellence, and Innovation in Medical Education
Jacqueline Almeida, education specialist at the Shapiro Institute, BID
Grant Powers Development of Bacterial Fuel Cell
The Wyss Institute for Biologically Inspired Engineering has received a $4.2 million grant from the Department of Energy (DOE) to develop new approaches for advanced microbial biofuels that can convert sunlight to electricity. The Wyss award is one of 37 research projects selected as having the most potential from among 540 applicants. A total of $106 million in project funding comes through DOE's Advanced Research Projects Agency-Energy (ARPA-E).
The Wyss project, titled "Engineering a Bacterial Reverse Fuel Cell," will be led by Pam Silver, HMS professor of systems biology, with George Church, HMS professor of genetics, and Jim Collins, of Boston University, all of whom are founding core faculty members of the Wyss.
Current technologies for making biofuels, which rely on photosynthesis, are highly inefficient—only about one percent of the absorbed sunlight is converted into stored chemical energy. Wyss researchers will be developing a bacterium that uses electricity, which could come from renewable sources, to convert carbon dioxide into gasoline. The bacterium would thereby act like a reverse fuel cell, starting with electricity and producing fuel rather than using fuel to produce electricity.
Researchers will also construct a device that combines features of an electrochemical cell with a specialized microbial fermenter, into which electricity can enter to drive bacterial metabolism. At the same time, the investigators will be conducting research into the metabolism of the engineered bacteria. These efforts are expected to result in a new system that is significantly more efficient at converting sunlight into electricity.
Year End Awards
HMS Student Awards
Kenneth Gundle and Omar Haque, Richard C. Cabot Prize
Vijay Sankaran, Henry Asbury Christian Award
Sabrina Carrié and Michelle Scott, Community Service Award
Jamie Der Joon Chang, Society for Academic Emergency Medicine Excellence in Emergency Medicine Award
Erica Carmen Kaye, Bemy Jelin '91 Prize
Jessica Greenberg, Lianne Morris Smith, Melody Russell, Chirisse Taylor, Venis Wilder, Multiculturalism Award
Robert Daly Jr., Leonard Tow Humanism in Medicine Award
Joanna Choi, The New England Pediatric Society Prize
Timothy Lu, Leon Reznick Memorial Prize
Stephen Huffaker and Ganesh Shankar, Dr. Sirgay Sanger Award
Jeffrey Dixson, Rose Seegal Prize
Alexander Marson, James Tolbert Shipley Prize
Faculty and Staff Awards
David Cardozo, assistant professor of neurobiology, Best Preclinical Instructor
Valerie Pronio-Stelluto, assistant professor of medicine at Mt. Auburn Hospital, Best Clinical Instructor
Robert Sundel, associate professor of pediatrics at Children's Hospital Boston, Best Clinical Instructor
David Roberts, assistant professor of medicine at Beth Israel Deaconess Medical Center, Best Clinical Instructor
Marc Dey Moya, assistant professor of surgery at Massachusetts General Hospital, Best Clinical Instructor
Harley Haynes, professor of dermatology at Brigham and Women's Hospital, Best Clinical Instructor
David Bor, the Charles S. Davidson associate professor of medicine at Cambridge Health Alliance, Best Clinical Instructor
Valerie Pronio-Stelluto, assistant professor of medicine at Mt. Auburn Hospital, Leonard Tow Humanism in Medicine Award
Carla Fujimoto, assistant director of student affairs, Overall Contribution to Student Life and Education at HMS
Health Sciences and Technology Institute Awards
Roger Mark, assistant professor of medicine at BID, and W. Hallowell Churchill Jr., associate professor of medicine and of health sciences and technology, London Teaching Award
Jeffrey Karp, HMS assistant professor of medicine at BWH, McMahon Mentoring Award
Zoltan Arany, assistant professor of medicine at BWH, Seidman Prize
Warren Zapol, the Reginald Jenney professor of anesthesia at MGH, Biomedical Enterprise Program Teaching Award
W. Hallowell Churchill Jr., HST Director's Award
Irun Bahn, Seidman MD Student Research Prize
Sharon Fox, Graduate Teaching Award
Ethan Sanford, Martha Gray Prize for Excellence in Research, Bioinformatics and Integrative Genomics
YongKeun Paul Park, Martha Gray Prize for Excellence in Research, Imaging, Acoustics and Optics
L. Nicolas Gonzalez Castro, Martha Gray Prize for Excellence in Research, Regenerative and Rehabilitative Biomedical Engineering
Honor Hsin, Martha Gray Prize for Excellence in Research, Physiology and Systems Biology
Laurel Lee and Matthew Hemming, Martha Gray Prize for Excellence in Research, Cell and Molecular Biology
Matthew Crema Martha Gray Prize for Excellence in Research, Biomedical Devices and Technology
HSDM Faculty, Staff, and Student Awards
Hyewon Lee, Harvard Dental Alumni Association Gold Medal
Aaron Havens, Harvard Dental Alumni Association Silver Medal
Bryan Paul Jacobs, Dr. Norman B. Nesbett Medal
Hani Haytham Mawardi, James H. Shaw Award
Kevin Arthur Guze, Joseph L. Henry Award
Irma Thesleff, Paul Goldhaber Award
Maria Troulis, associate professor of oral and maxillofacial surgery at Massachusetts General Hospital, Distinguished Senior Faculty Award
David Kim, assistant professor of oral medicine, infection, and immunity, Distinguished Junior Faculty Award
Brian Chang, lecturer on restorative dentistry and biomaterials sciences, and C. Thomas Stefl, clinical instructor in restorative dentistry and biomaterials sciences; Outstanding Faculty Teaching Award
HSPH Prizes and Awards
Ellen Connorton and Stella Safo, James H. Ware Award for Achievement in the Practice of Public Health
Michelle Lugalia, Albert Schweitzer Award
Dan Schwarz, Dr. Fang-Ching Sun Memorial Award
Husain Gulamhusein, Gareth M. Green Award for Excellence in Public Health
Justine Kaplan, Student Recognition Award
Margaret Frances Gregor, Edgar Haber Award in Biological Sciences
Wei Dai, Robert B. Reed Prize for Excellence in Biostatisical Science
Julia Finkelstein, Uwe Brinkmann Memorial Travel Award
Behrooz Behbod, Miguel Marino and Monica Wang, Teaching Assistant Award
Faculty
Michelle Mello, professor of law and public health, Roger L. Nichols Excellence in Teaching Award
Francis Cook, professor of epidemiology; Laura Kubzansky, associate professor of society, human development and health; E. John Orav, associate professor in the Department of Biostatistics; Dorothy Puhy, adjunct lecturer on health management; and Howard Rivenson, lectuer on health management, Teaching Citation
Sofia Gruskin, associate professor of health and human rights; Gökhan Hotamisligil, J.S. Simmons professor of genetics and metabolism; Richard Levins, John Rock professor of population sciences; and James Shine, senior lectuer on aquatic chemistry, Mentoring Award 
In Memoriam
Bert Vallee, the Paul C. Cabot professor emeritus of biochemical sciences at HMS, died on May 7. He was 90 years old.
Vallee was at the forefront of analzing protein structure and pioneered research on metals in biological systems. He established the Biophysics Research Laboratory at HMS and at the Peter Bent Brigham Hospital, a predecessor of Brigham and Women's Hospital. His heralded discovery of zinc in the enzyme carboxypeptidase and his two decades of research on the roles played by zinc in the catalytic mechanism of carboxypeptidase earned him the title "father of metallobiochemistry" and set standards for the field.
Vallee also contributed substantially to the understanding of the role of alcohol dehydrogenase, a zinc metalloenzyme, in the metabolism of ethyl alcohol. His work in this area led to a pharmacologic treatment of alcohol dependence in animal models thatis now being extended to humans. As a consultant to the Monsanto Company, Vallee forged one of the earliest collaborations between a university and industry. The purpose was to identify and isolate chemical substances that spurred the growth of new blood vessels in tumors. The Vallee laboratory went on to characterize one of these, known as angiogenin.
Vallee received his medical degree from New York University School of Medicine in 1943 and interned at Mt. Sinai Hospital in New York City. During WWII he was assigned to the HMS–MIT team that worked with E.J. Cohn on the blood preservation program, which ignited his long interest in trace metal analysis and proteins. Vallee joined the HMS community as a research fellow in 1946 and spent a year at MIT exploring spectral physics and analytical spectroscopy, assessing the role of metals in biological systems. He rose steadily through the ranks at HMS and served as assistant professor of medicine from 1956 to 1960, associate professor of medicine from 1960 to 1964, professor of biological chemistry from 1964 to 1965 and the Paul C. Cabot professor of biomechanical sciences from 1965 to 1989 until retiring as emeritus in 1989. He continued to serve HMS as a mentor to faculty engaged in research as the Edgar M. Bronfman senior distinguished professor from 1995 to 2008.
Fifteen years ago, Vallee created a foundation whose purpose is to promote international collegiality through month-long visits of accomplished scientists to and from Harvard and other leading universities.
Vallee is survived by his wife of 65 years, Natale. A memorial service will be scheduled. Memorial donations can be made to the Bert L. and N. Kuggie Vallee Foundation, Inc., 300 Boylston Street, Boston, MA 02116.
Follow
HMS
Stay informed via email on the latest news, research, and media from Harvard Medical School.