News
Change in Medicine Theme for New HMS Grads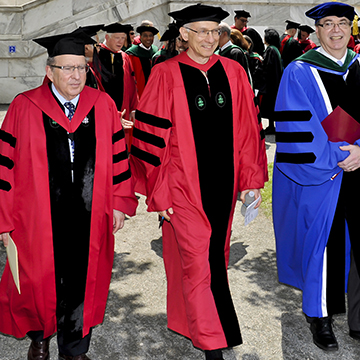 The rapid pace at which health care and medicine are changing was a key theme on Class Day 2013,as graduates and faculty from Harvard Medical School and Harvard School of Dental Medicine joined families and friends on the Quad May 30 for the traditional Class Day ceremony.
HMS keynote speaker Harvey Fineberg '71, president of the Institute of Medicine, told graduates that their generation of physicians must interpret and apply the precepts of what it means to be a medical professional in light of new forces acting on health and the practice of medicine. Excerpts from Class Day speeches appear below.
Harvard Medical School Keynote Speaker Harvey Fineberg
Fineberg spoke of pivotal forces that are redefining the medical profession, outlining what this redefinition will mean for the careers of the new graduates. Expanding on the theme of change, Fineberg said that modern physicians must be able to temper a prime responsibility to the individual patient with a professional responsibility to all patients.
"Put patients first. If you put your patients first, everything else will fall into place. No matter how molecularly dissected the diagnosis will be, no matter how much information you have about any one organ system that may be malfunctioning, you're always going to have to take a step back and keep in place, in mind, and in your heart the whole of the person before you.
"If you put your patient first, you're going to discern, 'What does this patient need now from me?' If you can achieve the wisdom to understand what this patient needs, you have truly put your patient first. You will have earned today's degree.
"The first rule of medical professionalism is to be honest with yourself and your patients."
Harvard Medical School Dean Jeffrey S. Flier
Remarks from the deans of HMS and HSDM echoed Fineberg's theme of change in medicine, and the challenges and opportunities it will present.
Flier said, "In a few minutes we'll officially launch your careers in medicine and in dentistry, in patient care, in biomedical research and in diverse leadership roles, both here in the U.S. and abroad. For this, you have great cause to celebrate and to be optimistic. Your careers will blossom during an era in medicine and science that will be, in equal measure, both challenging and exhilarating.
"Challenging because the face of health care has been rapidly transforming during your years here, and that pace of change is likely to further accelerate. Indeed, the way you will practice medicine over the next 10 to 20 years promises to differ greatly from what you have experienced thus far at HMS. 
"The road ahead will be demanding, but it will also present great opportunities, and you—the Class of 2013—have reason to be hopeful for the world's future. We are at an amazing pinnacle in the history of biomedical science, in the country that leads the world in this space."
Harvard School of Dental Medicine Dean Bruce Donoff
"I will remember this class for its deep involvement in community-based projects that reflect the School's new vision of removing the divide between oral and systemic health.
"You are the first class to have benefited from this explicit focus at HSDM, one that will carry the School forward to exciting areas and perhaps carry you to careers in dental medicine and oral health that have yet to be invented. And that is one of the important characteristics of the Harvard School of Dental Medicine. We educated you in a way that does not simply repeat the lectures of the past but prepares you to understand and seek new knowledge in the continuously changing field as well as in the wider world."
Harvard Medical School Students
Nina Vasan
"We hear patient cases every day. To those of you less familiar with medical jargon, we have been taught a standard format to use when 'presenting' our patients, or discussing them with other medical professionals.
"If I had been working in the emergency department in ancient Greece (though let's be honest, not a great millennium for women physicians), I might have said: Socrates is an elderly male, who presents with numbness in his lower extremities, following forced ingestion of hemlock. Or in a few years, I might present a patient: Hillary is a 69-year-old female who was just elected president."
Deep Jayendrakumar Shah
"I want to tell you all about something unexpected that happened to me during medical school: I became afraid. Afraid of taking risks.
"The question I'll pose today is a simple one: if we, graduates of Harvard Medical School—the overachievers among overachievers—cannot find the courage to take risks, how can we reasonably expect anyone else to?
You have shown everyone—your parents, your siblings, your professors, your peers and your patients—that you have the courage to take a risk when needed. By working together and supporting each other, we can grow and strengthen this very good habit. A habit fit for graduates of Harvard Medical School!"
Harvard School of Dental Medicine Student Christopher Thomas Barth
"When we look back in 40 or 50 years, we want to be able to say, 'Hey, that was a fulfilling career. We were able to change people's lives in so many ways, and guess what—we had fun doing it.'
"Think about it the next time you extend your hand to a patient for a warm welcome or when you are making treatment decisions. It all builds up from the first time you step in the room to greet your patient, and in this regard we will be, in fact, forever changing."
Follow
HMS
Stay informed via email on the latest news, research, and media from Harvard Medical School.