News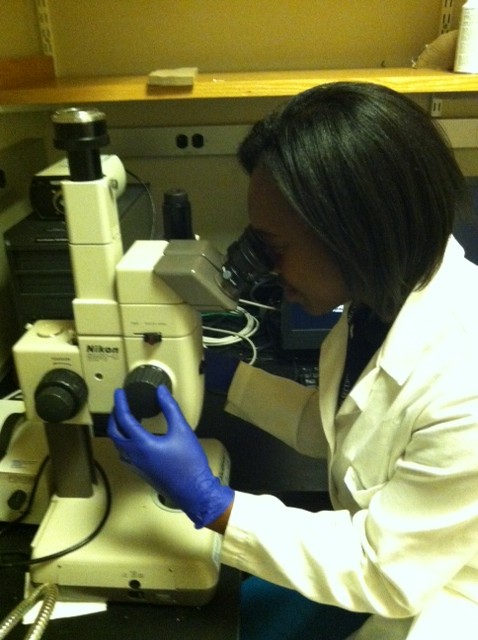 As a young student, Tarsha Ward naturally gravitated toward the basic sciences. Her passion for science was fostered by a growing awareness and excitement about her ability to create new knowledge by exploring the unknown.  
Ward's broad dreams of becoming a scientist became more focused during a summer college science program at the Baylor College of Medicine.
"I had the opportunity to study cardiac development in congenital heart disease, specifically, elucidating signaling pathway cascades that were responsible for the left-right asymmetric positioning of the heart.  I found this fascinating, and discovered how much I enjoyed the study of molecular mechanisms and their functional effects on organogenesis," said Ward.
The experience led to more advanced cardiovascular genetics research during graduate school at the Morehouse School of Medicine.
"My ultimate decision to pursue research in cardiovascular disease was solidified because of my scientific experiences learned in my graduate tenure. Here, I was able to scientifically witness the effects of genetic mutations and protein modifications on human diseases," Ward said.
Following graduation, Ward remained at Morehouse as an imaging specialist research scientist before relocating to Boston to begin her postdoctoral career in the Seidman laboratory at Harvard Medical School under the dual mentorship of Jonathan and Christine Seidman in the department of genetics.
"I was delighted when Dr. Ward applied to our laboratory for a post-doctoral position.  [She] had a very productive graduate education, and her success was recognized by her previous mentors," said Jonathan Seidman, HMS Henrietta B. and Frederick H. Bugher Foundation Professor of Genetics.
Ward's research career has recently been enhanced by her selection as the inaugural recipient of the 2013 Dean's Postdoctoral Fellowship at HMS.
The award, which is cosponsored by the Office for Diversity Inclusion and Community Partnership (DCP) and the Office for Postdoctoral Fellows, is a two-year postdoctoral research fellowship for promising postdoctoral scientists in the fields of basic or social sciences.
The goal is to help prepare postdoctoral scientists from diverse backgrounds, particularly underrepresented minority scientists, for independent careers in biomedical and social science research.  Applications for the fellowship are currently being accepted for 2014.
"One of the most important aspects of becoming an independent scientific investigator is the need to obtain research support and funding. This fellowship provides me with two years of support to allow me to focus on my research and professional development while writing applications for additional years of funding," said Ward. 
In describing the benefits of the fellowship, Ward cites the exceptional mentorship, research training and teaching experience she gained that will enhance her career development as a basic scientist and cardiovascular researcher.
She also credits the Office of DCP with providing access to a variety of networking opportunities and experiences which will enhance her training and enable her to emerge as an independent investigator and effective future leader in the scientific community.
Ward also emphasized the importance of peer mentoring programs in enhancing diversity among biomedical researchers, because of they also provide support and build community.
 "We should leverage the talent we all bring to the community and work together to inspire each other and future trainees," said Ward.
Follow
HMS
Stay informed via email on the latest news, research, and media from Harvard Medical School.