News
Brown Recognized For Championing Women Faculty
Dennis Brown, professor of medicine and director of the Massachusetts General Hospital Program in Membrane Biology, is this year's recipient of the Dean's Leadership Award for the Advancement of Women Faculty.
Dean Joseph B. Martin initiated this award in 1998 to recognize Harvard faculty and staff members who demonstrate outstanding commitment to the recruitment, retention and advancement of women at HMS and HSDM. It is co-sponsored by the Joint Committee on the Status of Women (JCSW) and the Dean of the Faculty of Medicine.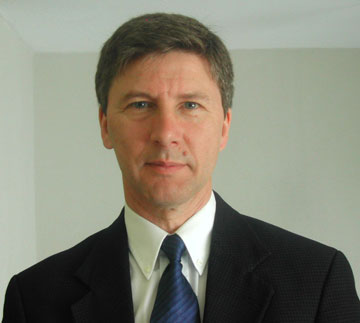 Brown's strong track record of successfully recruiting, mentoring and advancing women faculty make him a natural choice for this recognition. During his 25-year tenure as director of the MGH Program in Membrane Biology, he has recruited and trained more than 30 female scientists, personally mentoring them in applying for and receiving NIH and other grants.
"Brown has consistently supported women trainees and faculty under his leadership, fostering success that has impacted relevant work and research both at Harvard and around the world," said Sue Farrell, assistant professor of medicine and chair of the JCSW selection subcommittee.
Brown's support of women scientists extends beyond his program at MGH. He has recruited women to the editorial boards of leading journals in his field and has ensured that women scientists have prominent voices at all levels of the National Council of the American Physiological Society scientific sessions.
As a testament to the global reach of his mentoring and career development efforts, a number of his former trainees have assumed academic and research leadership positions around the world.
In nominating Brown for the award, women faculty members frequently cited the supportive working environment he has built and his attention to promoting work–life balance. Brown's personal experience as an actively involved father of three children is often mentioned as one of many factors that contribute to his ability to understand the needs of women scientists who are juggling the competing demands of a career in medical research with family commitments.
"I have tried to generate a culture of collegiality and close collaboration among the members of the Program in Membrane Biology. Everyone here realizes that by working together as a team, we can achieve our goals and maximize the chances of success in the current challenging environment. This differs from the more inflexible top-down direction of research activities typical of the European labs in which I was trained," Brown said.
For other scientists interested in advancing the careers of women, Brown advised, it's critical to provide balance and flexibility in the workplace.
"It is important to provide a supportive working environment in which women are treated equally to their male counterparts, while at the same time providing the flexibility required for their family commitments if needed," he said. 
He also recommended viewing leadership roles "as an opportunity to minimize gender inequities in your scientific world and to maximize networking possibilities for your mentees as they climb the academic ladder."
Follow
HMS
Stay informed via email on the latest news, research, and media from Harvard Medical School.