News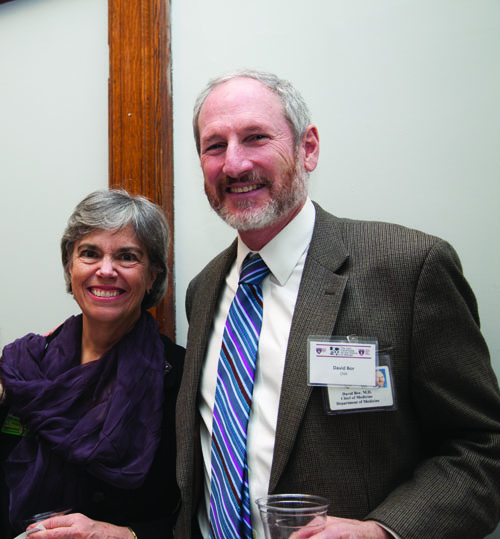 Is the mommy track vanquished? Or is it still a derailer of medical careers? The question loomed large as champions of women's careers at HMS explored the challenges of flexible career paths during a panel discussion convened Feb. 6 by the HMS/HSDM Joint Committee on the Status of Women (JCSW).
The panel, titled "Lessons from Recipients of the Joseph B. Martin Dean's Leadership Award for the Advancement of Women," was moderated by Dean for Faculty Affairs Maureen Connelly and comprised four past honorees: Beth Beighlie, HMS senior client services representative; Susan Block, chair of the Department of Psychosocial Oncology and Palliative Care at Dana–Farber Cancer Institute and Brigham and Women's Hospital; David Bor, chief of medicine at Cambridge Health Alliance; and Tracy Sachs, administrative director for the Center for Health and the Global Environment.
"When I was young, there was one path, and if you stepped off it, you were lost," Block told the audience in Gordon Hall's Waterhouse Room. "And I don't believe that at all. And certainly I stepped off it and I don't think I was lost. But it was scary. I don't want people to have to carry as much fear as I felt about stepping off the traditional path."
Statistics from the American Medical Group Association suggest that an increasing number of physicians are stepping off the traditional full-time path. Since 2005, the part-time medical workforce has grown by 62 percent. A 2010 survey by the group indicated that 13 percent of male and 36 percent of female physicians practiced part-time, up from 7 percent and 29 percent respectively in 2005.
Anxiety about job security for part-timers was on display, with one attendee asking panelists for advice on approaching supervisors to request flexibility during a time of cutbacks.
"This is a major, major challenge for us as a medical society, and I don't think the issue should be borne by the pregnant woman. It needs to be borne by the leaders." Bor said. "Part-time work is absolutely a must, and benefit packages that support that, and policies that support that, and cross-coverage schedules that support it must be part of the culture. And if it isn't, we're not going to succeed as a medical profession."
A recent study reported in the Journal of the American College of Surgeons concluded that employing more part-timers may reduce the shortage of surgeons by encouraging them to remain in practice longer and promoting work-life balance, both advantages for a medical workforce in which the two fastest-growing segments are female physicians entering practice and male physicians approaching retirement.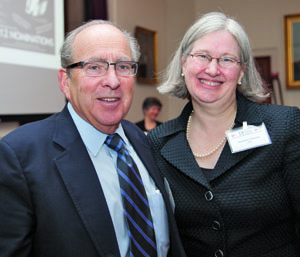 According to the JCSW, although about half of graduates of HMS and HDSM are female and about half of their respective instructors are female, fewer than 1 in 5 professors are female. The JCSW Strategic Plan for 2012-2016 highlights opportunities to job-share or work flexible hours to encourage talented women to stay in the workforce, among both faculty and staff.
Mentorship, peer networking and staff diversity and development were also discussed as key elements of attaining work-life balance and retaining talent.
JCSW co-Chairs Fiona Fennessy and Aun Em concluded the panel discussion by calling for nominations of outstanding faculty and staff for the 2012 Dean's Leadership Award. "Women's issues are community issues at Harvard," Fennessy said.
—Angela Alberti
Follow
HMS
Stay informed via email on the latest news, research, and media from Harvard Medical School.