News
Awards & Recognitions: February 2013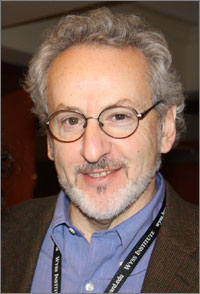 Don Ingber, Judah Folkman Professor of Vascular Biology in the Department of Pathology at Harvard Medical School and founding director of the Wyss Institute for Biologically Inspired Engineering at Harvard University, received the NC3Rs 3Rs Prize from the UK's National Centre for the Replacement, Refinement and Reduction of Animals in Research (NC3Rs) for his innovative Lung-on-a-Chip, a microdevice lined by human cells that recapitulates complex functions of the living lung.
"This award helps to validate this radical new approach on the global stage, and to strengthen our resolve to work with government agencies and pharmaceutical companies that have been supporting our work to pursue this alternative approach to animal testing," said Ingber.
 The lung-on-a-chip offers a new in vitro approach to drug screening by mimicking the complicated mechanical and biochemical behaviors of a human lung.  It is a small device the size of a memory stick composed of a clear, flexible polymer that contains hollow channels fabricated using computer microchip manufacturing techniques.  
Ingber's team used the lung-on-a-chip to mimic pulmonary edema, or fluid on the lungs, a complex human disease. The researchers closely mimicked a drug toxicity that produces pulmonary edema in humans, identified potential new therapies to prevent this life-threatening condition, and revealed new insights about the disease, specifically demonstrating on the chip that the physiological breathing motion of the lungs exacerbates drug toxicity-induced edema. They also studied the disease process in real time, precisely tracking fluid flow and clot formation, which cannot easily be done using an animal model.
Ingber and his team received the award at a ceremony in London on February 26 and will receive a monetary award equivalent to about $30,000, which will be used to support continued research and collaboration around the on-chip technology.  
Ingber's lung-on-a-chip research has been funded by the National Institutes of Health, the Food and Drug Administration and the Defense Advanced Research Projects Agency, which is also supporting his work to integrate the lung-on-a-chip with more than nine other organ chips to create a "human body on-a-chip" that mimics whole body physiology.
Anne Goldfeld, HMS professor of medicine at Brigham and Women's Hospital and senior investigator in the Program in Cellular and Molecular Medicine at Boston Children's Hospital received the Dr. Jean Mayer Global Citizenship Award (http://www.tuftsgloballeadership.org/program/dr-jean-mayer-award) from the Institute of Global Leadership from Tufts University on February 24th. Goldfeld was presented with the award at Tuft's Institute for Global Leadership's annual symposium, held at the Fletcher School of Law and Diplomacy at Tufts, where she was a featured speaker. The award was given to her "In recognition of a lifetime of passionate thinking and caring to ensure the vitality and integrity of vulnerable peoples."
The Dr. Jean Mayer Global Citizenship Award was established in 1993 to honor the work and life of Jean Mayer, president and chancellor of Tufts University from 1976-93, and it is given annually to individuals whose moral courage, personal integrity, and passion for scholarship resonated his dictum that: "Scholarship, research and teaching must be dedicated to solving the most pressing problems facing the world." Past recipients have included Nobel Laureates Amartya Sen, Desmond Tutu and Mohammed Yunus.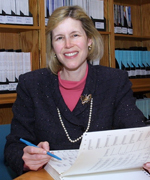 JoAnn Manson, the Michael and Lee Bell Professor of Women's Health at Brigham and Women's Hospital, will receive the Bernadine Healy Award for Visionary Leadership in Women's Health at Women's Health 2013: The 21st Annual Congress in Washington, DC.
Manson is chief of the Division of Preventive Medicine at Brigham and Women's Hospital. She has led several major research studies addressing prevention of heart disease, diabetes and cancer in women, including the VITamin D and OmegA-3 TriaL (VITAL trial), the Women's Health Initiative Clinical Center, the Women's Antioxidant and Folic Acid Cardiovascular Study, the cardiovascular component of the Nurses' Health Study and the Kronos Early Estrogen Prevention Study. Manson is a member of the Institute of Medicine and recently served as president of the North American Menopause Society. She has published more than 700 articles in the medical literature and several books.
Manson will present a lecture on "New Findings from the Kronos Early Estrogen Prevention Study" during the congress. The congress is presented by the Academy of Women's Health, Journal of Women's Health and the Virginia Commonwealth University Institute of Women's Health.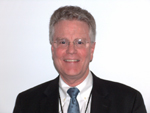 Terence Keane, HMS lecturer on psychiatry at the VA Boston Healthcare System, is a recipient of the Distinguished Scientific Contributions to Clinical Psychology Award—the highest award for science given by the Society of Clinical Psychology of the American Psychological Association.
Keane, the associate chief of staff for research at the VA Boston, is recognized as a world leader in the field of traumatic stress. He developed many of the most widely used post-traumatic stress disorder assessment measures and is considered an authority on the cognitive-behavioral treatment of PTSD. Keane was co-chair of the National Institute of Mental Health Consensus Conference that established national standards for the diagnosis and assessment of PTSD.
Keane's scientific work on the recognition, psychopathology, assessment and effective treatment of trauma-related conditions and disorders has moved the field of traumatic stress into the mainstream of clinical psychology. His research has been continuously funded for 29 years and he has published more than 230 books, papers and chapters. He is a past president of International Society for Traumatic Stress Studies (ISTSS) and a fellow of the American Psychological Association and the American Psychological Society.
He has received many awards, including a Fulbright Scholarship, Binghamton University's Edward Weisband Distinguished Alumnus Award, the Association for Advancement of Behavior Therapy's Outstanding Researcher Award, the Robert J. Laufer Outstanding Scientific Achievement Award and the Lifetime Achievement Award from the ISTSS.
Follow
HMS
Stay informed via email on the latest news, research, and media from Harvard Medical School.