News
Announcing the 2015 Longwood Summer Music Series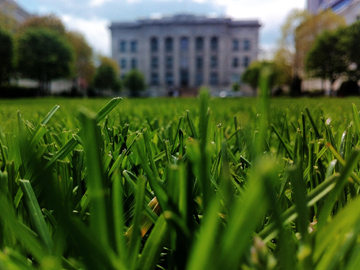 HMS, HSDM and the Harvard Chan School of Public Health invite you to come and enjoy free, outdoor lunchtime concerts featuring talented musicians from Berklee College of Music. Listen to a wide variety of musical styles including folk, jazz, Latin and pop. All concerts take place on the HMS Quad or in the Kresge Courtyard on Wednesday afternoons from 12:30-1:30 p.m.*
The concert series starts on July 8 and will run until August 26.
So come on over and spend your lunch break enjoying great music!
Wednesday, July 8—12:30 p.m. (HMS Quad)
The Interlopers
Grown locally in the rolling green hills of Berkshire County, Massachusetts, the Interlopers are best described as a young, organic, and joy-inducing musical organism.
http://theinterlopersmusic.com/
 
Wednesday, July 15—12:30 p.m. (Kresge Courtyard)
3 Sudacas
3 Sudacas features three students at Berklee from Venezuela, Brazil and Colombia performing traditional and unique compositions arranged for voice, percussion, mandolin, guitar and bass.
http://www.3sudacas.com/
 
Wednesday, July 22—12:30 p.m. (HMS Quad)
Cordelia & The Buffalo
Singer-songwriter and producer Cordelia Vizcaino performs with her band, inspired by Mexican Indian tribes and Native American cultures.
http://www.cordeliaandthebuffalo.com/
 
Wednesday, July 29—12:30 p.m. (Kresge Courtyard)
The Yousif Yaseen Project
Elements of jazz, soul, Arabic music and American folk come together in elemental songs that are reminiscent of distant daydreams and ominous mountaintops.
https://soundcloud.com/yousifyaseen
 
Wednesday, August 5—12:30 p.m. (HMS Quad)
Grey Season
Grey Season performs their unique brand of folk music wrapped in rock 'n' roll.
http://greyseasonmusic.com/
 
Wednesday, August 12—12:30 p.m. (Kresge Courtyard)
Sara Kendall
Sara Kendall is an alt-pop songwriter from Southborough, Massachusetts. Sara Kendall's haunting melodies and intimate lyrics are showcased in her release "Love You More."
http://www.sarakendallmusic.com/
 
Wednesday, August 19—12:30 p.m. (HMS Quad)
Josh Shpak Band
Rising trumpeter/composer Josh Shpak has collected a quintet of some of the brightest young talents in music today, creating a group steeped in the history of jazz that generates a sonic palette more accessible to young listeners of the modern era.
http://www.joshshpak.com
 
Wednesday, August 26—12:30 p.m. (Kresge Courtyard)
Marina Maiztegui
Born in Brazil, but half-Argentinean, Marina Maiztegui has experienced and learned tremendously about both cultures and their music. Having lived in both the United States and France, she learned English and French and experienced both the European and North American musical cultures at a young age.
http://www.marinamaiztegui.com/
*In cases of inclement weather, a decision will be made by 9:30 a.m. on the day of the concert determining whether or not it will be canceled, and a notification will be sent.
Follow
HMS
Stay informed via email on the latest news, research, and media from Harvard Medical School.

Summer Music Series 2012
Melanie Lynx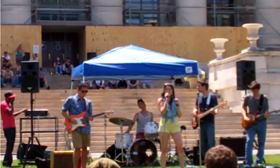 Part of the 2012 Summer Music Series at Harvard Medical School, Melanie Lynx has a love for all things that make her giggle, smile and sing. Born and raised in a small Rhode Island town, she perfected her craft as a performer and made her way to Boston, where she currently attends school. Now at the age of 20, Lynx has found her niche as a pop/rock artist.