The Talks@12 series, sponsored by the HMS Office of Communications and External Relations, offers the entire community a chance to hear from the extraordinary researchers and educators who make HMS a world-class institution.
HMS staff, faculty and students are invited to attend these lunchtime talks on campus, while members of the public are invited to view via livestream.
For more information, please contact communications@hms.harvard.edu.
---
Upcoming Talks@HMS
Gift of Lif

e
Tuesday, Sept. 17
Noon-1 p.m.
Armenise Amphitheater
Recent medical and surgical advances have led to organ transplants becoming the treatment of choice for patients with end-stage organ disease. Kidneys are the most commonly transplanted organ, but the demand far exceeds the supply, and the wait for an available organ can be long and uncertain.
A recent transplant patient, along with members of his medical team, will share the story of his arduous journey to receiving the donor organ that saved his life.
Speakers
William Tupper
Transplant Patient

Melanie Hoenig, MD
Associate Professor of Medicine
Harvard Medical School
Nephrology Division
Beth Israel Deaconess Medical Center

Martha Pavlakis, MD
Associate Professor of Medicine
Harvard Medical School
Medical Director, Transplant Nephrology
Beth Israel Deaconess Medical Center
October 28 | NOON-1 P.M.
Armenise Amphitheater
December 5 | NOON-1 P.M.
Armenise Amphitheater
---
Previous Talks@12
LGBTQ&A
Building a Foundation for Understanding and Care
June 6 | NOON-1 P.M.
Armenise Amphitheater
June is LGBTQ Pride Month, a good time to better understand the health and wellness concerns of the lesbian, gay, bisexual, transgender and queer community. A panel of experts from Harvard Medical School will share research and experiences with LGBTQ patients, answer questions about health disparities, and discuss the importance of social supports and how to foster an inclusive environment that is welcoming to all.
 Speakers

Jessica Halem
LGBTQ Outreach and Engagement Director in PME
Harvard Medical School

Cecil Webster Jr., MD
Lecturer on Psychiatry, part-time, Harvard Medical School
Adult, Adolescent and Child Psychiatrist, Department of Psychiatry, McLean Hospital
 

Sari Reisner, ScD
Assistant Professor of Pediatrics at Harvard Medical School and Boston Children's Hospital
Assistant Professor in the Department of Epidemiology at Harvard T.H. Chan School of Public Health
The Primary Care Revolution
May 16, 2019
Rising health care costs are prompting fundamental changes in health care delivery and generating innovative approaches to combining teamwork, culture, and technology into systems that work for patients and physicians alike. HMS Center for Primary Care Director Russell Phillips and some current students discuss the transformation underway that can lead to improved care and better health outcomes for patients in the future.
Speakers:

Russell Phillips, MD
Director, Center for Primary Care
William Applebaum Professor of Medicine
Professor of Global Health and Social Medicine
Harvard Medical School

Megan Townsend
MD/MPP Student 
Class of 2019
Harvard Medical School/Harvard Kennedy School 

Mark Herzog
MD/MPP Student
Class of 2020
Harvard Medical School/Harvard Kennedy School
Next Big Things
In recognition of the promise and progress of creative and collaborative projects underway at HMS, join us for a celebration of the Dean's Innovation and Q-FASTR awards.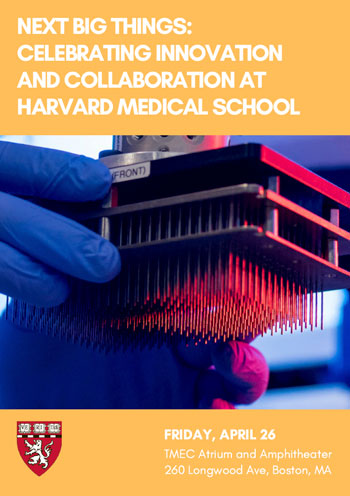 April 26 | NOON-1 P.M.
TMEC Walter Amphitheater
Moderator
David Golan
Dean for Research Operations and Global Programs, Blavatnik Institute at Harvard Medical School
 
Speakers
Richard Frank
Margaret T. Morris Professor of Health Care Policy, Blavatnik Institute at Harvard Medical School
"Understanding the idiosyncratic performance of the generic pharmaceutical market"
Sloan Devlin
Assistant Professor of Biological Chemistry and Molecular Pharmacology, Blavatnik Institute at Harvard Medical School
"Control of gut bacterial bile acid metabolism using small molecules"
Peter Sorger
Otto Krayer Professor of Systems Pharmacology, Blavatnik Institute at Harvard Medical School
"The future of precision medicine"
This Talks@12 will be followed by two special events highlighting the 2018-2019 Dean's Innovation Awards and the Q-FASTR funding program.
1 – 3 p.m.
Poster Showcase Celebrating Innovation and Collaboration
TMEC Atrium

1:30 – 2 p.m.
Presentation by Dean George Q. Daley and Poster Lightning Talks
TMEC Amphitheater

Lightning Talk Speakers

Fenna Krienen
Postdoctoral Fellow, Dept. of Genetics

"Evolutionary novelties in primate brains revealed by single-cell RNA-seq"

Krishna Padmanabha Das
Research Fellow, Dept. of Biological Chemistry and Molecular Pharmacology

"DNA-corralled nanodiscs for studies of large membrane proteins and their complexes"

Katherine Redfield
M.D. Candidate, Harvard-MIT Health Sciences and Technology

"Engineering a novel approach to pancreatitis"

Lauren Orefice
Assistant Professor of Genetics, HMS; Assistant Professor of Molecular Biology, Massachusetts General Hospital

"Targeting peripheral somatosensory neurons to improve tactile and behavioral phenotypes in ASD"
 

 Learn about the Dean's Initiatives funding opportunities. 
Why Sleep Matters
March 12 | NOON-1 P.M.
Armenise Amphitheater
Ever wonder why sleep is such an important part of our lives? Learn how to determine the amount of sleep that you need, improve your sleep health and determine your risk for some of the most common sleep disorders. Charles Czeisler shares his research that reveals why getting sufficient rest is vital to our mental and physical health every hour of the day.
Speaker:

Charles Czeisler, MD, PhD
Frank Baldino, Jr., Ph.D.  Professor of Sleep Medicine
Director, Division of Sleep Medicine
Harvard Medical School
Chief, Division of Sleep and Circadian Disorders
Departments of Medicine and Neurology
Brigham and Women's Hospital
Imaging: Revealing the Secret Life of Cells
Feb. 28 | NOON-1 P.M.
Armenise Amphitheater
Transformative imaging technologies are illuminating the inner workings of cells with unprecedented clarity, offering a new view of life at its most fundamental levels. Tomas Kirchhausen and Hao Wu share insights on how explorations of this complex and dynamic nanoworld are enhancing our understanding of biology, and discuss the potential impact on the future of human health care.

Tomas Kirchhausen, PhD
Professor of Cell Biology
Blavatnik Institute
Harvard Medical School
Professor of Pediatrics
Springer Family Chair
Boston Children's Hospital

Hao Wu, PhD
Asa and Patricia Springer Professor of Structural Biology
Professor of Biological Chemistry and Molecular Pharmacology
Blavatnik Institute 
Harvard Medical School
Program in Cellular and Molecular Medicine
Boston Children's Hospital
Healing Global Warming
January 24 | NOON-1 P.M.
Armenise Amphitheater
What is the true impact of global warming on human health? HMS and its affiliated hospitals recently signed a joint commitment to extensively decarbonize throughout our local medical community and actively contribute to reversing some of the ill effects of climate change. Aaron Bernstein will discuss how reducing greenhouse gas emissions provides health benefits, improves patient care and is quickly becoming critical to the future of health care.  

Aaron Bernstein, MD MPH
Assistant Professor of Pediatrics
Harvard Medical School
 Hospitalist, Division of General Pediatrics
Boston Children's Hospital
Co-Director, Center for Climate, Health and the Global Environment 
Harvard T.H. Chan School of Public Health
Assistant Faculty Director, Climate and Health Initiative
Harvard Global Health Institute