Nancy Lurie Marks Family Foundation strives to unravel the mysteries of autism
Nancy Lurie Marks Family Foundation strives to unravel the mysteries of autism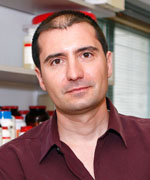 According to the U.S. Centers for Disease Control and Prevention, 1 in 88 American children is identified as being on the autism spectrum each year. Although the incidence is lower for those on the autism spectrum with little or no speech, the majority of those classified as autistic have some problems producing speech.
Not too long ago, autism was a complete mystery, but now research is delivering some answers. The Nancy Lurie Marks Family Foundation (NLMFF) is committed to unraveling the secrets of the disease and improving the lives of people with autism with a gift of more than $500,000 to fund research by Bernardo Sabatini, BS '91, MD '95, PhD '99, Takeda Professor of Neurobiology at HMS, and his lab team.
Sabatini believes that a brain area called the basal ganglia plays a central role in the pathogenesis of autism and, when altered, could be responsible for disease characteristics, such as behavioral inflexibility, motor stereotypy, and fractured language development.
"Support from the Nancy Lurie Marks Family Foundation has allowed us to pursue a new idea for which we have essentially no preliminary data," says Sabatini. "Even though one normally assumes that the symptoms of autism arise from changes in higher brain areas, perturbations of highly conserved and evolutionary ancient brain areas, such as the basal ganglia, may be equally as important in understanding autism."
In addition to funding Sabatini's novel work, the gift also establishes a postdoctoral fellowship supporting research by Yevgenia Kozorovitskiy, PhD, who was motivated to join Sabatini's lab to acquire cutting-edge, functional tools for analysis of synapses, cells, and circuits.
"The mission of the foundation is to allow people with autism to communicate with their family, friends, and peers, ultimately helping them to lead fulfilling and rewarding lives," says Clarence Schutt, PhD '77, director and chief scientific officer of the NLMFF.
"If we allow maestros in basic science, like Sabatini, to teach the next generation of researchers, we will eventually discover the basis of human language and behavior, allowing us to have a profound impact on the community of neurologic diseases, including autism, Parkinson's, and Alzheimer's," says Schutt.

Through this campaign, we will address the greatest health care challenges of our time to help people live longer, healthier lives. Learn more »
The Benefactor
Partners in Education, Discovery, Service, and Leadership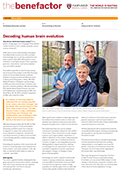 Download and read archived issues of our bi-annual publication to honor and acknowledge our most generous friends and supporters.