Video Archive
Video Archive
2016 Season: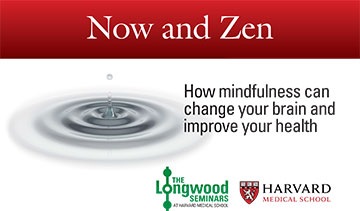 Now and Zen: How mindfulness can change your brain and improve your health (March 8, 2016)
Harvard scientists were some of the first to uncover the impact of meditation on health. Their finding: mindfulness can change your brain in positive ways. At this seminar, a panel of Harvard Medical School faculty will discuss the neuroscience of meditation and mindfulness.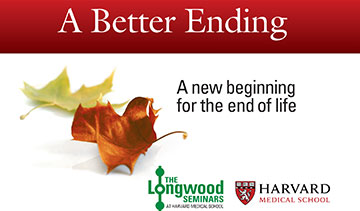 A Better Ending: A new beginning for the end of life (March 22, 2016)
Talking about death with family members or health care providers can be frightening and uncomfortable, but these conversations are necessary. In this seminar, find out how Harvard Medical School doctors are helping to transform end-of-life care by embracing—rather than avoiding—difficult conversations about ethics, palliative care and what patients want at the end of life.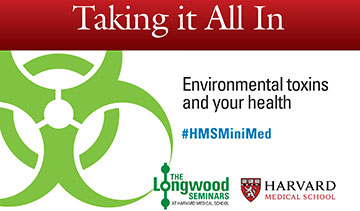 Taking It All In: Environmental toxins and your health (April 5, 2016)
Chemicals are used in plastics, furniture, cosmetics and even in the foods we eat, while other pollutants contaminate our air and water. But do you know how these environmental exposures impact your health? Harvard Medical School researchers present the data behind this silent threat to your health.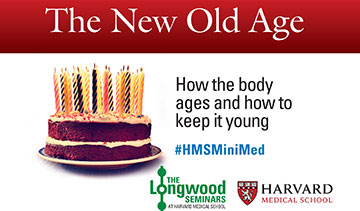 The New Old Age: How the body ages and how to keep it young (April 19, 2016)
No one wants to become forgetful or less energetic as they age, but growing old is unavoidable—or is it? At this seminar, learn about the biology of aging and about scientific research at Harvard Medical School that may help keep you healthier and feeling younger at the same time.
2015 Season: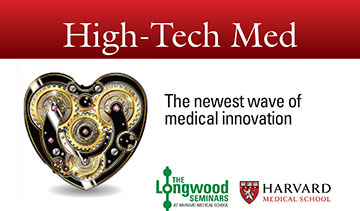 High-Tech Med: The newest wave of medical innovation (March 10, 2015)
From the introduction of the smallpox vaccine to the first successful kidney transplant to developing genome sequencing methods, Harvard Medical School researchers have been on the cutting edge of scientific discovery. In this seminar learn about today's innovative wonders being developed in Harvard laboratories, and what's next on the horizon as medicine and technology converge.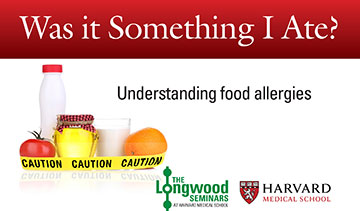 Was It Something I Ate? Understanding food allergies (March 31, 2015)
Are the foods we eat making us sick? The occurrence of allergic disease is skyrocketing and some estimate that as many as one in five Americans have an allergic condition, including reactions to foods. This seminar aims to improve our understanding of food allergies and intolerances, and explain how our modern diet may be contributing to a rise in these kinds of autoimmune disorders.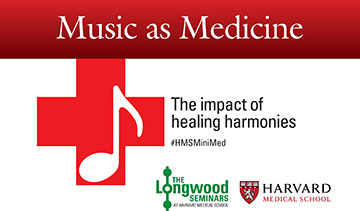 Music as Medicine: The impact of healing harmonies (April 14, 2015)
It's been said that music soothes the soul, but can it also help heal our bodies and help us learn? In this seminar, Harvard Medical School scientists and physicians share how they use music as a tool to help patients—from premature newborns to elderly stroke victims—survive and thrive.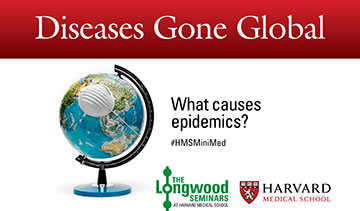 Diseases Gone Global: What causes epidemics? (April 28, 2015)
Humankind is in an ongoing struggle against infectious invaders. New diseases are spreading around the globe and diseases that were once considered eradicated are now making a comeback. What's driving the resurgence? Where do these bugs come from? How do they spread? In this seminar researchers explain how they are developing ways to track, control and eventually cure these diseases.
2014 Season: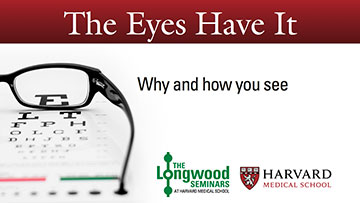 The Eyes Have It: Why and how you see (March 6, 2014)
There's more to eyes than meets the eye. Our eyes are small machines containing complex circuitry and our understanding of this machinery advances every day. How does the process of vision work? What happens when sight fails – whether it is traced to disease or genetics? In this seminar, faculty experts from Harvard Medical School explain the complexities behind the eye, the latest research related to vision and eye disorders, and pointers for keeping these important organs healthy.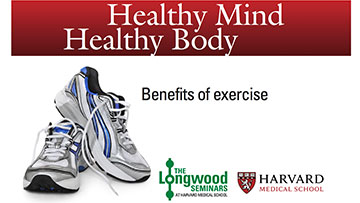 Healthy Mind, Healthy Body: Benefits of exercise (March 13, 2014)
There is no question that exercise aids weight loss and helps the body grow stronger. A consistent commitment to fitness also improves heart health and boosts energy, among other numerous benefits. No matter your age or ability level, experts agree that regular physical activity is good for your health. At this seminar, learn about the science behind exercise, how it contributes to physical and mental health, as well as tips for maintaining a healthy exercise regimen.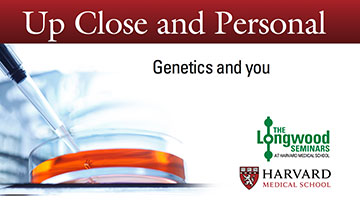 Up Close and Personal: Genetics and you (March 20, 2014)
As technologies improve and costs decrease, genome sequencing at the doctor's office could one day be as common as a cholesterol test. Genetic, or DNA, testing can be a powerful tool for investigating disease and genetic disorders, and it can also reveal information about an individual's ancestry. At the same time, increasing availability of testing raises ethical issues that until recently didn't even exist. Physicians, scientists, and ethicists alike are grappling with the myriad of issues that the unfolding genetic revolution is raising. At this seminar, HMS faculty experts discuss how and why DNA testing is done and what this fast-evolving field means for you.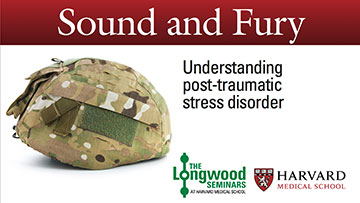 Sound and Fury: Understanding post-traumatic stress disorder (April 10, 2014)
Sometimes after a terrifying event, a person can develop post-traumatic stress disorder, or PTSD. What are the risk factors, signs and symptoms of this condition? Scientists and clinicians are examining the scientific underpinnings of PTSD in an effort to better understand it and care for patients effectively. A panel of Harvard Medical School faculty members discusses how it is diagnosed and treated and share advice for family members and friends who have loved ones coping with the condition.
2013 Season: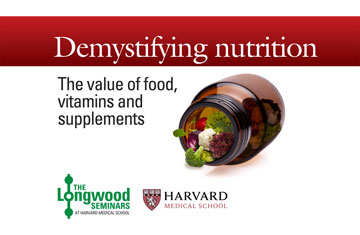 Demystifying Nutrition: The value of food, vitamins and supplements (March 5, 2013)
Every day a new diet trend seems to be in the news—along with an abundance of advice on supplements and vitamins, including which to take and which to avoid. This seminar aims to cut through the noise surrounding nutrition, vitamins and dietary supplements by providing the latest scientific evidence as well as advice for healthy eating and living a nutritious lifestyle. An audio podcast is also available.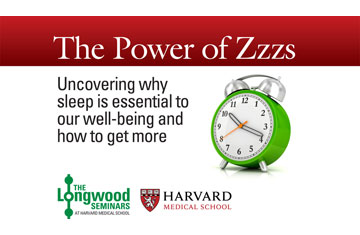 The Power of Zzzzs: Uncovering why sleep is essential to our well-being and how to get more (March 19, 2013)
Everyone will agree that nothing feels as good as a good night's sleep. While we are in agreement that sleep is essential to our overall well-being, few of us actually get a sufficient amount of it. This seminar will illuminate the importance of sleep—how much is needed and why it is so vital to keep our bodies functioning. An audio podcast is also available.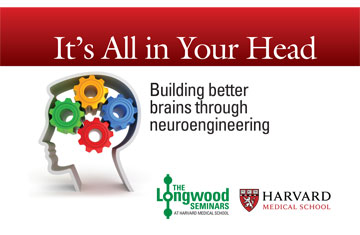 It's All In Your Head: Building better brains through neuroengineering (April 2, 2013)
As the epicenter of the nervous system, the brain is a complex and fascinating organ. Our brains are the engines that drive our bodies to process information and communicate with the world. Scientists today are making groundbreaking strides in understanding the intricate circuitry in the brain that sends signals to various parts of the body, and how this knowledge can be used to repair or regenerate damaged cells. A panel of Harvard Medical School faculty members whose research explores neural circuitry will discuss this fast-evolving field. An audio podcast is also available.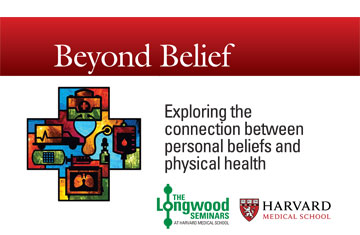 Beyond Belief: Exploring the connection between personal beliefs and physical health (April 23, 2013)
Our individual belief system plays a role in many aspects of our life, but have you considered how a belief system can impact your overall health? A relatively unexplored area of study, the individual belief system is increasingly becoming the focus of researchers who are looking to uncover the science behind personal beliefs and physical health. Harvard Medical School faculty members will share their expertise on the mind/body connection and the meaningful links between spirituality and health. An audio podcast is also available.
2012 Season: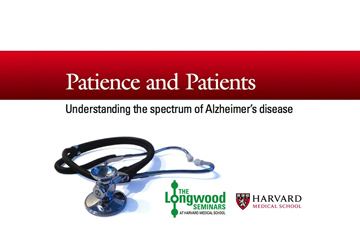 Patience and Patients: Understanding the spectrum of Alzheimer's disease (March 6, 2012)
As human life expectancy increases, so does the possibility that a family member or friend will be diagnosed with Alzheimer's disease. Fortunately, researchers are continually learning more about what causes this debilitating condition and discovering new ways to help patients cope with symptoms. You will hear from faculty members who will share insight about the disease and tips for caring for a loved one. An audio podcast is also available.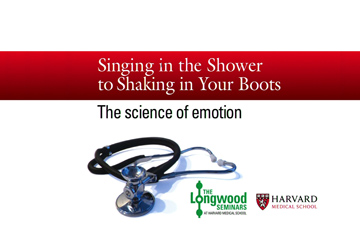 Singing in the Shower to Shaking in Your Boots: The science of emotion (March 20, 2012)
As the childhood song goes, "If you're happy and you know it, then your face will surely show it," but do you ever truly wonder why you're happy? Have you thought about where our emotions come from and why they make us feel the way we do? A panel of Harvard faculty members whose research sheds light on the range of human emotion will explore the science behind the smiles and tears. An audio podcast is also available.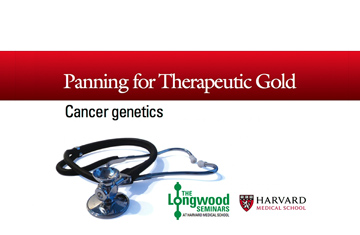 Panning for Therapeutic Gold: Cancer genetics (April 3, 2012)
The end of 2011 marked the 40-year anniversary of President Nixon declaring the War on Cancer. Though a cure has not yet been discovered, the understanding of genetics is revolutionizing cancer research and improving the ways in which we can battle one of medicine's most challenging diseases. Harvard researchers will discuss how far we have come and where the field is heading in revealing the causes of cancer and our potential to develop transformative therapies. An audio podcast is also available.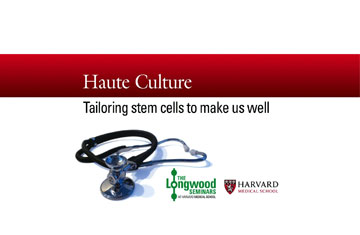 Haute Culture: Tailoring stem cells to make us well (April 24, 2012)
Harnessing the body's ability to repair itself, regenerative biology is advancing medicine each day. Our bodies contain stem cells that have the remarkable ability to transform into many different kinds of cells and act as tiny "handymen" to repair damaged tissues. Faculty members share their expertise and explain how this field of study may dramatically shape the future of medicine. An audio podcast is also available.
2011 Season: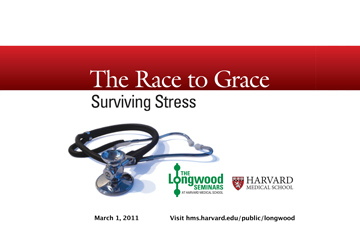 The Race to Grace: Surviving Stress (March 1, 2011)
In today's 24-7 world, it's common to feel anxious, overburdened and stressed periodically. At this Longwood Seminar, doctors explain how the body responds to stressful situations and describe how stress affects psychological and physiological well-being. Faculty members share insight about how stress can be effectively managed.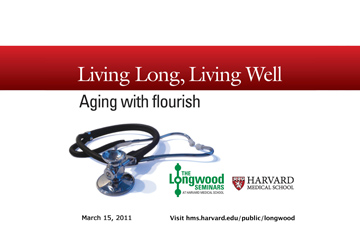 Living Long, Living Well: Aging with Flourish (March 15, 2011)
As life expectancy continues to rise throughout the US, many of us can look forward to a longer life. In this Longwood Seminar, you will learn about the biology of aging to help explain the changes that take place in the body as people age, as well as hear practical advice from a physician about how to live a long and healthy life.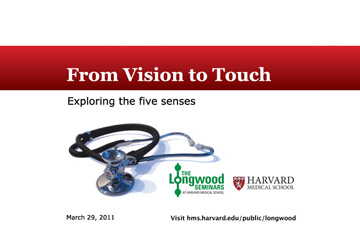 From Vision to Touch: Exploring the Five Senses (March 29, 2011)
The senses make it possible to explore our surroundings and communicate in the world, but do you understand their role in the body? At this Longwood Seminar, a panel of Harvard faculty members who specialize in each of the five senses share their expertise on touch, vision, hearing, smell and taste, and discuss ways the senses can be leveraged to affect our health.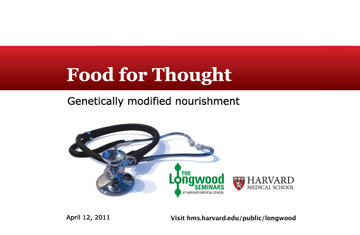 Food for Thought: Genetically Modified Nourishment (April 12, 2011)
Since the early 90's when it was first produced in the US, the value of genetically modified (GM) food has been challenged and debated. In this Longwood Seminar, you will learn about how GM foods are produced and how the process may change in the future. The relative benefits and controversies surrounding GM foods as well as policy issues associated with their production are discussed. Faculty members knowledgeable about GM goods share what is known about the technology and how it may in time be used to address worldwide problems, such as hunger and disease.
Longwood Seminars video archive form