Making blindness a thing of the past
Making blindness a thing of the past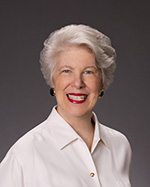 Although concerted efforts have been made to decrease preventable or curable causes of visual impairment, the increasing elderly population in the U.S. means that many more people will be at risk due to chronic eye diseases and aging processes.
In 2002, at an early age, Soozin White experienced this threat firsthand after being diagnosed with an aggressive form of glaucoma. Unfortunately, available treatments caused severe side effects with no improvement in the disease's progression.
It is White's hope that in her lifetime blindness will become a part of history. "All people will have the gift of sight from the start of life to the end," she says.
Determined to help preserve every individual's "golden years," White has given $200,000 to Harvard Medical School through two deferred gift annuities to establish the Soozin White Research Fund. When the gift annuities end, the fund will provide critical, current-use support to fuel promising discoveries in neurobiology and stem cell research, with particular focus on understanding the underlying causes of glaucoma and the means by which the optic nerve may be regenerated.
"I evaluated many institutions before making my gift to Harvard Medical School, and the breadth and depth of research being conducted here is incomparable," says White. "Plus, the focus on global collaboration and cross-pollination across disciplines allows the School to amplify the public benefit." White urges others to consider charitable gift annuities, pointing out they not only have the potential to improve the lives of others, but provide valuable tax advantages to support the long-term care people often need as they age.