A member of one of the Disaster Medical Assistance Teams reflects on the despair—and lessons—of the September 11 tragedy
10 min read
Italy was my intended destination on September 11. But instead of flying out of Logan Airport to attend a medical conference in one of the world's most tranquil settings, I found myself driving down to New York to help deal with the aftermath of one of humankind's crudest disasters.
That morning, I had been sitting in my office at Massachusetts General Hospital when a staff member poked her head in the door to say that a plane had just crashed into one of the World Trade Center towers. Within moments, everyone in the office was glued to the surreal images on our television screen. By noon, we had received word that all four Boston-based Disaster Medical Assistance Teams were to he deployed to New York. And by six that evening, we were on our way.
With our caravan of rented vehicles—flying, of course, was not possible—nearly 70 of us—doctors, nurses, paramedics, emergency medical technicians, security personnel—headed toward Stewart Air Force Base near Newburgh, New York, to await further instructions. We arrived at two in the morning and bedded down for the remainder of the night on assigned cots in a large hangar. Tensions were running high, and we all desperately wanted to do something, no matter how small, to help those who had been hurt.
"Nothing in my life's experience could have prepared me for what I witnessed at Ground Zero with my own eyes."
At dawn. we awoke surrounded by nearly 3,000 personnel, both civilian and military, from throughout New England, who had arrived overnight in preparation for further deployment. The disaster response leadership at first believed that the World Trade Center would be a mass-casualty scenario. They had decided to set up additional emergency personnel at the air force base to staff a triage and evacuation hospital. Tragically, we would soon realize that the World Trade Center was a mass-fatality disaster. Within the first few hours of the attack, all of the initial survivors had been triaged to New York City and surrounding hospitals. Those who could be treated were; the rest had been killed.
The Walking Wounded
Within 24 hours, it was obvious that the disaster response teams would not be needed to treat wounded patients from the site. Rumors flew, and we feared that we would soon be disbanded and sent home, having done nothing. As a physician, I have seldom felt so helpless and frustrated. Yet we soon learned that we were to provide emergency on-site medical care to the rescue workers—the firefighters, police officers, and ironworkers who were frantically digging through the acres of smoldering rubble in lower Manhattan. Suddenly we had a new mission.
We were deployed to New York City on Thursday at five in the morning—the first Disaster Medical Assistance Team to arrive.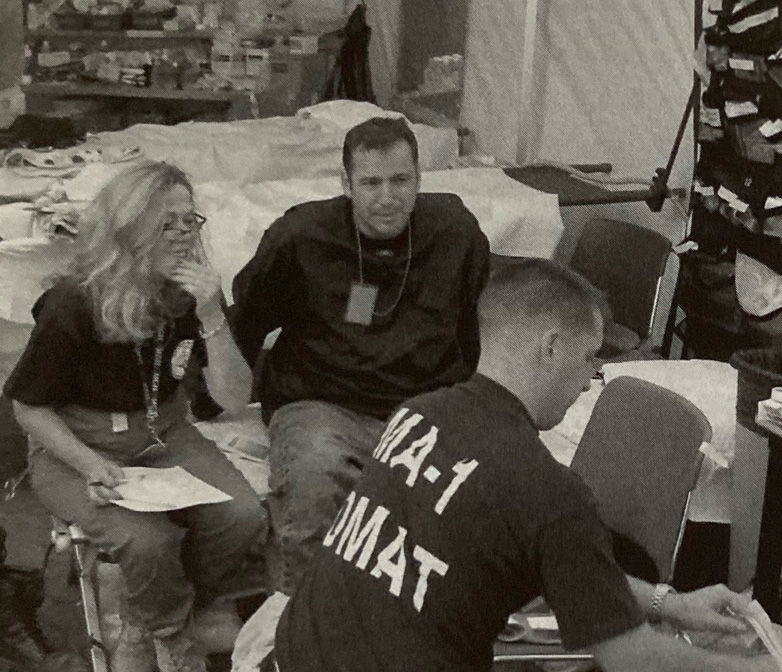 We were initially assigned to Chelsea Pier, where we spent the day with frustratingly little to do. By Thursday evening, however, a group of us were moved downtown in police vans to a location much closer to Ground Zero to set up the first medical station. Between midnight and six in the morning, we set up our station in the courtyard of a community college. It was pitch dark, the rain was pouring, and the wind blew fiercely, but we felt little of it; finally, we were doing something. Although our mission had now become one of support rather than rescue, we embraced it eagerly.
By dawn on Friday, our unit was up and running, and we had taken over medical care of the rescue workers from volunteers at the local high school a block away. Our team of approximately 30 people worked the first shift in the tent, and we subsequently organized a series of rotating eight-hour shifts with three other teams.
The New York City Fire Department and Emergency Medical Services then decided to place advance teams closer to the actual site, and five medical stations were set up in a perimeter around the "pile," as the site of the Twin Towers had come to be known. Some were in tents and one, surreally, in what had once been a delicatessen, with the neon "pizza" sign still flickering.
Most of our patients were the "walking wounded"—rescue workers with eye irritations, foot injuries, upper respiratory symptoms, and minor wounds. We also saw patients with serious medical problems or trauma. Each shift, we transported to local emergency rooms three to six rescue workers with complaints of chest pain and shortness of breath. Many of these were retired personnel with cardiac histories who, despite warnings not to do so, came to work on the pile anyway. We also treated a small number of victims of falls, explosions, flash fires, and burns. All of the workers were exhausted and subjected to enormous, unabated stress. Within two weeks of the first medical station's becoming operational, disaster response teams had cared for 4,215 patients, as many as 600 a day.
As a hospital-based surgeon, I found myself deeply impressed by the skill and cool-headedness of the paramedics and emergency medical technicians. I saw them manage difficult airways, stabilize patients, and set up intravenous fluids under the most trying of circumstances. Unflappable—despite the poor lighting, dropping temperatures, rain, wind, fire, smoke, and even falling debris—they set an example for all of us.
"Even as we focused on the task of treating the thousands of patients who streamed through our stations, it was difficult not to be overwhelmed by the hellish devastation that lay right outside our tents."
At Med Station 2, the grim odor of decaying flesh that permeated the air offered a constant, sickening reminder of the deadly toll. This station was set up in the lobby of the American Express Building, next to which sat a large, white tent that served as a temporary morgue. This facility was staffed with morticians who had been brought in from around the country to deal with the overwhelming number of corpses and body parts being recovered.
During a quiet spell on one of my shifts, I spoke with the police sergeant stationed at the entrance to the mortuary tent. A stoic, middle-aged man, he had been preparing to head home after working the night shift when the first frantic 911 calls started coming in over the police radios. He had rushed to the scene to help extricate as many people as possible before the towers collapsed. He then dug in the ensuing rubble for many more hours straight through until, exhausted, he finally returned home briefly. There, he had broken down and cried before returning to his beat, now one of the largest disaster sites in history. He had lost friends and colleagues, whose remains, no doubt, passed by him as they were transported to the makeshift mortuary, where he stood mournful guard.
On Hallowed Ground
Even as we focused on the task of treating the thousands of patients who streamed through our stations, it was difficult not to be overwhelmed by the hellish devastation that lay right outside our tents. Nothing in my life's experience—not my surgical training, not the time I spent operating on children caught in the crossfire in the Gaza Strip, not even the television news coverage of the Twin Towers disaster—could have prepared me for what I witnessed at Ground Zero with my own eyes.

My first night there, I stood at the edge of the pile and gaped at the staggering destruction and carnage before me. The skeleton of the buildings, now iconic in everyone's mind, loomed over the acres of smoldering ruins. A 100-foot-tall communications antenna that had once perched atop one of the towers, a quarter mile high in the sky, now lay directly in my line of sight at ground level.
My first stunned impression was that this could not possibly be real; surely, this was an incredible Hollywood set. The dazzling lights that Con Edison had set up on high poles illuminated the scene with an otherworldly intensity that reminded me of a night game at Fenway Park. Yet the brightness seemed grotesquely incongruous with the mass grave that lay beneath the rubble. As I stared, mesmerized, I realized it was all too real.
We were standing on hallowed ground, and everyone treated the site with the respect it deserved. Firefighters gingerly picked their way through the smoldering, smoking pile of twisted steel, debris, dust, and human remains. Rescue workers dug gently with hand tools—no heavy equipment was allowed at this stage—in the desperate, vanishing hope that they might find a survivor in the rubble. I watched a nurse trying to console one of the rescue dogs, who was visibly distraught.
As physicians, we, too, sometimes shared the hopes—and disillusionment—of the rescue workers. Shortly after midnight a few days into our mission, I was the supervising medical officer on the overnight shift at Med Station 2. I found myself standing at the windows, staring at the rubble yet again. The night was cool and cloudy; the drizzle earlier in the day had stopped, and everything glistened wetly in the artificial light. Suddenly my paramedic team leader ran over to me. "Someone thinks they saw a hand move on the east side of the pile—they want a surgeon on-site stat!" I grabbed my emergency pack and raced to the area where the Urban Search and Rescue Team was operating. There, the team leader stood, looking dejected. "It was only a piece of metal stripping moving in one of the holes," he said. "We sent in the dogs and the fiberoptic scopes, but no one was down there." For a few precious minutes, hope and excitement had flared; then instantly everyone dissolved into despair again.
We remained in the rescue phase of the operation for several more days, although hope was quickly fading. It was not until our team departed, ten days after the attacks, that the mission officially became one of recovery.
Out of the Ashes
The events of September 11 will no doubt mark for this generation what the John F. Kennedy assassination represented for mine: a tragic watershed moment. But that day has also given those of us in the medical profession valuable insights into our future. We learned that our country's disaster response system works. It is solid, but it is not perfect, and we must incorporate what we have learned into future planning.
We also learned that flexibility is essential. Plans and situations change rapidly, unexpectedly, and frequently. We have to be able to adapt moment by moment. We learned as well that job descriptions are often irrelevant in the face of disasters. As a surgeon, I spent more time in a hard hat and work gloves than I did in a scrub cap and sterile O.R. gloves.
And yet I saw that we, as physicians, can do a great deal to help people, even under austere circumstances and with imperfect tools. At Ground Zero, we had no x-ray machines, laboratory facilities, or fancy diagnostic equipment but nonetheless managed to do good work just by relying on clinical skills and judgment.
Perhaps most important of all, I saw that people's capacity for good is still greater than their capacity for evil. The heroes of this tragic story were the firefighters, police officers, and ironworkers. The images of these men and women gently, somberly, and respectfully removing human remains day after day—often to the point of collapse— will stay with me forever. It was my profound privilege to work with these extraordinary people, who stood as a constant and much-needed reminder of human decency, compassion, and sacrifice.
This article appeared in the Winter 2002 issue of the Harvard Medicine Alumni Bulletin. At that time, the author, Jay J. Schnitzer, MD'83, was a pediatric surgeon at Massachusetts General Hospital and a member of a Boston Disaster Medical Assistance Team.
Images: Courtesy of Jay Schnitzer