From theme to ideation to design
The idea that eventually became the cover of the Autumn 2020 issue of Harvard Medicine began in conversations about one of the story topics, that our skin can be a harbinger of health issues that manifest within the body, rather than solely on its surface.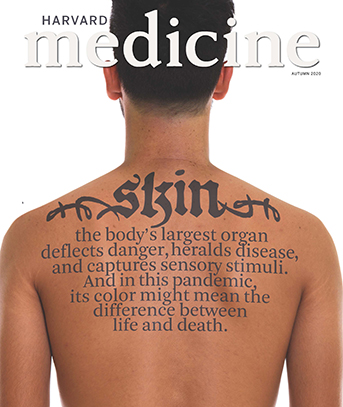 This fascinated us and provided a metaphor for the cover art: the skin as a canvas for a person's story—physiological, sociological, and personal. This would be, we felt, a natural, and powerful, way to deliver the introductory text for the issue. For this to work well, however, we had to meet the challenge of designing the words realistically. (No people were subjected to the tattoo needle for this cover.) The words needed to be contoured to match the body's shape and topography, while the typography and decorative elements not only had to appear authentic, but make the reader believe they were, too. One unsuspecting back model and a few dozen Pinterest tattoo sites later, and we had a plan for our Skin cover.
We design directors give much to our craft.
Paul DiMattia is the design director for the HMS Office of Communications and External Relations.
Inset: Maya Rucinski-Szwec