Medical history from Countway Library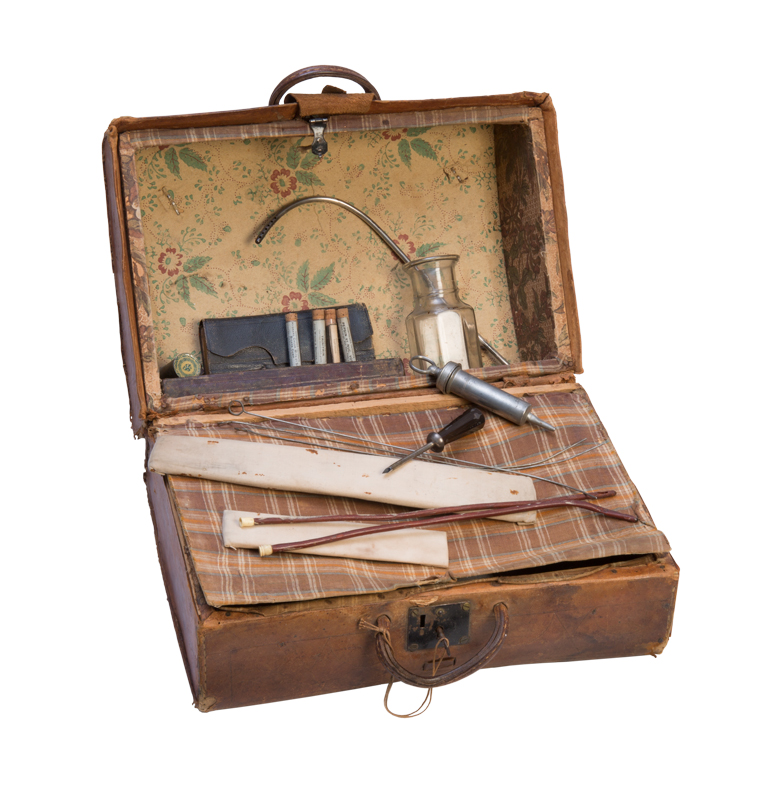 A gym bag, a designer handbag, a doctor's bag—each tells you something about the person carrying it.
In the nineteenth century, the majority of this country's population lived in small towns and rural areas. Even cities had far-flung neighborhoods. Whatever the address, when people fell ill or were injured, physicians often traveled to treat them with supplies carried in that doctor's bag.
William Henry Porter came by medicine almost osmotically—both his father, Vine Porter, and his older brother, Winslow Burroughs Porter, practiced the medical arts in and around Surry, New Hampshire.
William attended lectures at HMS in 1851-1852, received his medical degree from Worcester Medical Institution in 1853, and then apprenticed in Winslow's practice in Alstead, New Hampshire, near where the brothers had grown up.
William eventually married, moved to Surry, and established his own practice there in 1854. He was far from just the local doctor, however. Deeply involved in the community, he served as town clerk, treasurer, the town representative to the state General Court, the postmaster, a school board member, a trustee of the local library, and a member of the Surry Grange.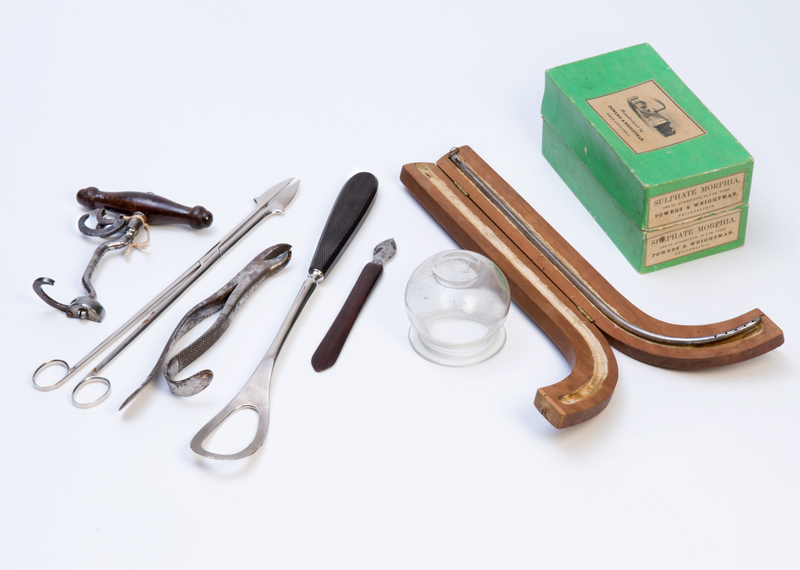 If the bag doesn't make the doc, it does reveal, to a degree, the type of doctor he was and the medical care he customarily provided his patients.
Judging from its homemade lining and utilitarian mien, William's rectangular bag probably was a repurposed suitcase. Contained inside are tooth keys for extractions, gynecological devices, forceps, splints, and medicines; notably absent are surgical implements.
The contents indicate William likely delivered babies, terminated life-threatening pregnancies, set broken bones, tried to bring fevers down, and treated diarrhea with morphine or vomiting with anti-emetics.
William's immersion in the life of Surry likely served him well as he cared for his friends and neighbors in town and surrounding areas, where he enjoyed a successful practice for many years. Today, telemedicine can help doctors reach people in rural areas or those who cannot leave their homes. And the doctor's bag is still handheld—but it needs to be charged.
Image: John Soares