From theme to ideation to design
When discussing concepts for the cover of this issue of Harvard Medicine, we knew that whatever solution we arrived at would need to convey that this was neither an ordinary moment in time nor an ordinary subject for the magazine. It would need to avoid triviality, and it would need to match the sobriety of the time. Satisfying both needs would not, we thought, be easy.
To help direct our readers' interpretation of the cover concept, we looked for something simple, something stripped of nuance, yet something universally understood by anyone involved with the identification, study, treatment, or management of COVID-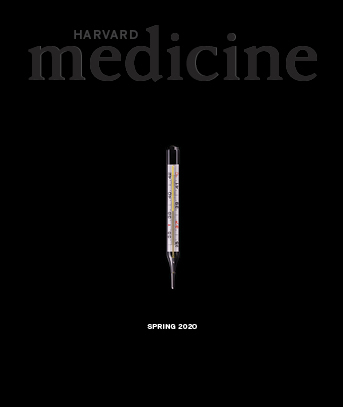 19. For us, that something was a thermometer. Throughout this pandemic, thermometers have been the literal representation of the virus. Yet, they also are allegoric, clearly capturing when things are not right.
We started exploring concepts with imagery that included several thermometers, but after careful consideration, decided that one lone thermometer carried a clearer, stronger, simpler message. Finally, in lieu of any text describing the subject of the magazine, we moved the date of the issue front and center. "Spring 2020" and the single thermometer stand together as a comment on this extraordinary time. 
Paul DiMattia is the design director for the HMS Office of Communications and External Relations.
Inset: Maya Rucinski-Szwec