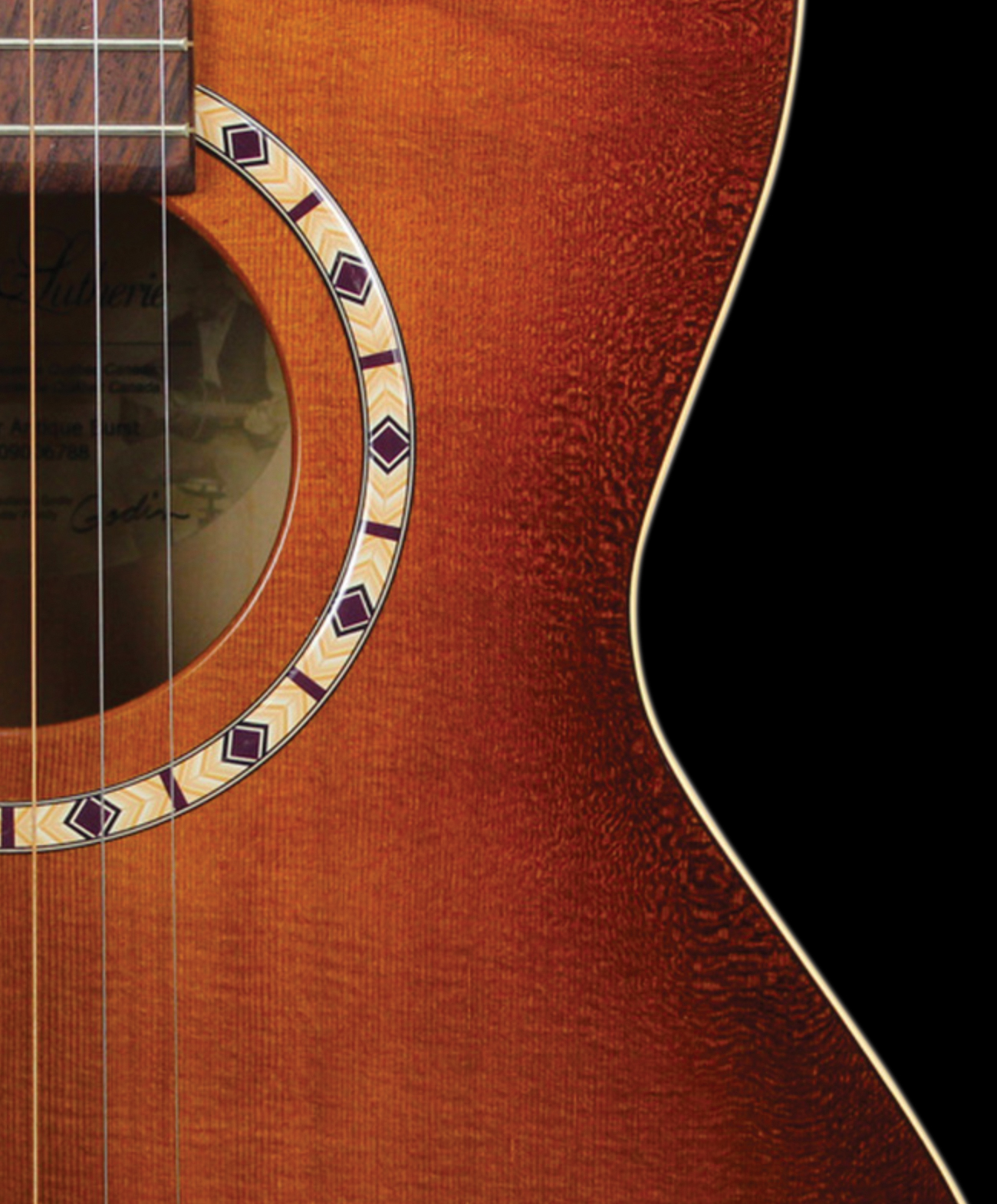 Acoustic Dreams
An epiphany at a rest stop in a California desert reawakens a physician's passion for music
As a musician and physician, I have long been intrigued by the subtle threads connecting these seemingly unrelated fields. While an MD-PhD student at HMS, I was impressed and inspired by my colleagues and faculty who seamlessly bridged the two worlds, some as adept with their bows and capos as they were with scalpels and sutures. I was also intrigued by the historic achievements of musically minded physicians from the nineteenth century, such as Aleksandr Borodin and Theodor Billroth, who were as renowned for their musical virtuosity as for their visionary contributions to medicine and the natural sciences.
I have been a guitarist since my middle school years, and even as my facility with six strings languished during the more grueling stretches of my medical studies, a part of me knew I'd return to the instrument one day with gusto. Although I relished the thought of uniting these two passions of mine, I could never have anticipated the form this union would ultimately take. It did not happen easily or without detours. It became, in short, my personal ballad.
Breathless
In 2007, in what I now see as an eerie parallel to the current pandemic, I found myself in the hot zone of what turned out to be a widespread infection of a deadly new strain of Bordetella pertussis. The bacterium eventually wreaked havoc on the West Coast, infecting a number of health care professionals on hospital duty. I was doing my pediatrics residency in California at that time and contracted the bacterium from a physical exam of a patient I was cross-covering in a pediatrics ICU. Complications from the initial and secondary infections devastated my respiratory tract, scarring and tearing through my airways. My lungs sustained lasting structural and immunological damage; after passing my USMLE Step 3 exam, I faced the bitter fact that a medical leave to allow my body to convalesce was unavoidable.
For the next few years, I was trapped in a physiological limbo, uncertain of when or if my lungs would heal sufficiently to allow me to return to clinical duty. As I underwent endless rounds of nebulizer therapies, pulmonary function tests, imaging studies, and corticosteroid treatments, complete with their distressing Cushingoid effects, I realized that my recovery would be neither straightforward nor assured.
It turned out that I was in a high-risk group for respiratory decompensation even before the pertussis took its toll. In 1998, while still in medical school, I was a contestant on Jeopardy!, the TV quiz program. I had performed well enough to qualify for the show's Tournament of Champions in Los Angeles. I also, however, had contracted Mycoplasma pneumoniae in the week prior to the taping. By the time I arrived in LA, the rigors of preparation and travel had left me with a crippling pneumonia that dragged on for weeks. That infection had been the first hit to my respiratory system; the pertussis delivered the knockout punch.
The B. pertussis epidemic struck me so early in my training that I hadn't yet secured disability insurance. I needed to work to keep myself afloat as I healed, so I began providing consulting, teaching, editing, and translation services, first for scientific papers and then more broadly as opportunities arose both domestically and internationally.
I was trapped in a physiological limbo, uncertain of when or if my lungs would heal sufficiently to allow me to return to clinical duty.
The work was not enough, however, to stave off the despair and angst about my future that continually troubled me. I tried to build an emotional shield, to open myself up to creative explorations. Songwriting, unfortunately, wasn't a possibility: The respiratory problems that were barring me from the clinic also smothered my singing voice, making impossible the controlled exhalations so necessary to a singer's art.
World music
I turned to fiction writing for creative solace and produced what became the Leibniz Demon trilogy, a series of novels in the metaphysical fiction genre. The first book in the trilogy, Echoes of the Mystic Chords, had taken shape during a conference I attended in Taiwan on computational biology and in silico drug-target simulation. While I marked up books and articles by several of the leading lights of the physical information theory field, my thoughts slowly began exploring philosophical questions of broader interest, questions about the nature of life, intelligence, sentience, and consciousness itself. So, in a tucked-away truck stop café on Jiankang Road in the industrial Zhonghe district of the capital city Taipei, I began to write my first novel, planting seeds for what would become my literary career, and then bloom into a musical career.
Music entered my life again through a surprising turn. In the social media-fueled publishing world of the mid-2010s, audience outreach required what has become known as the fan video. In these modest productions, fans inhabit the roles of characters in the book and act out stories set against a musical backdrop. I needed soundtracks, so I became my own songwriter.
Before I knew it, my long-dormant musical aspirations had been rekindled.
Road songs
As excited as I was about this move back to music, life had some new curves for me to navigate. The year 2014 had brought some much-needed good news: My novel entered the publication pipeline, and I began a research fellowship in bioinformatics and human genetics. That fellowship turned out to be a prelude to matching in a specialty fellowship that would finally bring me back to clinical medicine.
In the meantime, Gloria, my girlfriend from Taiwan, had moved to northern California, on the outskirts of San Jose, and I began taking monthly drives from Los Angeles to see her.
Music entered my life again through a surprising turn.
Then my airways again rebelled. Although they had been regaining function, my lungs remained acutely susceptible to any airborne pathogens. During one trip to see Gloria, I became short of breath and feverish. A chest x-ray later taken at an urgent care clinic confirmed my fears: ground-glass patterns permeated my lungs. I had severe pneumococcal pneumonia.
I scrambled to get on the road and return to LA, both to stay within my hospital network and to protect Gloria from contagion. But I was too late. I struggled to maintain concentration as I drove. Shortness of breath gave way to panicked inhalations and a racing heart. I became dizzy and lightheaded. In desperation, I pulled my car into a seemingly abandoned desert rest stop on Highway 99 and rested.
I nodded off for only about a half hour before being jarred awake. I was still short of breath, but I summoned a meditation technique I had taught myself and calmed down sufficiently to allow my breathing to return to a manageable rate. As I waited for my condition to stabilize further, I reached into the back seat for my guitar. Picking and strumming, plucking and arpeggiating, I settled body, mind, and soul. I found an uncanny tranquility in a particular chord, the A minor added ninth: eerie and foreboding, yet with something oddly soothing about it. I began to chain it to other chords I had been tinkering with. This musical reverie mingled with recent memories and took shape, ultimately becoming the signature track of my debut extended-play record.
Sustained chords
That harrowing night led to the musical breakthrough I had been hoping for. I reworked the song to its final form: a two-part epic in verse and melody. It became the keynote track that bridged the first and second EPs for a new band: Kant's Konundrum.
The band brought together talented people who tell stories in song, still images, and film. Our profile grew through podcasts, shout-outs in music blogs, and interviews in industry and trade publications like Authority Magazine and the European music-discovery engine Stark!Strom. The energy of this musical collaboration fueled my individual efforts, leading me to compose a dozen tracks for what has come together as the band's first album.
We have experimented with blues and metal to supplement the adult alternative, experimental rock, and 90s revival core of what became our trademark Hypno-Intox sound. Amid this creative ferment, I studied the masters of country, folk, rap, and poetry slams to draw lyrical inspiration. My fledgling efforts matured as I tapped stories, dreams, and memories to build lyrics and layer music. Ultimately, our collaboration produced "A Hustler's Tale," a bluesy number inspired by the Bonnie and Clyde mythos and the picaresque worlds of Quentin Tarantino. From this song, we produced a music video that became record-setting, garnering eleven awards on national and international music and film festival circuits.
Those early compositions and the ones that have followed, however, remain rooted in the music that emerged from my old legacy guitar during that evening at a rest stop in the central California desert. Today I remain true to the synergistic spirit that unites the worlds of medicine and music.
Jacob Wesley (J. Wes) Ulm, MD '06 PhD '06, is currently a pediatrics fellow in medical genetics and genomics at Children's Hospital of Pittsburgh, University of Pittsburgh Medical Center.
Image: Mattias Paludi