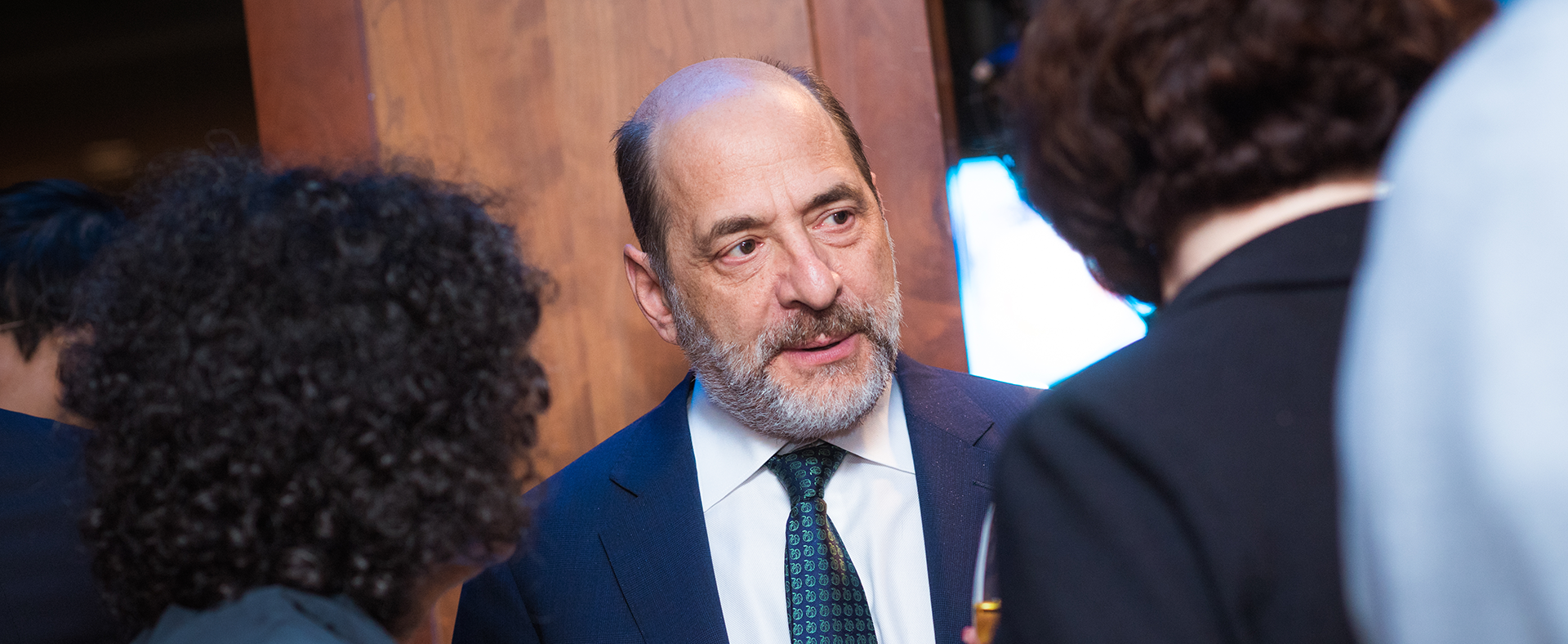 Leading brilliant researchers means listening, collaborating, and allowing their science to flourish
You recently marked one decade as chair of the Department of Neurobiology in the Blavatnik Institute at HMS. What has it meant for you to be the leader of the department, essentially a leader in HMS science?
Harvard Medical School is a great place to lead a research effort, and I've gained a lot of experience in leadership over the past years. But when I came here, it was a little intimidating to become the chair of this department. I was stepping into shoes that were a lot bigger than mine. This department is just so renowned.
When I arrived, I think some faculty worried that I might want to make the department all about my own personal vision, that I would want to surround myself with people who were doing research that was very similar to mine—I'm a molecular and cellular neuroscientist and I came from a microbiology background.
However, I didn't have a desire to do that. I thought it would be better to benefit from the collective wisdom of the faculty, fellows, and students in the department, people who might be more knowlegable than I was in terms of their scientific backgrounds and abilities and successes. I thought that together we could chart the course of the department as we moved forward. I still think, and work, that way.
Day to day, I focus on making use of the talent here. My job is to bring people together and, on the basis of discussion and collective understanding, we figure out a way forward. When we have a scientific problem that we want to solve, we have a lot of discussion, and then together we make a final decision on what to do.
I feel I'm more of a facilitator than someone who dictates direction. I try to find out what people need and then make it happen. One of the reasons I like leading this department is that I have the ability to influence my environment, hopefully in a positive way.
One of the things I've appreciated during these years is how the Department of Neurobiology and HMS continue to evolve. The medical school is now at a point where there's a real need for departments to work together and, therefore, a need for leaders who have experience and, hopefully, some wisdom in how to get people to work effectively together as a team, within a department, and within the medical school.
So you'd characterize your approach to leadership as collaborative?
I would. And when it comes to building collaboration and a collaborative environment, I think I ground that approach on a couple of basic thoughts.
One is that when you come to work every day, it's more enjoyable to come to a place where people get along and they're helping each other as opposed to competing and causing tension. Life is short and if you're going to do something—and put a lot of energy into it every day—it's nice if it can be a pleasant experience.
I also think that if we're really interested in making progress in terms of scientific discovery, a pleasant, productive, positive environment is more likely to be one where major discoveries are made. In that sort of environment, people feel encouraged and free to think about new things and to let their creativity go to the maximum.
Biomedical researchers such as those in this neurobiology department have a real advantage by being here in Boston and at Harvard Medical School. We're surrounded by excellence. If, on top of that, you work in an environment that is collaborative—and you embrace that—there's no limit to what you can do.
When I visit this department, I often see groups of researchers in the halls, intently talking about their work. Often, you're there, too. This is not exactly the picture of the solitary scientist toiling away in a lab that so many people seem to expect.
You're right. Although some scientists prefer to operate in a vacuum, I think even the most brilliant scientists are going to do still more if they're making use of collective wisdom, both scientific wisdom and wisdom in terms of how to solve problems. In this department, we have a lot of brilliant minds and a lot of conversations about our science.
I think when we get together to talk about our work, informally or formally, it shows that our faculty, fellows, and students realize that the whole can be greater than the sum of the parts, that through collaboration you can do much more than you might otherwise.
Do these sorts of hallway conversations occur outside these walls, too?
They do, and they often lead us in new directions. For example, in my lab we've recently taken a turn toward studying human brain evolution. That's something entirely new for us. Christopher Walsh at Boston Children's Hospital and David Reich in genetics and I developed a center for the study of human brain evolution. The work we're doing there is definitely spurring me on in directions that I might not have gone.
A pan-Harvard effort called the Harvard Brain Science Initiative that I lead together with Josh Sanes of the Harvard Center for Brain Science provides all kinds of venues for people to meet and talk about scientific problems. There are a lot of ideas that get generated in these discussions that we might follow up on within our laboratories, not to mention the rich possibilities for collaborations among those of us doing neurobiology research here and in Cambridge.
There's also a pan-Boston basic neuroscience initiative that I was instrumental in starting. It's led by Bob Horvitz at MIT and me. This started with a $5 million grant from an anonymous donor to support collaborations among neuroscience researchers who are doing fundamental research, what's often referred to as curiosity-driven research. This research is vital: Before we can carry out more translational research, we need to know the basic science. The grant supporting this initiative was recently renewed and now includes researchers at Boston University and Tufts University; its advisory board has representatives from each institution.
We fund work that's highly innovative, early stage, and risky—the type of work that would not be as likely to receive an NIH grant because it is too early stage. But supporting this type of research can help researchers demonstrate proof of principle, something that's key to future grant applications to more traditional grant-giving groups. Through this initiative, we're seizing opportunities for interactions across the city. We're hoping that support for this program continues because the science that's come from it has been great.
Interactions with neuroscientists throughout the Boston community enriches our work, too. In the Department of Neurobiology at HMS we have a large number of very creative scientists who are able to identify areas of research that are on the cutting edge but are flexible enough to benefit from collaborations across the city of Boston.
Can you give me some examples?
Well, when Bob Datta arrived here, he had a significant interest in olfactory circuitry. He saw opportunities to relate certain neural circuitry to animal behavior, and through collaboration he's developed some very innovative approaches for studying animal behavior.
Another member of our faculty, Chenghua Gu, has done phenomenal work on the neurovascular interactions in the blood-brain barrier. This work grew from Chenghua's work to figure out how the nervous and vascular systems communicate and how that influences brain function. Some of her recent work has involved collaborations with Bernardo Sabatini, who is a master of new technology and an inspirational scientist.
Bernardo's work, too, is continually evolving. He had a significant focus on the synaptic properties of neurotransmission and plasticity at dendritic spines, but in the past decade, he has turned his attention toward motor control and circuitry and understanding the mechanisms at work in the striatum. Some of that work, which is entirely new, has focused on the neural circuitry of schizophrenia.
We're just continually searching for new areas that will aid discovery.
One area that my lab and others in the department have been exploring began through a collaboration with the Department of Systems Biology. Two researchers there, Allon Klein and Marc Kirschner, developed a method for single-cell sequencing. In my laboratory, through a collaboration with Allon, we were very successful in adapting this method for use in the nervous system.
The technique spread like wildfire in the department. My lab began collaborating with Bernardo's, then with Corey Harwell's and Wade Regehr's. We started talking to people who work in primate physiology about the technique and began collaborating with Marge Livingstone. That's just what happens in this department. One of us picks up a new method and, because this community is very open to new ideas that may help us learn more about how the brain works, the idea or method just spreads.  
Over the years, researchers brought into the department have expanded the disciplines available to the study of neurobiology and made the department a nexus for sensory research. What is your process for bringing in new talent?
Through search committees, talking within our community, and thinking carefully about the expertise that would be useful to our progress, we're able to collectively identify one person after another who could really make a great contribution to our department and to the community. When we recruit a new scientist we look for someone who is interactive in a positive way and will bring something new and important to the department. In particular, we look for someone who is a top-notch scientist, but someone we think is also going to be really good at being a part of the community and enjoyable to work with.
This goes back to the fact that we basically value a positive, pleasant, collaborative environment. It's how we think the best science gets done.
How do you measure something like that?
I don't think you can measure it, but I think you know it when you see it, at least if you're a sensitive individual and are willing to take the time to get to know the candidates.
When we assess candidates, we look for people who have a record of high-quality, rigorous science; people who are addressing an important unsolved question in the field; and, most important, people who would benefit from our environment in pursuit of their research.
I do look for people who are full of energy and are also at least somewhat entrepreneurial. Those who have a fire in their belly to be successful. It's a careful balance between being a good human being and being a fired-up entrepreneurial scientist.
I think one reason for our recruitment success is that our bar is very high in terms of a variety of characteristics a candidate has to have in order for us to invest in them, because, you know, when you hire a faculty member, you're investing for quite a long time.
We're counting on our faculty to bring additional people into the department, in terms of members of their lab, and to show good judgment and to be interactive, so that each lab is contributing to the environment. So, getting the hiring right is important. I think we have been successful. I feel very proud of the young scientists we've brought into the department. Every one of them has been a great addition.
Will the department continue to grow?
I think for several reasons we won't be hiring many new scientists in the coming years. Instead, I think our focus for the next five years will be on the people who are here. We will work to help our young scientists move up the academic ladder successfully. We'll also think of ways to enhance our community other than by simply increasing the size of the faculty. We may look to develop new core facilities or seek new opportunities for the people who are here, or develop a fellows program. I also think it would benefit our faculty if we increased the size of our neuroscience graduate program somewhat. We attract the best students, but unfortunately turn away many highly qualified candidates.
I know you plan to stay on as the department's chair, but have you thought about what you'd like your legacy to be for this research community?
I'm not really interested in legacies. I'm interested in what I do while I'm here, and how I affect the people who are here now. I'm trying to create an environment where science flourishes; what comes in the future is for the people of that time.
Would that be your legacy, then? An environment where this science can flourish?
I guess if there was any legacy that I'd want, it would be that. I'd like to put in place the support and environment needed to allow science to continue to flourish.
Ann Marie Menting is the editor of Harvard Medicine magazine.
Image: Gretchen Ertl