From theme to ideation to design
Mental illness remains a difficult subject to talk about and, many times, to accept in ourselves or in people we know, meet, work with. When developing the idea for this cover, we decided to start with a driver's license, the go-to for identification, for knowing precisely who a person is and where they fit in this world. Then we removed the face of the (fictive) person being identified.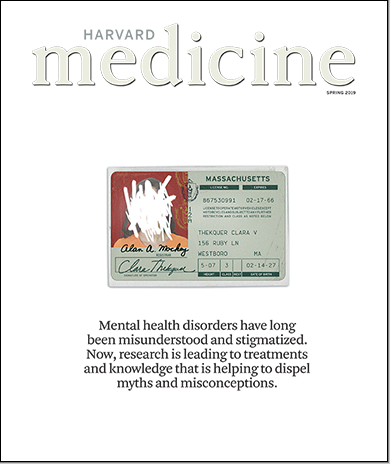 We stripped that individual of the identity by which society recognizes them, much as society strips those with mental illness of their identity and makes them their disease (he's schizophrenic, she's bipolar). The removal looks as if it was emotionally driven, the defacement of something, in others or in ourselves, that frightens or angers us.
This cover was meant to elicit conflicting emotions, to call into question the viewer's own thoughts about mental illness. 
Paul DiMattia is the design director for the HMS Office of Communications and External Relations.
Collage (top): Maya Rucinski-Szwec