From theme to ideation to design
Creating a cover to represent the LGBTQ issues explored in the Winter 2020 issue of Harvard Medicine was one of the more difficult art challenges we've faced. On the one hand, we were looking at LGBTQ health care from a fairly broad perspective and did not want the cover art to narrow that perspective to one or two topics. On the other, we did not want to rely on any of the usual clichés used to signal content that broadly addresses LGBTQ issues: we were confident the world did not need another stethoscope on a rainbow.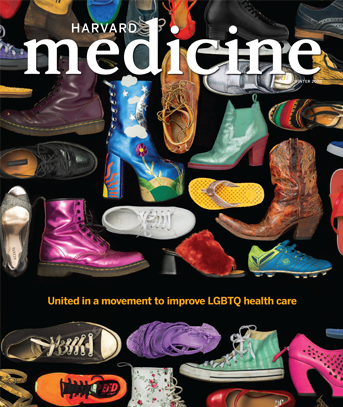 What, we asked ourselves, would symbolize the diversity of the LGBTQ community in an honest, nontrivializing manner? From those discussions, shoes emerged as the right tool for the job. With all their pedestrian and metaphoric associations, shoes are profoundly commonplace yet also symbolic of individual expression. When well-worn, they also show the journeys taken by their wearers.
After soliciting dozens of pairs from our colleagues and friends—and visiting a thrift store or two—we had, right in front of us, the community we hoped to represent. We spread the collection on the floor of our office and began the photo shoot. From that point on, our cover created itself.
Paul DiMattia is the design director for the HMS Office of Communications and External Relations.
Collage (top) and cover: Maya Rucinski-Szwec