Medical history from Countway Library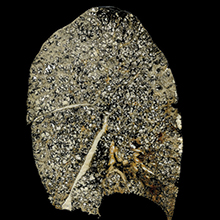 Scientific discovery begets scientific discovery, and Jethro Gough and J. E. Wentworth's foundational paper on preparing entire-organ sections certainly begat its share.
In 1949 the pair of pathologists reported an account of how they obtained, fixed, and mounted on paper thin sections of whole lung from deceased Welsh miners in order to compare the sections with radiographs taken from the miners during life. The authors, and others, considered the paper mounting to be the real innovation of the study.
The original preparation they developed took a total of fourteen days, which included several multistep processes, including fixing, slicing, embedding, drying, and mounting. The fixing step took 48 hours, which some later researchers preserved.
Previously, large pieces of tissue were mounted on glass, which allowed them to be viewed under a microscope. The paper-mounting method made the sections portable and durable.
Researchers from what was then Beth Israel Hospital, Felix Fleischner, HMS clinical professor of radiology, and Leopold Reiner, HMS professor of pathology, used specimens from Gough to study linear x-ray shadows in acquired pulmonary hemosiderosis and congestion, gleaning from them, as they wrote in a 1954 paper, "unparalleled insight into the pulmonary topography."
There have since been improvements and modifications to the Gough-Wentworth technique. In 1969, W. F. Whimster, a pathologist in Jamaica, described a simpler technique that he thought yielded comparable results. His revised process was shorter, too: less than 48 hours for the entire sequence. Whimster also extended use of the method to other organs.
A group in France published its modification in 1993, in which they preserved Gough and Wentworth's fixing time of 48 hours, a period they found acceptable for optimal results, and shortened the subsequent steps more rigorously. Their process produced a section satisfactory for correlating an organ specimen with computed tomography scans for use in histopathological reports, a clinical technique made necessary by the use of high-resolution CT scans to visualize pulmonary anatomy in lung diseases.
Today, the technique to produce rapid giant paper sections of organs is still in use—but not many people know how to do it. John Godleski, an HMS professor of pathology at Brigham and Women's Hospital and a professor in the Department of Environmental Health at the Harvard T.H. Chan School of Public Health, considers Whimster's work the "big step" in advancing the technique, adding that being able to see the pathology and distribution of lesions in slices of whole organs is important for diagnosis, particularly in lung diseases.         
Image: Warren Anatomical Museum in the Francis A. Countway Library of Medicin