Alumni share stories of HMS deans
In late 2017, Dean George Q. Daley, MD '91, set out on a Meet the Dean tour to share with alumni and friends his vision for the future of HMS. At the first event, in Boston, we asked alumni in attendance, "Who was your dean?" Recollections varied, but the stories were rich and enjoyable for the insights they offered of the people who have occupied pivotal roles at Harvard Medical School throughout the past several decades.
Harvard Medicine asked the same question of alumni attendees at the Meet the Dean events that followed: Los Angeles, New York City, Philadelphia, San Francisco, and Washington, DC. The replies received give additional testimony to the character of those who led the School and illustrate the influence they've had on students through the years.
While I matriculated at HMS, Dean Tosteson led the School, but the deans who had by far the most impact and influence on the student body were Daniel Federman and Carola Eisenberg, both remarkably inspiring individuals who took their responsibilities of guiding the students very seriously. We all benefited enormously from their compassionate hands-on leadership.
It was my pleasure to make the acquaintance of Dean Daley at his recent visit to San Francisco. He clearly is a highly capable, remarkably inspiring leader. It was hard not to be confident that under his sage leadership HMS will thrive.
The other high point for me at the recent Meet the Dean evening was having the opportunity to catch up with Lloyd "Holly" Smith, MD '47, who, in his early 90s, is still going strong. Holly interned at the Massachusetts General Hospital with my parents (Walter St Goar and Nan Godley) in 1948, and always revels in sharing dramatic stories of their time together in the Phillips House and other classic MGH services.
Frederick St Goar, MD '84
I enjoyed the recent evening event with Dean Daley, although I didn't actually meet him. He was very busy. I knew the School's three previous deans, for they worked in areas close to my area of research. Dr. Jeffrey Flier and Dr. Daniel Tosteson are both people I crossed paths with over many years.
At the Meet the Dean session I did meet Holly Smith, MD '47, who was chief resident at the Mass General when I was a student there. His teaching rounds were unforgettable, and his move to UCSF helped to move that school into the top tier of medical schools.
When I was in medical school, I vividly remember Dean George Packer Berry and his work to upgrade the quality of the School, including updating the medical curriculum in the post-World War II period. I was one of four members of our class who were asked to volunteer for a special program in which our first year was spent with the PhD students. Our special program did not seem to impair how well we did in medical school and served as the model for classes over the next few years.
George Bray, MD '57
I can truly say that several deans at HMS have been critical not only to my personal growth as a physician but also in how I approach clinical medicine as a human being every day.
I first met Edward Hundert, MD '84, during my admissions interview. He had recently been appointed dean for students, a fact that caused me anxiety as I prepared for my interview with him. His calm manner, engaging personality, and kindness, however, immediately put me at ease. He described how he was recruiting for HMS not only the best and brightest minds he could find in the HMS applicant pool, but also candidates who were caring, compassionate, and excellent problem solvers. He explained that healers could do only so much individually but were an unstoppable force when they worked as a community. Given my research background, he inquired about my true calling to clinical medicine. He also challenged me to extend my expectations beyond what I might traditionally expect from another medical school in the country. In my thirty minutes with him, he convinced me to pass on my other two choices, each of which were offering full scholarships, and to choose HMS when I was offered admission. Throughout my four years at HMS, Dean Hundert served as a mentor, moral compass, and role model—and proved to be one of the kindest people I met.
I met Nancy Oriol, MD '79, five years ago as I was taking my family—my wife, who is a cardiac-trained anesthesiologist and graduate from the UCLA medical school, as well as our three kids—on a quick tour of the Quad. By happenstance we ran into this wonderful, smiling woman who held the elevator door for our toddler in his stroller. Within two minutes my wife was in awe that she was conversing with the anesthesiologist who invented the walking epidural, and I was excited to speak to the dean for students. She told us about HMS MEDscience, an educational program she had developed. The program engages high school students in science, team building, and self-efficacy by placing them in week-long medical training and simulation programs. The program to date has touched more than 5,000 students, primarily in underserved neighborhoods with undersupported schools, in the Boston area alone. We found her enthusiasm to be infectious, and, since that conversation, we have been on the advisory board for HMS MEDscience. We hope that she will continue to invigorate the community with her charm, heart, and spark.
How exciting it must be for Hundert and Oriol to have molded an entire generation of HMS medical students and to have brought out the best in students of different talents, personalities, and backgrounds.
Shawn S. Nasseri, MD '95
I don't remember any interaction with the dean while I was in medical school. I heard him speak a few times, but I don't recall any close encounters. The main connection we had to the School was through its secretary, who arranged everything from classes to graduation. She was terrific; we all depended on her.
Tom Kuhns, MD '59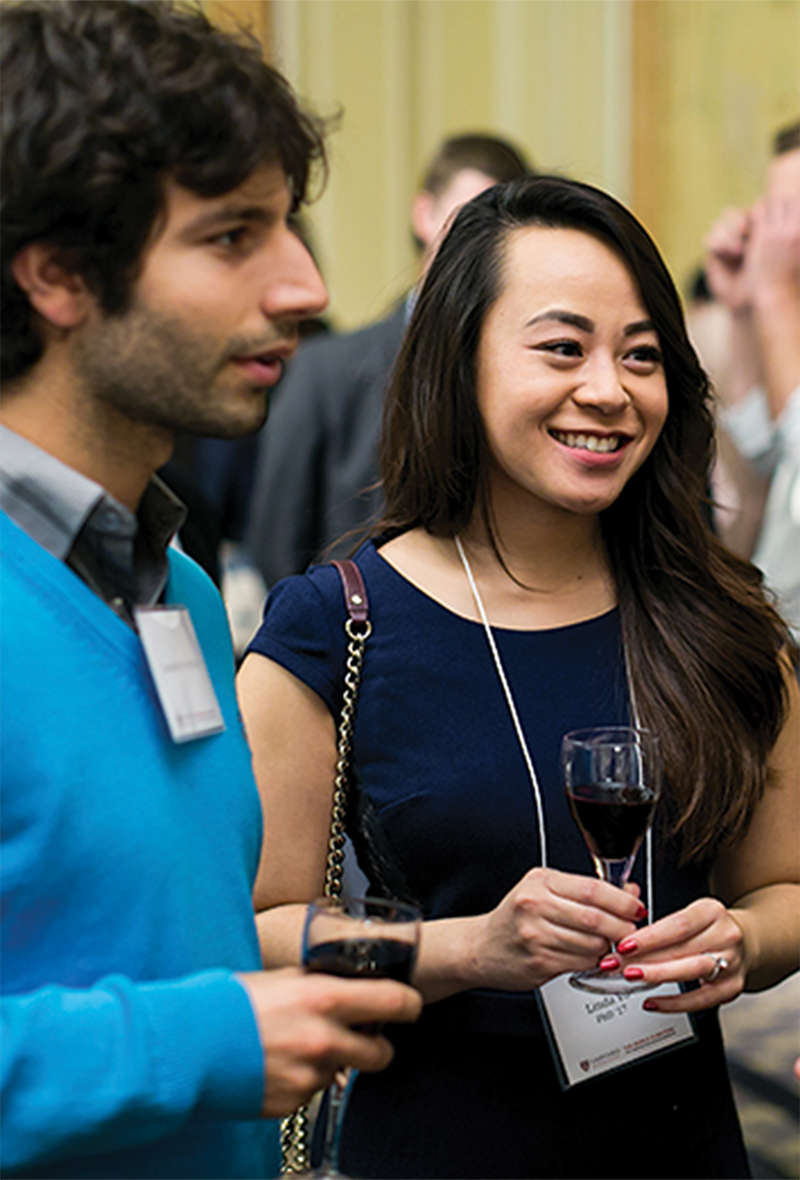 Several years ago, Daniel and Magdalena Tosteson stayed in our house in France during an HMS–University of Padova Medical School meeting on parathyroid hormone metabolism. At the gala Saturday night dinner, Magdalena, seated with Dan, MD '48, at the head table, turned to the scarlet-clad man seated next to her.
She asked, "What do you do?" In reasonable English, he replied, "I have a twin brother who is in charge of the SNCF (French railways). He is in horizontal transportation." After a portentous pause, he continued, "I'm in vertical transportation."
The man in scarlet was the archbishop of Perpignan.
Daniel Federman, MD '53, was a close friend who came to our wedding in Venice and to my 75th birthday party in New York City in 2010. During his toast, he unfolded a piece of paper that had been the essay part of my application to HMS. Then he proceeded to read. In his voice it gained an elegance totally undeserved.
Dan told another story about an applicant to HMS who had survived the Vietnam conflict. As a refugee living in Los Angeles, he attended Stanford, learned English and Spanish, and mastered a musical instrument. At Stanford, he excelled in basic science, made research contributions, and did community service. When asked by the Stanford dean if there was anything that could be done to aid the young man's candidacy, Dan said, "Keep him in sight. We're sending a Boston Cab!"
Sirgay Sanger, MD '60
Sad to say, but I have no memory of Dean George Packer Berry, who served during my first year. I vaguely remember Dean Robert Ebert standing in the front of the amphitheater, but he really was not part of my life. Joseph Gardella, the dean for students, was a distinctive figure but not necessarily a positive force. Everyone was frightened of him. By contrast, Dean Ebert seemed benign and distant.
Stephanie Pincus, MD '68  
I did not have contact with George Packer Berry while I was a student, but it was interesting that, while on a vacation in Canada, I spoke to a Canadian who said that Daniel Tosteson had parked his trailer on the Canadian's property while vacationing in that country.
After Dean George Q. Daley, MD '91, finished his New York presentation, I talked with him about the role HMS might play in helping to solve our nation's politically bound medical insurance conundrum. After all, who better to arrive at an intelligent solution than the doctors in the trenches providing the medical care?
Leonard Pulerwitz, MD '57
The dean during my years at HMS was George Packer Berry. I'm sure of this because his name appears on my HMS diploma, yet I have no recollection of seeing or hearing from him during my four years. This is in marked contrast with numerous HMS faculty members whose words, appearance, and dialogue I recall mostly fondly and in vivid detail.  
Reflecting on those days from my position as a former department chair at a medical school and as a current member of its faculty, I find that lack of dean-student interaction a little shocking. The Uniformed Services University (where I am on faculty) has a tradition of the dean knowing each of the students personally and meeting with them, individually or in small groups, on many occasions. In fact, when I served on search committees for new deans, I would seek candidates who could and would relate warmly to individual students. Times change.
The HMS website states, "Dr. Berry maintained that it is preferable to graduate medical students who know less, but who better understand how to learn more." When I graduated (magna cum laude), HMS seniors were thought to know little clinical medicine but to be eminently teachable. That suited me perfectly, for I had spent much of my senior year in the MIT library and its computation rooms undertaking a research project. Soon after graduation, I was enormously impressed by, and envious of, certain fellow interns from other schools who, after many months of toil on clinical services, knew very well how to diagnose and treat patients. It took me months of hard work and error to begin to catch up; I still work assiduously to enhance my clinical skills. I can't blame Dean Berry for my early shortcomings—it was my choice to spend so much time on research. But I am now impressed that my choice reflected Dean Berry's policies and may have been inspired by them. I think Dean Daley will pursue a different course.
Robert E. Goldstein, MD '65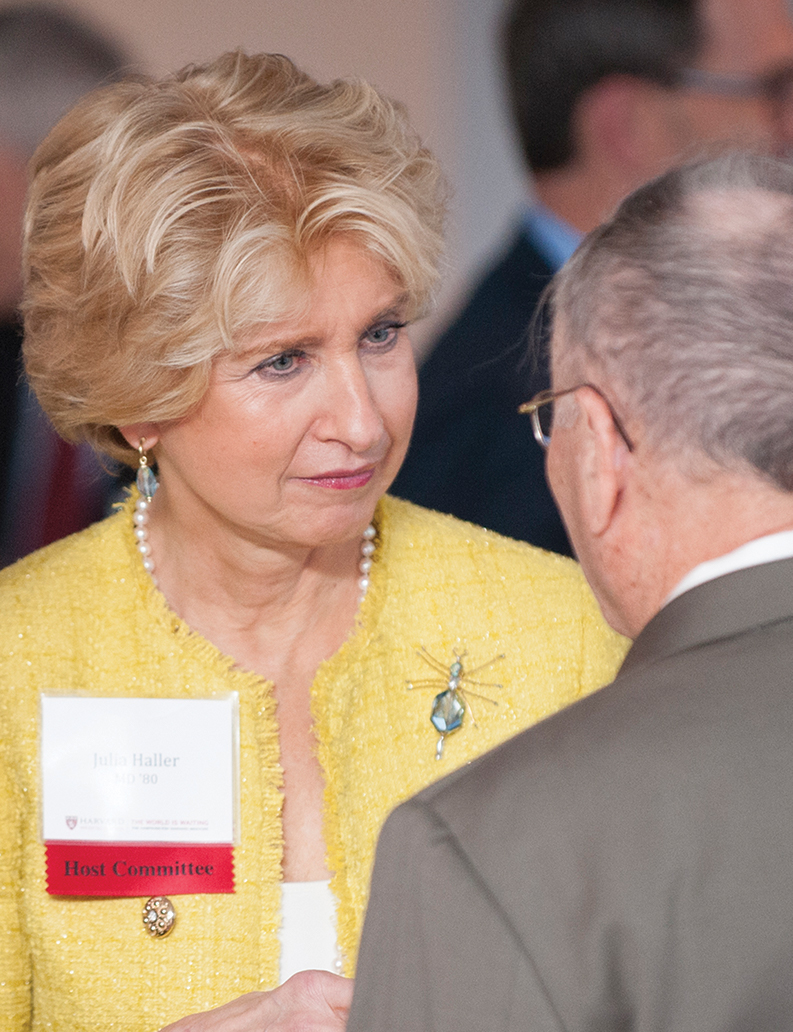 George Packer Berry was HMS dean during my student years. He was busy gathering resources and interacting with the Harvard hospital chiefs and rarely interacted one-on-one with students. However, he had a gifted administrative assistant who ran the daily activities of his office and solved any problems. I am too old to recall her name, but she was devoted to HMS and was admired by everyone. Dean Berry traveled a lot and his staff really were in charge most of the time, but, because of this excellent administrative assistant, the dean's office functioned extremely well.
There are, however, two occasions when I recall having dealings with the dean's office.
In our second year, we had morning lectures that were supposed to teach us something. However, the lectures were distributed as an honor to members of the faculty, not because of the professor's ability to teach. The lectures were uninformative and boring, and attendance declined. Some of us felt we were being denied the good teaching we were entitled to and decided to boycott these lectures. Not all members of my class joined the boycott, but a sufficient number did, such that the lecturers complained to the dean's office about the very low attendance. Because I was notably absent from all the lectures, I was asked to come to the dean's office. There, I explained that the lectures were a waste of our time and that we were better off spending the time with our textbooks. The dean's office knew what needed to be done but, since the lecture schedule was set for months in advance, could not do much right away. In subsequent semesters, however, the lecturers were chosen for their teaching ability and were provided with guidelines on what to teach.
As an undergraduate, I had started doing research part-time with a faculty mentor. During my senior year, I wanted to take a six-month full-time elective in research. To substitute research for clinical training required the approval of the dean's office. When I applied, I was greeted warmly by the dean's administrative assistant. She knew that my older brother, Bernard, MD '55, had not only taken six months of research, but had won the Soma Weiss Research Prize. She assured me of approval and mentioned that taking the research elective would increase my chances of obtaining a top internship after graduation. Subsequently, I confirmed her confidence in me by also winning the Soma Weiss Research Prize.
I look back fondly at my student years at HMS, despite the very difficult first two years. The introduction to research helped propel my medical career and supercharged the portion of my career that involved being a healer. I note with satisfaction that the present HMS curriculum emphasizes research and that the new dean will carry this further.
Allan Kliman, MD '58
I arrived at HMS as a first-year medical student, traveling from the University of Chicago to HMS in the same year as the new HMS dean, Dean Daniel Tosteson. 
John T. Wilson, president of UChicago, had been cared for by the cardiologist Suzanne Oparil, whose lab I had worked in during the summers and academic year. President Wilson was not happy about Dr. Tosteson's leaving UChicago; I know this because he told me and Oparil at a dinner party he and his wife hosted.
I told President Wilson I would keep an eye on Dr. Tosteson at Harvard. The next day, I received a UChicago gargoyle and a thank-you note from President Wilson in my mail box.
C. Noel Bairey Merz, MD '81
When I was an entering first-year in 1988, Daniel Tosteson invited our entire class to his home in Newton. I recall what an inviting, warm person he was, and how he took a genuine interest in each member of our class during that very first week at HMS. Dean Daley continues in that Harvard leadership tradition, combining extraordinary vision and intellect with caring and deep compassion, as the next chapter in Harvard Medical School's amazing story begins to be written.
Timothy Jenkins, MD '92
Our dean, George Packer Berry, was a remote figure for us. Many of us had contact, however, with the dean for students—Joe Gardella—who was a vigorous advocate for basic research. In my case, Dean Gardella prevented me from taking a summer internship in 1961 between my first and second year. The opportunity was to be with the California Department of Public Health and would have introduced me to the field of public health while affording me the chance to live at home and commute ten minutes to Berkeley. Dean Gardella refused to recommend me for the position because he felt that "I was too smart to go into public health," even though my academic record that first year was not stellar. He did secure a spot for me in a research lab at UCSF, where I functioned as a lab technician and was able to live with my parents. In the end, I chose a career path that straddled clinical medicine and public health and spent much of my life on the UCSF faculty. 
Steve Schroeder, MD '64
In September of 1990, my first-year classmates and I were invited to the home of HMS Dean Daniel Tosteson. As we boarded the shuttle buses at Vanderbilt Hall, it was suggested we share our intended choice of career specialty with the dean when we were introduced. My fellow classmates all seemed to have charted their career paths better than I had. When I applied to medical school, I thought everyone trained to be a surgeon, and hadn't pondered which specialty to pursue.
As we arrived at his home, I joined the back of the line of classmates who were being welcomed by the dean and his wife. Shortly, the time for my introduction arrived. I spoke with his wife first, and then the dean greeted me with a firm handshake and asked of my career plans. Because an answer to that question hadn't surfaced during my bus ride through Boston's suburbs or while I waited in line, I blurted out, "How does one become a medical school dean someday?"
He smiled broadly and made a sweeping gesture with his arms that was just as broad. He responded "That is a great plan. In the next four years at Harvard, we will teach you all of the secrets to make that possible. I wish you all the success in achieving that goal."
In all of my interactions with Dean Tosteson during the next four years, I was always impressed by his gentlemanly demeanor, grace, and elegance. I've heard from other classmates like Edward Neymark, MD '94, that this first impression of our dean, begun with his warm welcome of our entire class, endured and strengthened over the years.  
John Maa, MD '94
Dean Tosteson was dean when I was a medical student, but I didn't interact with him at all. The member of the dean's office who spent significant time with the medical students in those years was Daniel Federman.
Joseph St. Geme, MD '84
My dean was Daniel Tosteson. Unfortunately, I did not have many personal interactions with him during my years at HMS. I kept a fairly low profile. I do recall him being warm and sincere, and a very good sport, particularly regarding our antics in our Second Year Show.
Daniel Federman had more personal interactions with us when I was a student, and I recall his being an especially gracious and warm man. One of my classmates, Stuart Anfang, MD '91, portrayed Federman in our Second Year Show, and Dan Federman was wonderful and supportive despite being the object of our humor.
The alumni event in Philadelphia was a lovely evening. Dean Daley gave a very inspiring talk about his vision for HMS. I'm looking forward to more HMS alumni events in the Philadelphia area in the future.
Christina La Monica, MD '91