Past wartime observations inform current understanding of PTSD
Nostalgia, soldier's heart, railway spine, neurocirculatory asthenia, shell shock, war neurosis, battle fatigue. Follow the names for the condition we now call post-traumatic stress disorder, and you'll trace the history of medical thinking regarding battle-induced trauma, from physiological and psychological models to a combined model, neuropsychiatry.
World War I made shell shock a household word, and even one hundred years after the end of that war, the term is still used as a synonym for stunned. Elmer Ernest (E. E.) Southard, MD 1901, in Shell-shock and other neuropsychiatric problems, a prodigious feat of cataloging published in 1919, served the medical profession by editing and compiling nearly 600 cases of battle-related trauma, drawing from "the literature of the belligerents, 1914-1917, English, French, Italian, Russian, and—so far as available here—German and Austrian."
Intended as a training manual, the resulting case-book in "fields now collectively termed neuropsychiatry" reveals how wartime physicians were thinking about the condition as they encountered it. Southard hoped the book would prove useful in what he called reconstruction, or the mending of soldiers' post-war psyches.
The work recognized the condition as a response to a violent event, but questions remained of contributing factors and whether the condition was more organic or functional, more physiologic or psychologic, more soma or psyche.
In Southard's time, it was recognized that no two people had the same reaction to the same traumatic event and that some of the variation in response had to do with predictive factors such as prior or existing disease, substance abuse, and psychosis. While these and other factors are still part of the clinical picture, we now know far more about the plasticity of the brain and how experiences can alter its structure and function.
The question of why some people suffer severe consequences after trauma while others do not has still not been adequately answered. Kerry Ressler, MD '97, PhD '97, an HMS professor of psychiatry at McLean Hospital, has been researching the role of resilience and coping—how a stressful event is appraised and the strategies used following the appraisal—in the range of responses to trauma and development of chronic PTSD.
Like Southard, Ressler and other researchers are searching for ways to lessen or prevent chronic PTSD. The work in resilience is yielding some insights, but, as Ressler wrote in a recent paper, "it remains unclear how coping strategies influence resilience and PTSD development in the acute aftermath of trauma."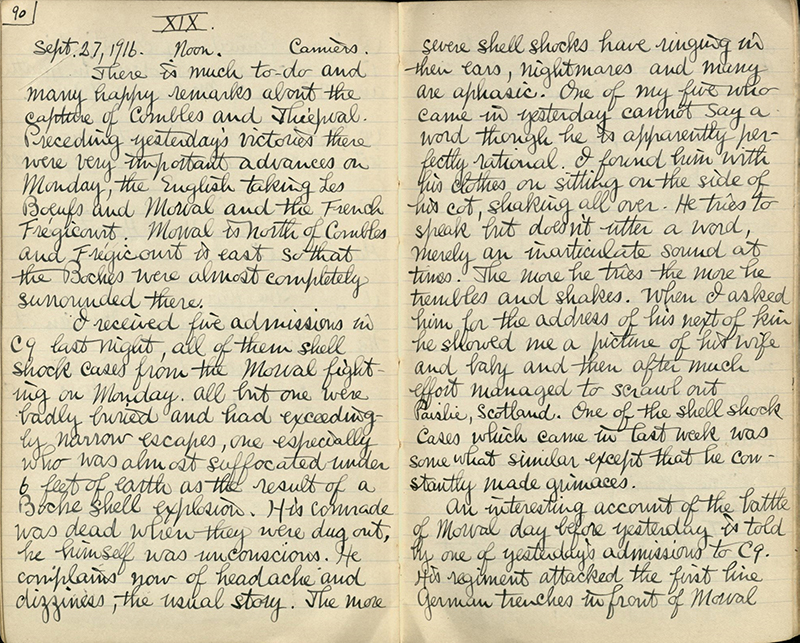 In Camiers
In 1916, as a member of the Harvard Surgical Unit during World War I, Paul Dudley White, MD 1911, served at the British Army's No. 22 General Hospital, located in Camiers, France. He kept a diary throughout his days there and during the war years that followed. In the pages pictured here, he relates the stories of some young men who had been admitted to the hospital as "shell shock cases."
"All but one were badly buried…one especially who was almost suffocated under 6 feet of earth as the result of a Boche shell explosion. …"
Records such as White's help scholars trace how the traumas of war have psychologically affected those who experienced them, an understanding that helps inform current work on post-traumatic stress disorder.