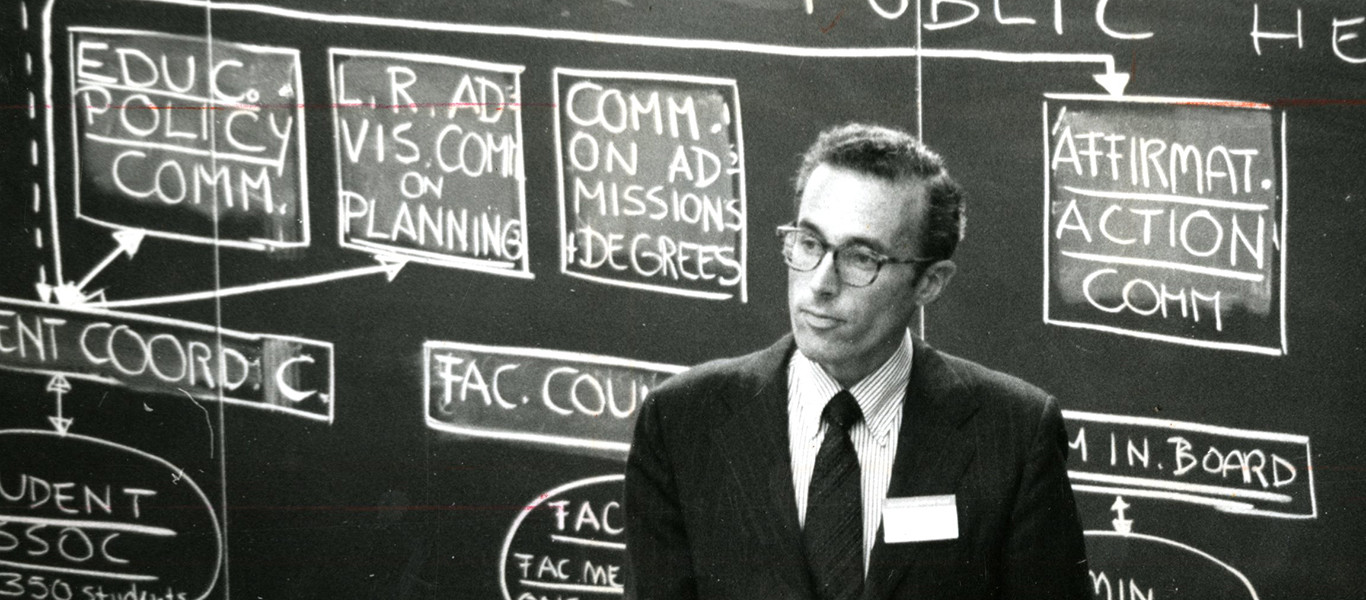 Howard Hiatt helped bring a science base to medicine
Change is often difficult in medicine, particularly when it involves making changes to department leadership roles. Tenured medical faculty members sometimes have a tendency to become entrenched through the years and resist anything different from what they are accustomed to. Through happenstance, however, a number of chiefs of services at Beth Israel Hospital were arriving at retirement age just as Howard Hiatt [MD '48] was taking over as chief of medicine. Thus, he was in a position to appoint new chiefs and to do so, in most cases, without internal conflict.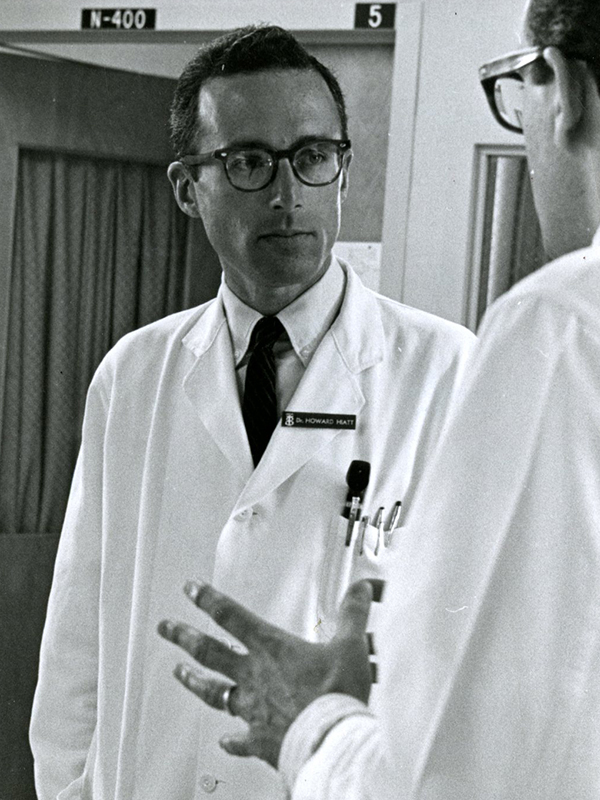 During his initial years as chief of medicine, the staff of Beth Israel as well as its board greeted his changes with enthusiasm. He was professional and knowledgeable, but he was also the kind of person to whom others are drawn. There was a charisma to Howard that helped make changes more acceptable to people. Other physicians, students, administrators, board members, and patients saw Howard with his smile and his easy, avuncular manner. He asked about staff members' families and he did so remembering people's names and the names and ages of their kids. He was a rigorous manager but an essential aspect of his management was to connect to people on a human level with warmth, collegiality, and often humor. His self-deprecating brand of off-the-cuff humor became one of his most appealing traits throughout the medical center.
As he worked his way through changes in the early days of his new role, Howard sought the advice of a number of friends and colleagues. In particular, he consulted Dr. Walter Bauer, chairman of the Department of Medicine at Mass General, who had selected excellent young doctors and sent a number of them to NIH for additional training before having them return to Mass General. Given Howard's interest in research, this approach very much appealed to him and he would follow this model at the BI. "I looked for people who were accomplished clinically and very sophisticated scientifically and this was quite unusual," says Howard. A number of well-respected physicians at Beth Israel criticized Howard for this approach, arguing that the goal should be attracting superb clinicians regardless of their research interests or ability. All attention was owed to patients and their ailments, these people argued. But Howard said it was important to take a broader view and that people who were both excellent physicians and accomplished researchers were more likely to identify the best treatments for patients.
As much as Howard loved his work at Beth Israel, he sometimes yearned to get back into the research laboratory. He had experienced the elation of success in the lab years earlier in his work on messenger RNA. There was no feeling quite like the sense of accomplishment that came with breaking new scientific ground. After five years as chief of medicine, with a strong team in place at Beth Israel, he decided the time was right to take a year's sabbatical and immerse himself in the lab. He felt instinctively that it would be impractical to do this in Boston—he knew that if he were on the BI property he would repeatedly be drawn into a wide variety of issues, meetings, decisions to be made. Thus, he took an opportunity to travel to Great Britain to work under a renowned cell biologist at the Imperial Cancer Research Fund Laboratory at Lincoln's Inn Fields in London, one of the world's leading cancer research centers. Howard learned a great deal during his time working with the research scientists. His understanding of cancer deepened considerably.
His work in London also gave him an opportunity to become reacquainted with Dr. Brian Jarman, a general practitioner with a panel of patients mainly in a poor area of London. Many mornings, from nine to eleven, he would make house calls. The devotion to serving needy patients that Jarman brought to the work was clear. Beyond that, Howard was struck by the power of Jarman's intellect. Jarman's preparation for medicine had been quite unusual to say the least. He earned a PhD in geophysics at Cambridge and started out his professional career exploring the Sahara and other deserts for an oil company.
— — —
What began as a professional relationship between Howard and Jarman evolved into a close friendship between the two men that would stretch over almost six decades. Jarman would go on to become one of the leading primary care physicians in the United Kingdom, head of the Royal College of General Practitioners, and president of the British Medical Association.
The most lasting benefit for Howard from the year in London, in addition to his friendship with Brian, was the opportunity to see the delivery of ambulatory care by the men and women of the British National Health Service. Primary care was Jarman's specialty, and he guided Howard through the delivery system with a sense of mission and pride. Howard spent time with Jarman in inner-city London at a clinic serving many working and poor people. He also accompanied Brian on house calls. This effort on the part of Jarman and other NHS physicians to reach out and connect with people in need either through home or clinic visits impressed Howard. There was nothing like this at Beth Israel Hospital.
Thus did Howard become "aware of how much our Department of Medicine and American academic medicine in general were not doing, both internally within the hospitals and in surrounding neighborhoods." The National Health Service delivered care to any and all people regardless of their income or social standing and doing so in a setting convenient to the patient left an indelible mark.
Howard returned from London in 1970 with the images of the work he had observed Jarman doing fresh in his mind. He was determined that Beth Israel must do more to provide care to people in need within poor areas of the city of Boston. He also was determined to change the way care was delivered as well as the way the faculty was teaching medical students and residents. This was new ground. Medicine at the time was centered upon treating patients first and foremost and, only then, researching new treatments. Rarely did physicians talk about ways of improving the delivery of care or even what that delivery process should look like. There were standard models—one for ambulatory care and one for in-patient care—and rare was the deviation from these models.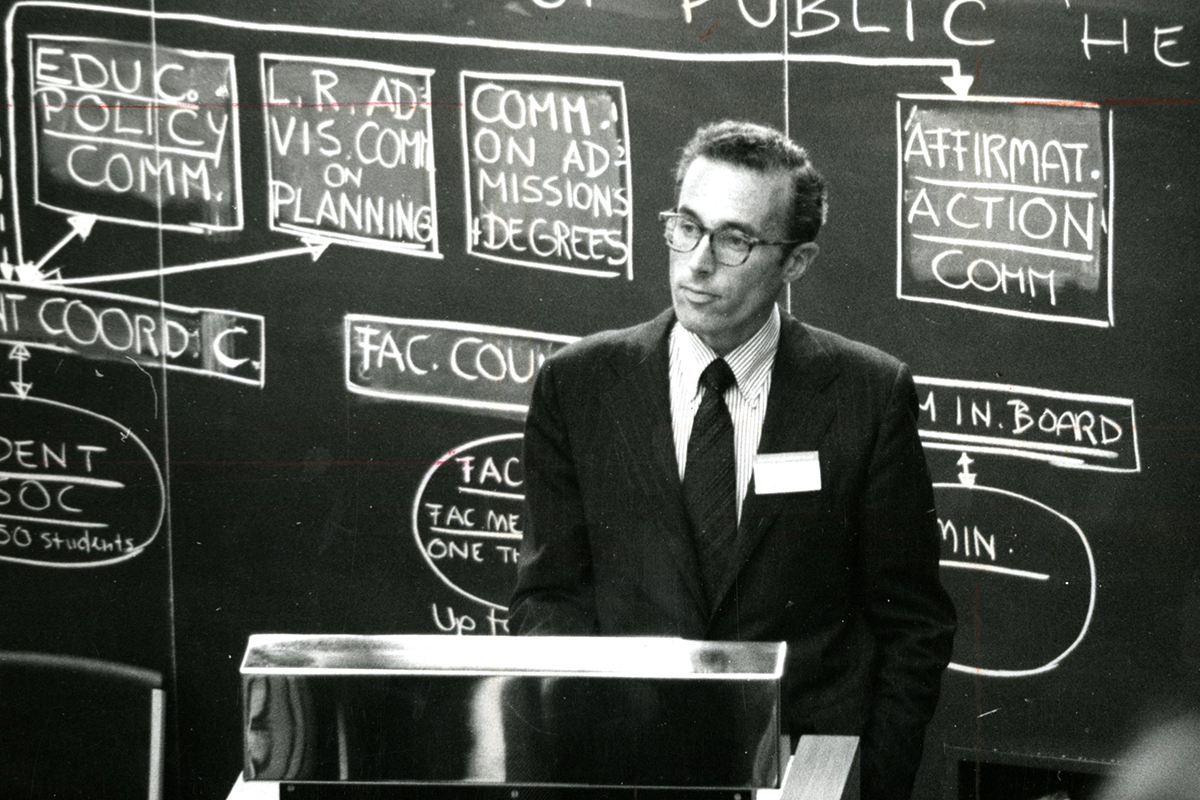 In 1969, while Howard was in London, a radical new experiment in care delivery was launched by a team led by Dr. Robert Ebert, dean of Harvard Medical School. Ebert and his colleagues believed that the best way to deliver care would be through what he called a health maintenance organization (HMO): a group of physicians and other caregivers whose mission would be to keep its members healthy through prevention and early intervention and to provide excellent treatment to those members when they became sick. This HMO model was designed as well to provide care at a lower cost than traditional health insurance plans. Harvard funded this not-for-profit venture, which opened its doors in 1969. From the start, Harvard Community Health Plan attracted talented, idealistic doctors, but its initial efforts to attract subscription-paying members did not fare particularly well. At the start, a grand total of eighty-eight people signed up. Over time, however, the plan flourished.
Ebert also wished to link the new initiative to Harvard teaching hospitals, which Howard thought made perfect sense. Harvard Community Health Plan was unusual for many reasons, not the least of which was its experimental nature. Medicine was then and remains today a conservative profession. Change in healthcare organizations … can be both slow and painful. There is often a predisposition among powerful people in healthcare—including many doctors—to reflexively resist change. Howard recognized, however, that the largely hospital-based model of care was insufficient to meet the needs of many patients in a variety of parts of the community. "What was needed," Howard observed in his memoir, "was a capability within our Department of Medicine to study existing patterns of primary care: How was our society delivering care to people whose medical needs did not require hospitalization?"
— — —
The result of all this was the creation of the Beth Israel Ambulatory Care program, which connected patients with a primary care physician and provided ongoing care to patients via an ambulatory care center at the hospital. Howard was guided and inspired in this work by what he had seen in London. Beyond the ambulatory care center and mindful of Jarman's work in London, Howard established a relationship between Beth Israel and Dimock Community Health Center in the Roxbury neighborhood of Boston. This was a largely black neighborhood with a good deal of poverty and many health challenges ranging from chronic diseases to gun violence.
Howard was so taken by the work Jarman was doing that he later wrote a column that was published on the op-ed page of the New York Times (November 16, 1991) entitled "Meet Dr. Jarman. He makes house calls." The article contrasted the efficiency of the National Health Service with the wasteful nature of delivery in the United States (recounting the story of an elderly man who wanted very much to remain home but who was hospitalized for a series of tests that proved to be not at all helpful medically but nonetheless very expensive). Howard wrote that "Dr. Jarman says that in England … the continuity of care by general practitioners … means more prevention and fewer unnecessary procedures, hospitalizations, visits to consultants and costs."
Primary care could do so much more to improve care and control costs but in the United States just 25 percent of physicians are in primary care, while in the UK it is half of all doctors, where their income is on a par with that of heart or brain surgeons. The relationship between primary care doctor and patient is central to the ability of caregivers in the UK to provide ongoing care responsive to patients' overall needs.
An edited excerpt from Howard Hiatt: How this Extraordinary Mentor Transformed Health with Science and Compassion by Mark Rosenberg, The MIT Press, 2018.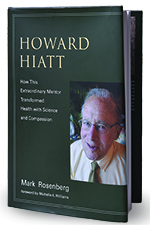 Mark Rosenberg, MD '72, is a faculty member at Emory University's schools of medicine and public health. He served as president and CEO of the Task Force for Global Health and served for twenty years at the Centers for Disease Control and Prevention, where he oversaw research on injury prevention and control, including gun violence prevention research. The author wishes to acknowledge the assistance of Charlie Kenney in developing the chapter of the book that is excerpted here.
Images: Courtesy of Mark Rosenberg (top); Howard H. Hiatt Papers, H MS C314, Center for the History of Medicine, Countway Library of Medicine; Cici Arness-Wamuzky (book cover)