From theme to ideation to design
When the business of medicine was identified as the subject for this issue of Harvard Medicine, the iconic image of Lucy and her psychiatric help stand from the Peanuts comic strip immediately came to mind: As a boy, I had devoured the Peanuts comics and knew many others had, too. I felt that the humor, and familiarity, of this image of Lucy would convey the issue's concept—how the business of medicine was being reshaped by patients (its consumers)—to just about everyone.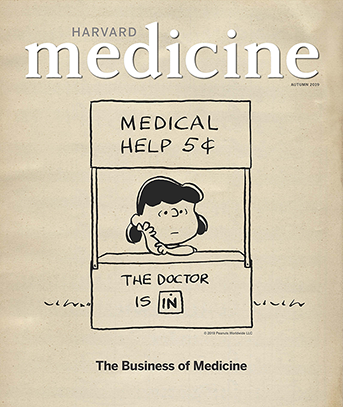 Yet, to make it really work we thought we needed to change the word "psychiatric" to "medical." In addition, to add a touch of authenticity, we placed it on a background that elicits thoughts of newsprint. We approached representatives at the licensing agency that owns the rights to Peanuts characters with our modified illustration, requested usage permission, and held our breath.
To our delight and surprise, they were extremely receptive to our idea. They had no objections to our version of Lucy and only asked that we include their copyright on the image.
We are so pleased with the cover, and so, it seems, are many readers.
For me, the satisfaction is greater: It is something of a childhood wish fulfilled. I feel I have (in a way) collaborated with the late Charles Shulz.
Paul DiMattia is the design director for the HMS Office of Communications and External Relations.
Collage (top): Maya Rucinski-Szwec