The development of new medical devices requires many hands and moments of inspiration
Sparks can fly when two HMS students put their heads together. Or, in the case of Howard Simpson, MD '35, and A. J. Derbyshire Jr., PhD '35, inked tracings of the brain's electrical activity.
In 1933, Simpson and Derbyshire approached physiology professor Hallowell Davis, MD 1922, with an idea: they wanted to recreate German psychiatrist Hans Berger's obscure experiments describing the human brain's rhythmic electrical output. The HMS Department of Physiology was an ideal place to conduct this work, they thought, as it had an impressive electrical amplification apparatus built by Davis's mentor, the pioneering U.S. electrophysiologist Alexander Forbes, MD 1910.
Davis was skeptical, however, believing that the so-called Berger waves were artifacts of the electronics themselves. Simpson and Derbyshire's initial failure to amplify readings from electrodes placed in their own scalps seemed to support Davis's skepticism. It wasn't until the students put electrodes into Davis's own head that they detected what was unmistakably a 10-per-second rhythm—a Berger-wave rhythm. Apparently, Davis had stronger alpha waves than his students.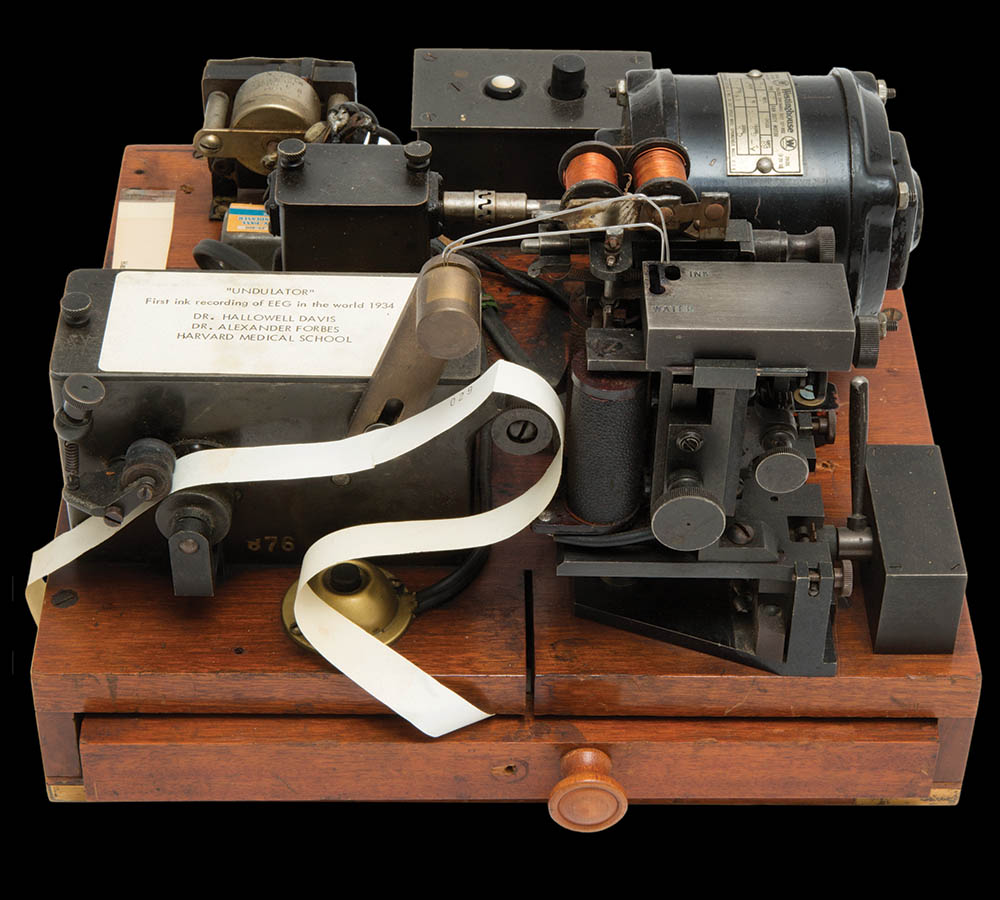 Immediately realizing the clinical and experimental potential of these findings, Davis asked the department's electrical engineer Lovett Garceau to build a device to visualize these waves. Garceau adapted a Western Union "undulator," designed to record the telegraphic signals from transatlantic submarine cables, to capture the brain's signals on streams of paper tape. A similar device had been developed in Berlin for use in animal experimentation, but Garceau's portable, inexpensive-to-operate ink-writing oscillograph was a first and it launched the use of the electroencephalogram in the United States.
Davis and Garceau published their findings in the December 1935 issue of the Archives of Neurology and Psychiatry. In that same issue, Davis joined Harvard neurologists Frederic A. Gibbs and William Lennox, MD 1913, in reporting the first experimental usage of the Garceau oscillograph in their paper "The Electro-encephalogram in epilepsy and in conditions of impaired consciousness."
The EEG device generated a buzz within the HMS faculty. Many volunteered to have Davis record their waves. Preserved in the Countway Library's Center for the History of Medicine, for example, are the 1940 readings from the brain of poet and Harvard psychiatrist Merrill Moore, who noted that his own wave print "did not show very much in particular but in spots indicate that I was momentarily drowsy, having to work late the night before."
Dominic Hall is the curator of the Warren Anatomical Museum in the Center for the History of Medicine at the Francis A. Countway Library of Medicine.
Image: John Soares