From theme to ideation to design
The original concept for this cover involved inviting the audience into a gallery space to experience an optical play presenting typography as sculpture. The art behind the scenes required hand-carved and shaped letterforms arranged and photographed in several compositions. We ultimately realized, however, that the desired effect remained too abstract, too difficult to interpret to be inviting. But, ideas are never completely lost. We instead arranged, photographed, and superimposed the letterforms onto canvas, then digitally painted them. The final assemblage presented an illusory twist: Art, like medicine, is complex, and initial sensory perceptions may not entirely capture the substance at issue.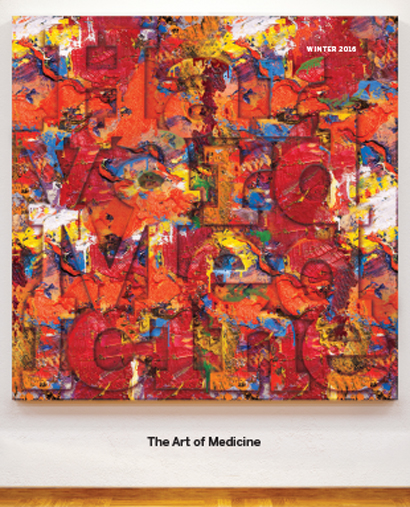 Jill Carrico is the senior graphic designer in the HMS Office of Communications and External Relations.