Lynch Foundation extends systems biology fellowship support
Lynch Foundation extends systems biology fellowship support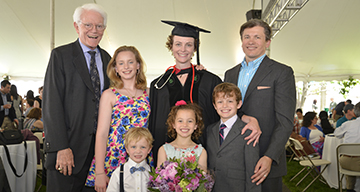 Peter Lynch, who has an enduring history with HMS as a long-serving member of the Board of Fellows, helped launch the Department of Systems Biology in 2003 and is a co-chair of the School's Discovery Council. He says his commitment to HMS was solidified in the late 1990s when Dean Daniel C. Tosteson, MD '48, asked him to chair a Cell Biology Advisory Council consisting of non-scientists, primarily. Lynch described Tosteson's move as a brave and pioneering approach to science.
It is the same out-of-the-box thinking that Lynch believes is needed to propel progress toward treating and curing the world's most devastating conditions, including cancer; neurodegenerative diseases, including Alzheimer's; heart disease; diabetes; and stroke, among others. Specifically, Lynch says it is the systems biology approach, which fuses concepts across numerous disciplines—from biology, chemistry, computer science, and applied mathematics to physics and engineering—that will have the most impact on human health.
Mary Lynch Witkowski, AB '96, MBA '01, MD '16, Lynch's daughter and a trustee of the family's foundation, couldn't agree more. "The magic happens when you cross disciplines. Attacking problems from different directions is what will lead to progress, and it happens every day at HMS. That's why it's exciting to support the people there. The money you give is explosive in its impact," she says.
Lynch adds, "I've always been impressed—and I'm a numbers guy—by the scale of Harvard. Dollars don't impress me, it's the number of people involved in research." In fact, there are more than 800 PhD students at HMS, including the Systems Biology PhD Program, along with nearly 9,000 medical residents and postdoctoral fellows, and 150 tenured and tenure-track faculty members in basic and social science departments. Lynch believes these are the people who will build upon the critical research and discoveries that have been coming from HMS for generations in an effort to help people live longer, healthier lives.
According to Marc Kirschner, PhD, John Franklin Enders University Professor and chair of the Department of Systems Biology, the Lynch Foundation has recognized the importance of this crucial training period and the difficulty in obtaining adequate funds to support it. "The Lynch Foundation has made a special contribution to the careers of some outstanding young scientists by generously providing fellowships for them to attempt to unlock the basic mechanisms that underlie human disease," he says.
To date, 16 PhD candidates have been named Lynch Fellows. They have studied important biological issues, such as understanding drug-induced liver toxicity; analyzing medical records with a goal of developing a system to predict future medical events, such as heart attack, stroke, and cancer; and understanding how bacteria evolve during infection.
Renewed funding from the Lynch Foundation will allow HMS to support two new PhD candidates per year. "These emerging scientists are an integral part of the lab. They are often underfunded and need help," Lynch says.
"It's a virtuous cycle," says Witkowski. "HMS is successful at getting funding because of the quality of the research conducted there, which in turn attracts the world's best researchers who want
to be a part of it."

Through this campaign, we will address the greatest health care challenges of our time to help people live longer, healthier lives. Learn more »
The Benefactor
Partners in Education, Discovery, Service, and Leadership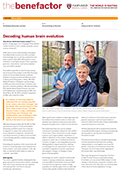 Download and read archived issues of our bi-annual publication to honor and acknowledge our most generous friends and supporters.