Language Programs
Foreign Language Training at HMS
The Scholars in Medicine Office (SMO) organizes an intensive Medical Spanish course at HMS. A student group, The Harvard Medical Language Initiative, with the SMO, coordinates year-long longitudinal Medical Spanish and Medical Portuguese courses for intermediate speakers and an intermediate Medical Mandarin course in the fall semester. Go to Harvard Medical Language Initiative (HMLI) for more information and sign up with the Registrar's Office. Classes start in the fall semester.
FUNDING for Language Training: HMS students are eligible to apply for language training funding from the FLAS (Foreign Language and Area Studies) grants for some of the intensive summer language programs offered by Harvard University or other independent programs. Application deadline is in December for summer intensive language programs.
HAITIAN KREYOL. Haitian Kreyol is offered as a non-credit longitudinal course through the Harvard Medical Language Initiative.
SPANISH. Students have several opportunities to learn medical Spanish, both in Boston and internationally, in the context of carrying out primary care clinical electives. We believe an immersion experience is the best way to quickly acquire a language and increase one's cultural competence.
Intensive Medical Spanish at HMS. The Scholars in Medicine Office offers a month long intensive medical Spanish course offered in Boston in October. Fourth year students can then participate in a two month primary care ME518M.41 clinical electives in Latin America offered throughout the school year. Students are eligible for Scholars in Medicine Office funding to defray roundtrip airfare for the international elective and should plan on applying to the SMO three months prior to their departure.
Third year students interested in medical Spanish language training and clinical electives offered through the course "Nutrition and Rural Medicine in Latin America" (ME518M.41) can sign up through the enrollment form available from the SMO in January. The Medical Spanish course takes place at HMS during the entire October elective month, Monday through Friday, 9am - 4pm with an hour lunch break and evening homework. The goal of the course is to help students reach a level of fluency where they have the ability to interview a patient, conduct a physical examination, and present the case in Spanish. Students have opportunities for small group interactions with native Spanish speakers during the course. The course is not compatible with any other coursework, exams, or other academic activities during this month.
NOTE: MD-PhD students funded by the NIH Medical Scientist Training Program (MSTP) are usually not eligible for this opportunity. MSTP students should check with the Director of Administration and Finance for the MD-PhD Program.
NOTE: For a good listing of Spanish learning opportunities, visit the American Medical Student Association Medical Spanish Resources at http://www.amsa.org/global/ih/ihopps.cfm and choose from the drop down menus. Also look into a discounted Medical Spanish online program at http://www.amsa.org/members/benefits/canopy/.
Our
Mission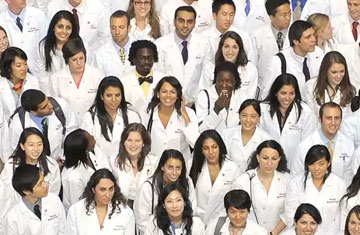 To create and nurture a diverse community of the best people committed to leadership in alleviating human suffering caused by disease.