Ting David Lee Jr., MD 57
Honoring those who provide support along the way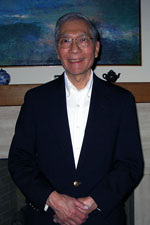 Ting David Lee, Jr., MD '57 transferred to Harvard Medical School during his final two years in medical school. The time spent studying on the Quad and living in Vanderbilt Hall left a lasting impression on his life. He found the professors truly passionate about teaching and the students—his classmates—became enduring friends. "Harvard Medical School not only provided me a world class medical education, but it was where I met a fellow classmate of the Class of 1957. We subsequently became lifelong partners in the practice of cardiology" explained Lee.
By naming an Amphitheater Chair, Lee helped provide the same opportunities to Harvard Medical School students that his parents made possible for him, allowing him to focus on his medical studies and not on the costs associated with his education. "My parents provided the financial means and support that enabled me to attend Harvard Medical School," said Lee. The Amphitheater Chair provided a meaningful way for Lee to honor his parents and to thank them for their role in making his medical education a reality. His gift also provides crucial current-use scholarship support and financial aid to Harvard Medical School students. With 82 percent of students relying on financial assistance, Lee's generosity will have an immediate impact on the students' lives and serves as a lasting tribute to his parents.
Click here to learn more about naming a chair in the Joseph B. Martin Conference Center.
Virtual Tour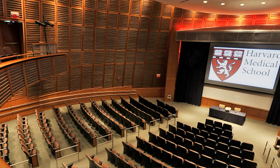 Situated at the heart of the HMS campus in the New Research Building, the Joseph B. Martin Conference Center embodies the spirit of scientific inquiry. It is here that research results are summarized, knowledge is shared, and new ideas and hypotheses are generated. With its contemporary design and prime location in the Longwood Medical Area, the amphitheater attracts leaders in academia and industry on a national and global scale. Watch the tour »