R. Pepper Murray, MD '86
Ortho Challenge gives "leg-up" to HMS students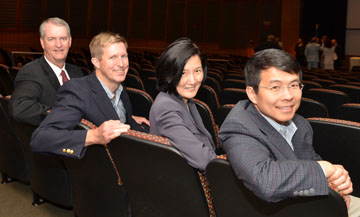 R. Pepper Murray, MD '86, has always been self-admittedly competitive by nature. Upon his acceptance to Harvard Medical School, Murray relished the chance to match wits against his budding classmates. Though, Murray's perception changed when he stepped onto the Quadrangle in the fall of 1982.
"It was like playing minor league baseball, and finally getting called up to the majors," said Murray. "HMS had some heavy hitters, and it wasn't just the faculty. The diversity and intellect of my class alone was so exciting. I felt incredibly undereducated compared to the depth and breadth of my classmate's knowledge, yet stimulated and motivated by associating with them daily," admitted Murray, an orthopedic surgeon who lives in Utah. "HMS challenged me academically, physically, socially, spiritually. It was one of the greatest gifts that I've ever received."
When Murray celebrated his 25th Reunion in 2011, he decided to mark the occasion by sharing that gift with others—he named an Amphitheater Chair in the Joseph B. Martin Conference Center in support of student scholarship and financial aid. "Giving back is one of the greatest ways to say, 'thank you,'" said Murray. "We all need help at different times, and it's a great feeling to help those in need."
However, Murray's competitive "pre-med spirit" also recognized this as a challenge, and resolved to do something special for current HMS students. "We all respond to challenges. They stretch us and raise our vision," said Murray. As a result, he and fellow orthopedic surgeon and classmate Anthony DiGioia, MD '86, launched "The HMS '86 Ortho Challenge," in which they encouraged the 11 orthopedic specialists from their class to name Amphitheater Chairs in the Martin Conference Center in honor of their Reunion. As an added incentive, participants could "seat" chairs in their very own row, located at the back of the Martin Amphitheater, which, as Murray quipped, "was where most of us sat the first two years of med school!"
In the end, Murray and his classmates provided $110,000 in immediate-use scholarship money for students. "Nothing gets accomplished unless you get involved," said Murray. "It was gratifying to see my classmates share in that desire to give back to an institution that gave us a 'leg-up' in our lives."
Click here to learn more about naming a chair in the Joseph B. Martin Conference Center.
Virtual Tour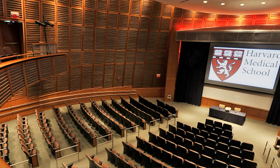 Situated at the heart of the HMS campus in the New Research Building, the Joseph B. Martin Conference Center embodies the spirit of scientific inquiry. It is here that research results are summarized, knowledge is shared, and new ideas and hypotheses are generated. With its contemporary design and prime location in the Longwood Medical Area, the amphitheater attracts leaders in academia and industry on a national and global scale. Watch the tour »