Mark Howard, MD 85
Grateful alumnus pays tribute to friend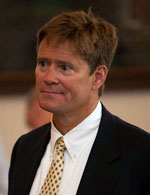 Mark Howard, MD '85, and James Randall Forbes, MD '88, shared more than just the same hometown. A love of sports and a penchant for science led both of the Napa, California-natives to Harvard Medical School, where they pursued their lifelong dreams of practicing medicine.
"At the time, for two kids from Napa like Randy and I to end up at HMS was something special," said Howard, a spinal orthopedic surgeon. "The rising costs of medical education are making the process for today's students incredibly challenging and expensive." After graduating and completing their residencies, the two friends returned to the west coast, establishing practices and starting families in Monterey, California. Over the years, their spouses and children developed a close kinship as well. However, tragedy struck in 2008, when Forbes' life was cut short by osteosarcoma, a rare form of bone cancer.
To honor the memory of his friend and help other aspiring physicians pursue their dreams, Howard elected to name a Chair in the Joseph B. Martin Conference Center Amphitheater in support of student scholarships and financial aid. "Randy was such a smart guy, a class-act individual," said Howard. "Naming an Amphitheater Chair served as a living testimonial to him, our families, and the humble upbringing we shared."
Howard's gift will also provide critical immediate-use scholarship support for the more than 87 percent of current HMS students in need. "HMS is a place filled with incredibly bright people and endless opportunities for personal and intellectual growth," said Howard. "I'm proud to know that my gift adds to this environment and continues to help HMS attract and finance the best students possible."
Click here to learn more about naming a chair in the Joseph B. Martin Conference Center.
Virtual Tour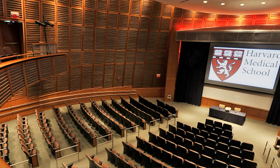 Situated at the heart of the HMS campus in the New Research Building, the Joseph B. Martin Conference Center embodies the spirit of scientific inquiry. It is here that research results are summarized, knowledge is shared, and new ideas and hypotheses are generated. With its contemporary design and prime location in the Longwood Medical Area, the amphitheater attracts leaders in academia and industry on a national and global scale. Watch the tour »