Chair of the Dean's Council
James M. Rabb, MD '70, Chair of the Dean's Council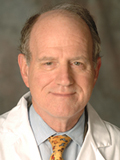 "Serving on a leadership council is an honor, and chairing the Dean's Council is particularly a privilege. Since all funds are directed to where they are most needed, gifts to the Dean's Council directly contribute to HMS continuing leadership role in the world medical community," says Rabb.
Rabb, assistant clinical professor of medicine at Beth Israel Deaconess Medical Center, graduated from Harvard College in 1966 and Harvard Medical School in 1970. He interned at the University of Chicago Hospitals and Clinics after which he served in the U.S. Army Medical Corps. He completed house staff training in primary care at Beth Israel in Boston. After a fellowship in GI at the University of Chicago, he returned to Boston to practice primary care and Gastroenterology for three decades in a private practice affiliated with the Beth Israel Hospital. During that period, he was a member of the GI division, was an attending physician and participated in their training program and in teaching HMS students at the school and in the hospital. In 2007, he moved to full time status with similar responsibilities at Beth Israel Deaconess Medical Center. Beside his interests in general gastroenterology, he focuses on nutrition as it relates to that field, short gut, and parenteral and enteral nutrition.
Activities outside medicine encompass many interests. His Harvard relationship includes longstanding participation as a board member of the Harvard Glee Club Foundation, singing with the Harvard Radcliffe Chorus and membership on the Collections Committee of the Harvard Arts Museums. At Tufts University, he is on the Board of Advisors of the Freidman School of Nutrition Science and Policy. He is head of the Physicians Advisory Committee and a Director of the Jewish Family and Children's Services. For decades he has sat on the Scientific Advisory Committee of the Southern New England chapter of the Crohn's and Colitis Foundation of America. He is on the Board of Governors of the Combined Jewish Philanthropies, and is an Overseer of the Boston Symphony Orchestra and the Museum of Fine Arts. He collects works on paper and has an extensive collection of medical art and antiques. For exercise, when not in the gym, he can be found on horseback. He and his wife, Melinda, Professor of English Literature at Brown University, have a home in Weston, Massachusetts where they have raised two sons and a daughter.
Joseph B. Martin
Conference Chair
Name a chair in the amphitheater of the Joseph B. Martin Conference Center in honor of a classmate, faculty member, spouse, or your family.