Aging human brain is focus of Beckerman Trust
Aging human brain is focus of Beckerman Trust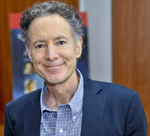 Is there a relationship between sites of DNA damage and changes in the expression of specific genes during aging? Does this relationship change in the genomes of individuals with cognitive decline, both at early stages and at the more severe stage known as Alzheimer's disease? And why are some individuals able to live past 100 and remain intact cognitively? To gain greater insight into these questions, Bruce Yankner, MD, PhD, professor of genetics and neurology at Harvard Medical School and co-director of the Paul F. Glenn Laboratories for the Biological Mechanisms of Aging, is researching the molecular basis of brain aging and neurodegenerative disorders such as Alzheimer's.
This important work is being supported by the late George Beckerman, who established a charitable remainder trust in 2000 to benefit HMS. The gift provided him with a tax deduction and income before his death at age 97. Now the principal is benefiting Yankner's research and other laboratories.
"George Beckerman was someone with a long view," says Yankner, recalling numerous meetings with his benefactor over the years. "He was a visionary who funded my team's research at a critical phase, when speculative, large-scale database research was not easy to fund. And he played a large role in our initial demonstration of gene changes in the aging brain."
Beckerman, a successful real estate investor, has been described as smart, dynamic, and upbeat. Having lived with diabetes for more than 70 years, he is believed to be one of the longest survivors of the disease treated with insulin. His own experiences with chronic illness, and seeing family members suffer from others, solidified his commitment to improving the quality of life for those around him.

Yankner's newest discovery, published March 19, 2014 in the journal Nature, shows that a gene regulator called REST, dormant in the brains of young people, switches on in normal aging brains to protect against various stresses, including abnormal proteins associated with neurodegenerative diseases. REST is lost in critical brain regions of people with Alzheimer's disease.
"If true, this opens up a new area in terms of treatment possibilities for the more than 5 million Americans currently living with Alzheimer's disease," said Yankner, who in the 1990s was the first to demonstrate the toxic effects of amyloid beta, the hallmark abnormal protein in Alzheimer's.
Gift
Calculator
Try our free interactive calculator to explore how you would benefit from a charitable gift annuity.
Contact us for a personal gift illustration:
Karen S. Turpin
Senior Director of Gift Planning
(617) 384-8449 or (800) 922-1782
karen_turpin@hms.harvard.edu