Shirley Marks, MD '73, MPH '76
Spotlight Q & A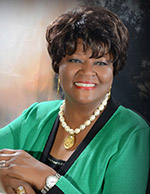 Describe the impact that Harvard Medical School has had on your career.
Attending Harvard Medical School, particularly as an African-American woman, opened a lot of doors. There is a certain level of competency expected from an HMS graduate and, for me, I found that I was treated with respect, with a capital "R." I so greatly appreciate the opportunity to have attended HMS and look forward to celebrating my 45th Reunion this spring.
You established a deferred charitable gift annuity—a gift vehicle with unique benefits—to support HMS. What in particular made this vehicle attractive to you?
As someone who is mostly retired, the deferred charitable gift annuity (DCGA) has a lot of appeal for me. I want to give back to HMS, but I do not have the ability to replenish discretionary funds. With a deferred CGA, I am able to support HMS while receiving income through annuity payments, which I can defer in order to receive a higher amount than if I had accepted them immediately. I also receive a charitable tax deduction in the year I make the gift. I do not have any heirs and want to make sure my assets are used for good after I pass. With a deferred CGA, any remainder from my gift is left to HMS, and this is very appealing. I established my first deferred CGA for my 40th Reunion in 2013 and plan to make an additional gift for my 45th Reunion this year.
Do you have any thoughts or advice for others considering a current or deferred CGA?
If you are of the Baby Boomer generation like me, we are of the age where we should be able to give. You don't need a lot of money to make an impact. A deferred CGA is a wonderful vehicle that takes the assets that you do have, provides income for life, and supports the School.
What impact do you hope your gift has?
I was a recipient of financial aid at HMS, so I truly understand the power of that extra support toward obtaining a medical education. I hope that my gift provides for students in need who, like me, would not have otherwise been able to attend HMS. I am so happy to be able to help the next generation of medical students achieve their goals in this small way.