Howard Abel
Howard Abel

Upon establishing a practice in hematology and oncology in 1969, you became the first practitioner of these specialties in Fort Lauderdale, Fla. How did your education at Harvard Medical School impact your career?
Following graduation in 1962, I chose to practice medicine in a Florida community, where, more than 1,000 miles from the Quad, my Harvard degree gained attention. The excellent education and training I received at a world-renowned institution like HMS permitted me to rapidly obtain the confidence of my colleagues, the referral of their patients, and the establishment and maintenance of a successful specialty practice for more than 37 years. Beyond medical science and direct patient care, HMS also provided an early background in ethical, social, and political issues that ultimately allowed me to obtain local professional leadership positions.
You have included a $100,000 bequest in your will to support student scholarships at HMS. Why is this area of particular interest to you?
My parents, who initially had very modest means, planned well for my education. I did not incur any debt in the course of my schooling at Cornell University and Harvard Medical School, and for this I am immensely grateful and appreciative. I have expressed my gratitude to my parents by providing for the education of our children and our three grandsons. My bequest to HMS is a further expression of this gratitude, and I hope that in some measure it will help to ease the cost of medical education for tomorrow's students. The current HMS classes consist of some of the country's finest young people.  They will be the leaders of our profession, and they require and deserve our support.
Your father, Joseph Abel, also directed $50,000 from his estate to Harvard Medical School. Does the School have special importance to your family?
My father's bequest was established, in part, to express his appreciation for the education I had received. But it was also executed in recognition of the enduring nature of Harvard Medical School and its compelling mission to advance medical science and alleviate human suffering caused by disease. 
Ezekiel Hersey
Council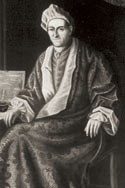 The EHC recognizes alumni, alumnae, and friends who have created a life income gift or included HMS in their estate plans to continue the tradition of excellence. Learn more »
Our
Donors

HMS is grateful for the support provided by alumni, alumnae, and friends who have created a life income gift or included the School in their estate plans to continue the tradition of excellence. Through their generosity, they leave their mark on the future of medicine. Read some of their stories »