A storied medical and military career
A storied medical and military career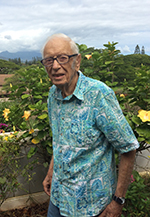 "My contemporaries and I were strongly influenced by World War II. We wore uniforms, saluted when required, and lived in barracks in Vanderbilt Hall. It was a military life," says Dale.
The war was over by the time he graduated from HMS in 1947 at age 24. After completing an internship in Seattle, he began his residency in psychiatry at the Colorado Psychopathic Hospital and completed it while on active duty at Walter Reed National Military Medical Center.
His medical practice took the Idaho native to numerous locations in the U.S. and to the Pacific Ocean region. "For 33 years until retirement, my medical practice involved a close faculty association with the University of Hawaii School of Medicine," says Dale.
In honor of his 70th Reunion earlier this year, Dale gave $150,000 to HMS to establish a charitable gift annuity (CGA). He says this CGA allows him to sleep better knowing that no matter what happens with the stock market, it won't affect the quarterly fixed-income payments he receives.
"Harvard Medical School has always been at the forefront of an amazing culture of honesty, directness, and good regard for others. This annuity honors that culture of doing the right thing," says Dale.

Through this campaign, we will address the greatest health care challenges of our time to help people live longer, healthier lives. Learn more »
The Benefactor
Partners in Education, Discovery, Service, and Leadership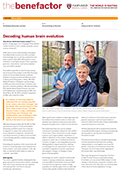 Download and read archived issues of our bi-annual publication to honor and acknowledge our most generous friends and supporters.