Red Sox Foundation goes to bat for Project Success
Red Sox Foundation goes to bat for Project Success
But Wolfe, PhD, now a professor of ophthalmology and radiology at Harvard Medical School and director of the Visual Attention Lab at Brigham and Women's Hospital and HMS, realizes that most high school students aren't given the same opportunity. "Access to that kind of opportunity should depend on interest, commitment, and talent, not on whether your parents happen to have the right connections," Wolfe says.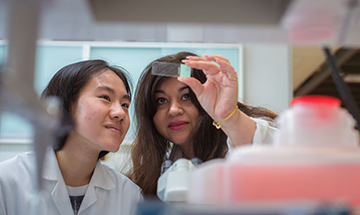 That thinking inspired Wolfe to open up his lab to Project Success, a program that allows Boston and Cambridge high school students from disadvantaged backgrounds or from groups underrepresented in medicine to engage in paid summer research internships under the mentorship of HMS faculty. Wolfe has hosted one to three students from the program every year for more than 20 years.
However, there would be no Project Success without dedicated philanthropic support. The Red Sox Foundation has stepped up to the plate with a gift of $120,000. This funding supports 10 students, known as Red Sox Foundation interns, each year for three years.
"These opportunities afford students with enormous potential an experience they might otherwise not have access to and open their minds to another level of learning," says Gena Borson, executive director of the Red Sox Foundation, which has supported Project Success since 2013. "The personal and professional growth that they can make in just one summer is invaluable."
Katie Yao, who participated in Project Success in 2016 and 2017 and will enroll at Boston University in January, says the program helped her develop research and critical thinking skills that she has applied at school. She said she always wanted to become a physician and, after Project Success, "I definitely wanted to continue on that track."

Through this campaign, we will address the greatest health care challenges of our time to help people live longer, healthier lives. Learn more »
The Benefactor
Partners in Education, Discovery, Service, and Leadership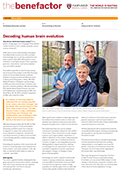 Download and read archived issues of our bi-annual publication to honor and acknowledge our most generous friends and supporters.