Putting global mental health on the map
Putting global mental health on the map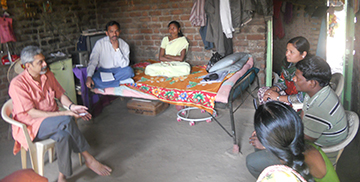 "Mental health is an integral component not just of every person's well-being, but of every global health program," says Patel. "It is unacceptable, for example, that a program seeking to improve maternal health or the health of people living with HIV should focus only on their narrowly defined biomedical physical health concerns, ignoring the psychosocial factors which are so deeply intertwined with them."
This conviction has inspired his research on the burden of mental disorders, their association with poverty and social disadvantage, and the use of community resources for the delivery of prevention and treatment programs. He has left an indelible mark on the field by co-founding the Centre for Global Mental Health at the London School of Hygiene and Tropical Medicine, the Centre for Chronic Conditions and Injuries at the Public Health Foundation of India, and Sangath, an Indian nongovernmental organization that has received the MacArthur Foundation's International Prize for Creative and Effective Institutions and the World Health Organization's Public Health Champion of India award.
Now Patel is bringing his passion and expertise to Harvard Medical School, where he has been named the inaugural Pershing Square Professor of Global Health. The professorship was established with generous endowed support from The Pershing Square Foundation, the private family foundation of Bill Ackman, AB '88, MBA '92, and Karen Ackman, MLA '93, based in New York City.
"We have a deep interest in helping future leaders gain exposure to the right environments," says Pershing Square Foundation President Olivia Tournay Flatto, PhD. "This professorship has the ability to inspire students to go into the field of global health, work alongside visionaries like Vikram Patel, and bring new ideas into the field, which is constantly evolving."
Branching Out
After receiving his formal training in medicine and psychiatry at major teaching hospitals in Mumbai, Oxford, and London, Patel says he realized he was unprepared to address mental health problems in populations where there were very few mental health professionals and high levels of social disadvantage, and where the understanding of mental health differed greatly from that of biomedicine.
"This was when I was drawn to the field of global health, which was attempting to address similar challenges in other areas of medicine, notably infectious diseases. The field of global mental health grew out of the marriage of the disciplines of psychiatry and psychology on the one hand and global health on the other," he says.
In coming to HMS, Patel says he most looks forward to the opportunity to work with global leaders in the diverse disciplines—including neuroscience and digital, implementation, social, and clinical sciences—that are central to his vision of global mental health.
"Of course, I am also very excited to serve in a department which is home to scholars who have made historic contributions on the cultural and social determinants of mental health and of the practice of global health delivery, both of which are the foundations of global mental health," he says.
As for the professorship, Patel says it is a once-in-a-lifetime opportunity. It will allow him to consolidate his ongoing work, including developing new opportunities to teach mental health and sustainable development, while exploring exciting new areas of innovation, such as leveraging digital technologies for person-centered care and emphasizing prevention through interventions early in people's lives.
"Philanthropic support from The Pershing Square Foundation provides me with a unique platform to pursue such a diverse and ambitious program of work," says Patel.

Through this campaign, we will address the greatest health care challenges of our time to help people live longer, healthier lives. Learn more »
The Benefactor
Partners in Education, Discovery, Service, and Leadership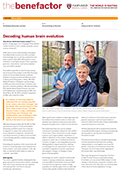 Download and read archived issues of our bi-annual publication to honor and acknowledge our most generous friends and supporters.