Moskovitzes continue to boost Alzheimer's research
Moskovitzes continue to boost Alzheimer's research
Despite the grim statistics, researchers at the Harvard NeuroDiscovery Center (HNDC) believe Alzheimer's research is entering an exciting phase. The discovery of biomarkers, or indicators, over the last 20 years, coupled with increasing amounts of longitudinal data, have made it possible to study more effectively how the disease unfolds. In addition, antibody treatments for Alzheimer's are in advanced stages of clinical trials around the world.
Thanks in large part to initial funding from the Rick and Nancy Moskovitz Foundation, the HNDC Deep Phenotyping: A Longitudinal Alzheimer's Biomarker Program began in 2014. Among other goals, it aims to develop a range of biomarkers that will help identify those at greatest risk for developing the disease, accurately diagnose it at presymptomatic stages, understand how it will progress in individual patients, and determine how those patients are likely to respond to specific antibodies or drugs and drug combinations.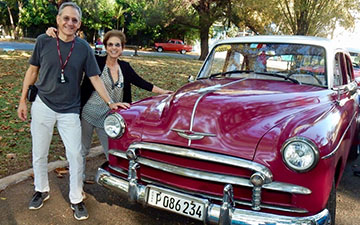 "We put a lot on the line for something with an unknown outcome because we believe in basic research. The more tools we have to define the fingerprints of this disease, the better our chance of finding effective treatments," says Rick Moskovitz, AB '69, MD '73.
Since their initial seed funding, the Moskovitzes have been impressed by the project's progress and have given several subsequent gifts, bringing their total investment to more than $4 million since the program began.
Dennis Selkoe, MD, joint head of the program and the Vincent and Stella Coates Professor of Neurologic Diseases at HMS and co-director of the Center for Neurologic Diseases at Brigham and Women's Hospital, is also pleased with the progress researchers have made over the last three years.
He says they now have a significant collection of neuronal cultures from many Alzheimer's patients and a growing data set of immensely valuable PET brain scans revealing previously unrecognized characteristics of what are thought to be very early signs of brain disease. In a recent development, researchers have taken a significant step toward detecting signs of abnormal Alzheimer proteins in the blood.
"With another year of the program still to go, there is no question that this extraordinary gift continues to move us closer to the day when we will be able to identify those at risk of Alzheimer's, hopefully with a simple, inexpensive blood test. It is our hope that we and others will be able to use such a test to identify and start treating patients before they have symptoms and thereby help prevent or at least delay this terrible disease," says Selkoe.
The impact of the project goes far beyond this specific research. The stable four-year funding provided by the foundation has helped the HNDC build a strong and collaborative core team of experienced researchers and pay for equipment that forms the backbone of their imaging work.T
he project's success has also allowed the team to secure additional funding that will push forward a number of related research projects.
The Moskovitzes are thrilled that this work will continue and are confident in the HNDC's ability to find more effective methods of prevention and treatment. "What has impressed us most about the research team at the Harvard NeuroDiscovery Center has been how nimble they are in terms of their ability to plan and implement new studies quickly and efficiently, as well as to incorporate new findings with embellishments to the projects during their course," says Rick Moskovitz.

Through this campaign, we will address the greatest health care challenges of our time to help people live longer, healthier lives. Learn more »
The Benefactor
Partners in Education, Discovery, Service, and Leadership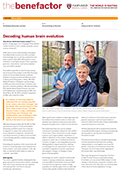 Download and read archived issues of our bi-annual publication to honor and acknowledge our most generous friends and supporters.