Gates Foundation seeks to end diarrheal disease deaths in children
Gates Foundation seeks to end diarrheal disease deaths in children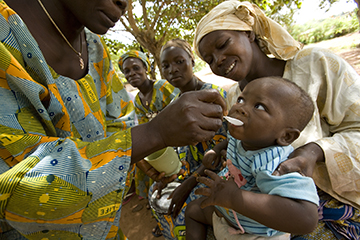 The Bill & Melinda Gates Foundation believes that no children should suffer or die from gastrointestinal or diarrheal infections. Therefore, it is focusing on vaccines as one of the most cost-effective ways to protect this young population from the devastating effects of these infections, including slower growth rates, impaired cognitive development, and death.
"The foundation is built around the guiding principle that all lives have equal value," says Anastazia Older Aguilar, program officer for vaccine discovery at the Gates Foundation. "One of the primary levers to increasing equity of opportunity is to improve access to quality health care. Many global health diseases lack adequate vaccines, therapeutics, diagnostics, or other tools. We aim to fund research addressing key knowledge gaps that are preventing the development of those solutions."
Enter the Mucosal Vaccine Consortium, which aims to develop a nanoparticle-based vaccine administered through a peripheral route to prevent enteric infections, and Ulrich von Andrian, MD, PhD, Edward Mallinckrodt Jr. Professor of Immunopathology and director of the Center for Immune Imaging at Harvard Medical School. The Gates Foundation has given a grant of nearly $2.7 million to support von Andrian, making its total support of this consortium, which includes investigators from the University of Washington and MIT, $4.5 million.
Von Andrian says oral vaccines, which often contain live attenuated microbes, can protect most people in Western countries from diarrhea caused by enteric pathogens, but might not work as well when administered to children in developing countries because of a host of factors, including vitamin deficiencies and existing gut dysfunction. By contrast, vaccines that are injected through the skin evoke immune responses regardless of a vaccine's geographic location, but the protective memory cells that arise in response to such "peripheral" vaccinations acquire migratory properties that guide them into the skin, providing suboptimal protection in other tissues, particularly the gut. The key, he says, is figuring out how to deliver a vaccine that can be injected through the skin but targets immune responses toward the intestine.
"Our strategy employs a parenteral vaccine antigen—paired with an adjuvant and retinoic acid—that generates a potent immune response in peripheral lymph nodes," von Andrian says. "Unlike lymphoid organs in the gut, skin-associated lymph nodes do not contain retinoic acid naturally. Our vaccine will supply skin-draining lymph nodes with exogenous retinoic acid, which is needed to instruct vaccineinduced 'memory' cells to acquire gut-homing properties. We believe that this strategy will allow us to target the immune response to the intestine, essentially bypassing the compromising effects of the gut's nutritional or microbiologic status that can hamper the effectiveness of oral vaccination in children in the developing world."
It is just this type of scientific inquiry that meshes with the foundation's culture, which Aguilar says is one of "impatient optimism." She says program officers and directors are empowered to invest in accelerating the testing of ideas that may not have a lot of preliminary data but could have a transformational impact on global health.
"We're extremely grateful that the Gates Foundation was willing to step forward to fund this research," says von Andrian. "This is an enormous public health issue that needs to be addressed, and it would be difficult for us to obtain federal funding for this work. We hope we're successful in identifying at least one vaccine formulation that can be moved into clinical trials."
Watch von Andrian's 90-second "Science Matters" video about why he studies the immune system
Science Matters with Ulrich von Andrian from Harvard Medical School on Vimeo.

Through this campaign, we will address the greatest health care challenges of our time to help people live longer, healthier lives. Learn more »
The Benefactor
Partners in Education, Discovery, Service, and Leadership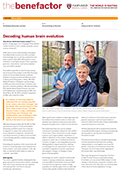 Download and read archived issues of our bi-annual publication to honor and acknowledge our most generous friends and supporters.