A fruitful partnership extended
A fruitful partnership extended
"I decided to extend my support … because of the success I heard about with respect to the work done last year," Prior says.
The inaugural project supported by Prior focuses on developing a medicine that corrects the disease-causing genetic mutation in patients with retinitis pigmentosa. This disease degrades the retina, impairing vision and eventually causing complete blindness.
Church's team has been building on the human gene-editing tool CRISPR (short for clustered regularly interspaced short palindromic repeats) "to specify the genetic sequence to be corrected," which is key to tailoring medicines to each patient's unique sequence. Cory Smith, PhD, a postdoctoral research fellow in Church's lab, is taking a more targeted approach to this work by focusing on transposable elements—DNA sequences that can move within a genome and have the ability to self-replicate—and more precise gene editing.
Prior says he expects the collaboration "to be even more fruitful" this year because Budenz and his team have a unique source of postmortem human eye tissue that will allow them to evaluate whether substances that have shown promise in vitro or in mice will be effective when human tissue is involved.
Church says Prior's $100,000 gift has enabled his team to develop and refine methods for correcting genetic and disease-causing mutations. He's thankful Prior recognizes the critical nature of the work, which he says has "huge potential to improve the quality of life and cure disease."

Through this campaign, we will address the greatest health care challenges of our time to help people live longer, healthier lives. Learn more »
The Benefactor
Partners in Education, Discovery, Service, and Leadership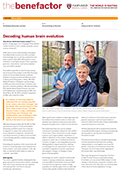 Download and read archived issues of our bi-annual publication to honor and acknowledge our most generous friends and supporters.