Ensuring world's poorest people get proper care
Ensuring world's poorest people get proper care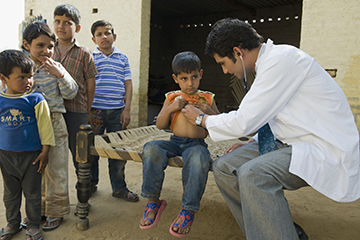 These diseases are not confined to older age groups. In the poorest countries, where up to 75 percent of the population is younger than 30, many of the cardiovascular diseases associated with risk factors of material poverty, such as rheumatic heart disease and some cardiomyopathies, strike at young ages, according to a paper written in support of the Lancet Commission on Reframing NCDIs for the Poorest Billion (Lancet NCDI Poverty Commission).
But what if millions of deaths from NCDIs—including cancers, cardiovascular diseases (the leading killer), diabetes, respiratory diseases, and many forms of trauma—among the world's poorest people could be prevented through better-informed policymaking? Are many people living in poverty dying because of harmful environments and lack of access to health systems, and not because of risky behaviors, as commonly thought?
The Lancet NCDI Poverty Commission was formed in late 2015 with the goal of assessing how to best address the health needs of the world's poorest populations. Two years later, the Commission is close to issuing its final report, which it hopes will help spur policymakers to prioritize NCDIs and achieve universal health coverage.
Gene Bukhman, MD, PhD, director of the Program in Global Noncommunicable Disease and Social Change at Harvard Medical School and co-chair of the Lancet NCDI Poverty Commission, says HMS has worked closely with the Commission to help advance its efforts. He says philanthropic funding allows the program to "maintain (its) unique focus on NCDIs in populations living in extreme poverty."
One source of that funding is a donor whose recent gifts to HMS in support of the Commission's work total $272,000. The donor, who wishes to remain anonymous, praised the Commission's courage and tenacity and hopes its work will trigger more informed discussion and prioritization of NCDIs of poverty at next year's U.N. high-level meeting on noncommunicable diseases.
The Commission's work, the donor says, has highlighted "the need for all of us to take up this cry for countries to prioritize their poorest and most vulnerable populations, who have been neglected in the NCDI community."

Through this campaign, we will address the greatest health care challenges of our time to help people live longer, healthier lives. Learn more »
The Benefactor
Partners in Education, Discovery, Service, and Leadership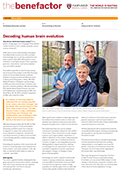 Download and read archived issues of our bi-annual publication to honor and acknowledge our most generous friends and supporters.