Decoding human brain evolution
Decoding human brain evolution
While there is some understanding of the genes that differentiate humans from other primates, that knowledge has not yet fully explained human brain evolution. But a $10 million grant to some of Boston's most highly evolved minds in genetics, genomics, neuroscience, and human evolution may soon lead to answers.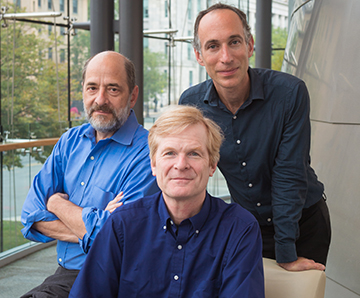 The Seattle-based Paul G. Allen Frontiers Group has announced the creation of the Allen Discovery Center for Human Brain Evolution at Boston Children's Hospital and Harvard Medical School. It will be led by Christopher A. Walsh, MD, PhD, Bullard Professor of Pediatrics and Neurology at HMS and chief of the Division of Genetics and Genomics at Boston Children's. Michael Greenberg, PhD, Nathan Marsh Pusey Professor and chair of the Department of  Neurobiology at HMS, and David Reich, AB '96, DPhil, professor of genetics at HMS, will co-lead the center.
"As a species, we have long sought to understand how our amazing capacities for art, science, and culture emerged," says Tom Skalak, PhD, executive director of The Paul G. Allen Frontiers Group. "This Allen Discovery Center is using a combination of pioneering new techniques and interdisciplinary ways of  thinking to make progress toward answering questions that lie at the heart of our humanity."
HMS Dean George Q. Daley, AB '82, MD '91, PhD, says that the research  conducted by Walsh, Greenberg, and Reich spans from molecule to organism to system and underscores the cross-pollination among basic, translational, and clinical discovery, as well as across the fields of neurobiology, genetics, evolutionary biology, and neurology.
"Unraveling the mysteries of the human brain will propel our understanding of brain development, brain evolution, and human behavior. It also will help us understand what makes us unique as a species," says Daley.
Bold Agenda
The center's agenda includes cataloging the key genes required for human brain evolution, analyzing their roles in brain development and cognition, and studying their functions to discover evolutionary mechanisms.
Walsh says the team will take a multipronged approach that reflects how evolution works in nature and identifies how experience and environment affect the genes that gave rise to modern human behavior.
The researchers think not one but multiple mechanisms of evolution helped form the modern human brain. These mechanisms include changes to genes, such as gene addition, duplication, or deletion; alterations in the protein-coding sequence of genes to create new or modified biochemical functions; changes in noncoding DNA sequences altering patterns of gene expression, allowing an existing gene to be "repurposed" to become amenable to regulation by sensory experience; and polygenic changes, or changes in many genes working together.
Accordingly, the center's research methods will include, in varying combinations, sequencing of ancient DNA recovered from bones and teeth of ancient humans; genomic studies of large populations to identify regions that correlate with human traits; genetic studies to test functional effects of mutations in the evolutionarily important genomic sequences; and functional studies in neurons to determine the roles of these evolutionarily
important sequences in the brain.
All these approaches will be supported by powerful computational data analysis, reaching across genomes and populations over the span of hundreds of thousands of years.
"The launch of this center is a wonderful opportunity for three laboratories that have been working independently to come together and study the genetic, molecular, and evolutionary forces that have given rise to the spectacular capacities of the human brain," says Greenberg.
Reich says this generous funding from The Paul G. Allen Frontiers Group is profoundly exciting."It will allow us to use ancient DNA analysis to track changes in the frequency of genetic mutations over time, which will in turn illuminate our understanding of the nature of human adaptation," he says.

Through this campaign, we will address the greatest health care challenges of our time to help people live longer, healthier lives. Learn more »
The Benefactor
Partners in Education, Discovery, Service, and Leadership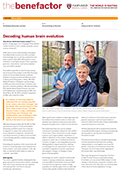 Download and read archived issues of our bi-annual publication to honor and acknowledge our most generous friends and supporters.