Commitment to students comes into focus
Commitment to students comes into focus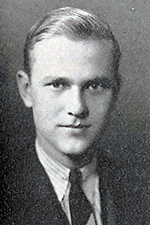 ​Lesemann, who died in 1995, was committed to another cause, too: Ensuring that Harvard Medical School students with demonstrated financial need are able to complete their education. A bequest of nearly $860,000 from his estate to support scholarships at HMS is proof of that commitment.
"Gifts supporting financial aid have enabled generations of students to learn medicine here and go on to become clinical leaders who have treated and healed millions or to become researchers who have changed the nature of medicine," says HMS Dean for Medical Education Edward M. Hundert, MD '84.
In fiscal year 2017, the average scholarship for MD students at HMS was $46,250, which is the equivalent of Lesemann's gift funding 18 student scholarships.
Lesemann was born in Chicago in 1914 and earned a bachelor's degree at the University of Chicago. After graduating from HMS, he trained to become a surgeon at the Mallory Institute of Pathology in Boston, Peter Bent Brigham Hospital (now Brigham and Women's Hospital) in Boston, and Cook County Hospital in Chicago.
During World War II, Lesemann performed surgeries at various hospitals in the European Theater of Operations. An article in the military publication Stars and Stripes from Jan. 9, 1946, makes mention of him at the 116th General Hospital in Nuremberg, Germany. The U.S. Army had gained control of the former German military hospital in 1945, relocated German patients, and set up operations there.According to the article, "Maj. Frederick J. Lesemann of Chicago, chief of surgical service, operates upon particularly delicate cases" at the hospital.
In 1947, Lesemann settled in Tucson, where he practiced general surgery until his retirement in 1979. During that time, he had a three-year stint as chief of staff at Tucson Medical Center.
Learn about the power of financial aid from the perspective of alumni and current students at hms.harvard.edu/dreams.

Through this campaign, we will address the greatest health care challenges of our time to help people live longer, healthier lives. Learn more »
The Benefactor
Partners in Education, Discovery, Service, and Leadership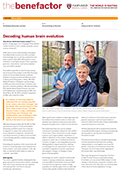 Download and read archived issues of our bi-annual publication to honor and acknowledge our most generous friends and supporters.