Alumnus supports next generation of academic leaders
Alumnus supports next generation of academic leaders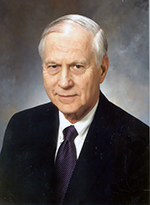 In addition to this landmark paper published in the New England Journal of Medicine, Herbst has had a long and successful career in patient care, teaching, and research, making his mark in the field of gynecologic cancer. He credits Harvard with much of this success. In honor of his 60th Reunion next year, Herbst has given an additional $150,000 to convert his existing research fund into the Arthur L. Herbst Endowed Scholarship Fund to support scholars interested in the reproductive sciences or women's cancers.
"The cost of medical education has become increasingly prohibitive," Herbst says, noting that he had a lot of help getting through Harvard, including a scholarship he received as an undergraduate and private support he received for his research during medical school. "Harvard trains people to become academic leaders in basic science research, clinical practice, various specialties, and across every discipline in medicine. This is a way for me to support the next generation."
Dean for Medical Education Edward M. Hundert, MD '84, says, "Support from inspiring alumni like Arthur enables any student to come to HMS and then go on to make their own mark on science, medicine, and the world."

Through this campaign, we will address the greatest health care challenges of our time to help people live longer, healthier lives. Learn more »
The Benefactor
Partners in Education, Discovery, Service, and Leadership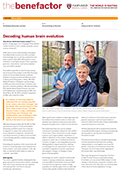 Download and read archived issues of our bi-annual publication to honor and acknowledge our most generous friends and supporters.