Alumnus gives back in honor of 35th Reunion
Alumnus gives back in honor of 35th Reunion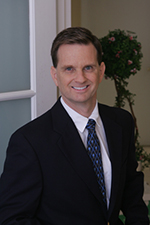 "My classmates were the most amazing group of people that I have ever known. I have great respect for all of them, and I am very grateful to have been a member of this illustrious group," he says. "HMS instills an expectation of excellence, and even though I am no longer in the Boston area, I feel an obligation to try to make a difference."
To this end, Peterson established two deferred charitable gift annuities (CGA) at HMS totaling $100,000 in honor of his 35th Reunion. "I wanted to make a meaningful gift, but I am not wealthy and live in Hawaii, which is a very expensive state, so I worry about retirement income and what the future holds," he says. By establishing a deferred CGA, Peterson funds the gift today but elects to postpone his income payments until his retirement.
Peterson's gift benefits the Class of 1982 Healthcare Outreach through Medical Education Endowed Scholars Fund, which provides support to HMS students who are committed to providing health services to underserved populations and communities in Boston. By earmarking this gift to his class fund, Peterson hopes it will indirectly support the work of his classmate James J. O'Connell III, MD '82, who serves as president of Boston Health Care for the Homeless, where most students supported by this fund choose to complete their projects.

Through this campaign, we will address the greatest health care challenges of our time to help people live longer, healthier lives. Learn more »
The Benefactor
Partners in Education, Discovery, Service, and Leadership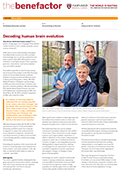 Download and read archived issues of our bi-annual publication to honor and acknowledge our most generous friends and supporters.