60th Reunion spurs financial aid gift
60th Reunion spurs financial aid gift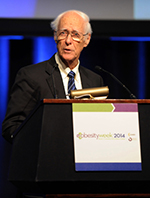 Inspired by attending his 60th Reunion in June, Bray, MD '57, has given $100,000 to create the George A. and Mary H. Bray Financial Aid Fund. The endowed fund is named in honor of his parents, whose "support deserves to be remembered," says Bray. He credits his mother for influencing his decision to choose HMS over other schools.
Gifts supporting financial aid are key to helping HMS keep its average graduating debt well below the national average. For example, students in the HMS Class of 2016 graduated with an average debt of $101,478, which is $100,000 less than the national average at private medical schools.
Most HMS students rely upon some form of financial aid. In academic year 2016–17, the HMS Financial Aid Office administered more than $37 million in loans, employment, and scholarship funding from various sources to approximately 80 percent of the student body.
Bray received scholarship funding toward his tuition each of his four years at HMS, while working to cover most of his other costs. "I hope this gift will help some other student who also needs help," he says

Through this campaign, we will address the greatest health care challenges of our time to help people live longer, healthier lives. Learn more »
The Benefactor
Partners in Education, Discovery, Service, and Leadership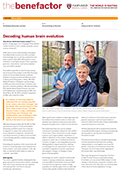 Download and read archived issues of our bi-annual publication to honor and acknowledge our most generous friends and supporters.