Corporations and Foundations
Corporations and Foundations
$2,000,000 - $4,999,999
Anonymous (2)
Laura and John Arnold Foundation
The Bill & Melinda Gates Foundation
Boston Plastic & Oral Surgery Foundation, Inc.
Burroughs Wellcome Fund
CHMC Surgical Foundation
Commonwealth Fund
Howard Hughes Medical Institute
Johnson & Johnson Global Health Services, LLC.
The Pershing Square Foundation
$1,000,000 - $1,999,999
Alfred P. Sloan Foundation
Biomedical Science Career Program
Damon Runyon Cancer Research Foundation
GE Foundation
Glenn Foundation for Medical Research
The JPB Foundation
Rett Syndrome Research Trust
Simons Foundation
The Lynch Foundation
$500,000 - $999,999
American Cancer Society
American Diabetes Association
Jane Coffin Childs Memorial Fund for Medical Research
Doris Duke Charitable Foundation
Leona M. and Harry B. Helmsley Charitable Trust
Jeffrey Modell Foundation, Inc.
Robert Wood Johnson Foundation
Life Sciences Research Foundation
The James S. McDonnell Foundation
New York Stem Cell Foundation, Inc.
Rick and Nancy Moskovitz Foundation
Susan G. Komen Foundation
$100,000 - $499,999
Adelson Medical Research Foundation
Aetna Foundation, Inc.
Aetna Life & Casualty Company
American Heart Association, Inc.
American Society of Nephrology
Biogen Foundation Inc.
Biogen, Inc.
Blue Shield of California Foundation
Breast Cancer Research Foundation
Cancer Research Institute
Cystic Fibrosis Foundation
Cystinosis Research Foundation
Donaghue Foundation
The Ellison Foundation
Ellison Medical Foundation
European Molecular Biology Organization
Caudalie Foundation
Foundation for Advancing Alcohol Responsibility
Michael J. Fox Foundation for Parkinson's Research
Charles A. King Trust
LAM Foundation
Leukemia Society of America, Inc.
Nancy Lurie Marks Family Foundation
G. Harold & Leila Y. Mathers Charitable Foundation
McKnight Endowment Fund for Neuroscience
Muscular Dystrophy Association, Inc.
Myeloproliferative Neoplasms Research Foundation
Pew Charitable Trusts
PhRMA
Red Sox Foundation
ResMed Inc.
Richard and Susan Smith Family Foundation
The Walter and Eliza Hall Institute of Medical Research
Vallee Foundation
Virginia and D.K. Ludwig Fund for Cancer Research
Weston Brain Institute
The Helen Hay Whitney Foundation
Louis E. Wolfson Foundation
$50,000 - $99,999
Anonymous
A. W. Baldwin Charitable Foundation, Inc.
American Academy of Neurology Institute
American College of Cardiology
American Lung Association
Anthem, Inc.
Athenahealth, Inc.
Blue Cross and Blue Shield Association
Brain & Behavior Research Foundation
Camille & Henry Dreyfus Foundation
Conquer Cancer Foundation
Francis Family Foundation
Friedreich's Ataxia Research Alliance (FARA)
Genzyme Corporation
Greenwall Foundation
Human Frontier Science Program
J. W. Kieckhefer Foundation
Jarislowsky Fraser Donor Advised Foundation
The Esther A. & Joseph Klingenstein Fund, Inc.
Edward Mallinckrodt, Jr. Foundation
National Multiple Sclerosis Society
Nikon Instruments, Inc.
NMX Research and Solutions Inc.
Patricia W. & Alfred E. Farah Charitable Gift Fund
Pfizer Inc.
PIVOT
Project A.L.S. Incorporated
Albert J. Ryan Foundation
Summit Partners
United Nations Office for Project Services
$25,000 - $49,999
Anonymous
Frank W. and Carl S. Adams Memorial Fund
Alopexx Enterprises LLC
American Medical Association Foundation
American Society of Human Genetics
Foundation Fighting Blindness, Inc.
Foundation for Neurologic Diseases
GlaxoSmithKline LLC
Juvenile Diabetes Research Foundation International
Karin Grunebaum Cancer Research Foundation
National Ataxia Foundation
National Institute for Health Care Management & Education Foundation
Nellie Mae Education Foundation
Nordblom Family Foundation
Novartis Institutes for Biomedical Research, Inc.
Orinoco Foundation
Paulin/Ferrell Living Trust
Princeton Area Community Foundation, Inc.
Pamela M. Smith Trust
Surface Oncology, Inc.
$10,000 - $24,999
Adelard A. & Valeda Lea Roy Foundation
American Society of Group Psychotherapy and Psychodrama
Anna-Maria & Stephen Kellen Foundation
Associated Grantmakers of Massachusetts
Cabot Family Charitable Trust
Centura Health
Charles H. Revson Foundation, Inc.
Colgate-Palmolive Company
The Charles A. Dana Foundation
Federation of American Societies for Experimental Biology
JESY Foundation
Massachusetts Medical Society
Mead Johnson Nutrition
Jessie Gwendolen Morse Trust
Seth Sprague Educational and Charitable Foundation
J.T. Tai and Company Foundation, Incorporated
Urban Edge Housing Corporation
US China SciTech Education Promotion Association, Inc.
Vertex Pharmaceuticals Incorporated
$5,000 - $9,999
AcademyHealth
The Boston Foundation
Jane B. Cook 1983 Charitable Trust
Elsevier Research Networks
Emergency Medicine Foundation
Grace J. Fippinger Foundation, Inc.
Forest Foundation
Merck & Co., Inc.
Pittsfield Anti -Tuberculosis Association
T. Rowe Price Program for Charitable Giving, Inc.
$2,000 - $4,999
American Academy of Oral Medicine
Apple Incorporated
Boston Bruins Foundation
Yvonne Cappeller Trust
Charles River Laboratories
Friends of the Italian Cultural Center of Boston, Inc.
Nature Microbiology
New England Biolabs, Inc.
$1,000 - $1,999
Beth Miller LLC
Cell Signaling Technology, Inc.
Evelo Biosciences, Inc.
Ginkgo Bioworks
Harvard Cooperative Society
Japanese American Citizens League New England Chapter
Middlesex Gases & Technologies, Inc.
Silvercrest Asset Management Group LLC
Thermo Fisher Scientific
Irving & Edyth S. Usen Family Charitable Foundation

Through this campaign, we will address the greatest health care challenges of our time to help people live longer, healthier lives. Learn more »
To our alumni, friends, and supporters
We make every attempt to correctly record and acknowledge your gift to Harvard Medical School. These lists includes gifts and pledges received in fiscal year 2017 (July 1, 2016, through June 30, 2017). Please alert us to any errors by contacting Christina Cowell, assistant director of donor relations, at (617) 384-8476 or by email at christina_cowell@hms.harvard.edu.
Our
Mission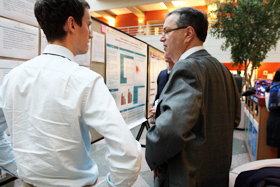 To create and nurture a diverse community of the best people committed to leadership in alleviating human suffering caused by disease.
Class
Honor Rolls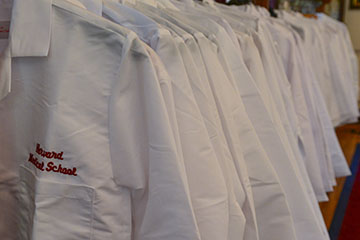 We appreciate the support received from more than 2,200 alumni that allows HMS to continue to accelerate in education, discovery, service, and leadership.