$50,000 to $99,999
$50,000+
Anonymous (3)
Jerald J. Bratberg, MD '69 ⁺
Reuben E. Eaves 
Vincent C. Giampapa
G.S. Beckwith Gilbert 
Katharine Gilbert 
Elizabeth Gross
Phillip T. Gross
Mark S. Hughes, MD '86 ⁺ º
Rhonda G. Kost, MD '85
Freda C. Lewis-Hall 
Fariborz Maseeh
Larry P. Mayola ⁺
Kathleen M. Paul 
Laurence E. Paul, MD '90 º
Mary Ann Pesce Choate 
Wesley P. Peterson, MD '63 ⁺
Estate of Mark Sakaley
Delia N. Sang ⁺ 
Edward Schulak 
Eileen C. Shapiro ⁺ 
Alfred Z. Spector
Virginia Ann Van Seters ⁺
Arthur G. Weiner *
John R. Wesley, MD '67
Augustus A. White 
Sankey V. Williams, MD '70 º
Gwill E. York
Legend
+ Ezekiel Hersey Council º Federman Loyalty Circle * Deceased

Through this campaign, we will address the greatest health care challenges of our time to help people live longer, healthier lives. Learn more »
To our alumni, friends, and supporters
We make every attempt to correctly record and acknowledge your gift to Harvard Medical School. These lists includes gifts and pledges received in fiscal year 2017 (July 1, 2016, through June 30, 2017). Please alert us to any errors by contacting Christina Cowell, assistant director of donor relations, at (617) 384-8476 or by email at christina_cowell@hms.harvard.edu.
Class
Honor Rolls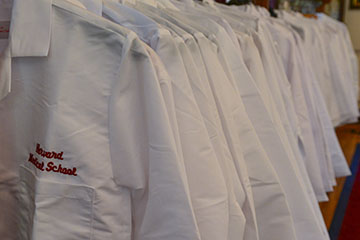 We appreciate the support received from more than 2,200 alumni that allows HMS to continue to accelerate in education, discovery, service, and leadership.