GE Foundation empowers local, global communities
GE Foundation empowers local, global communities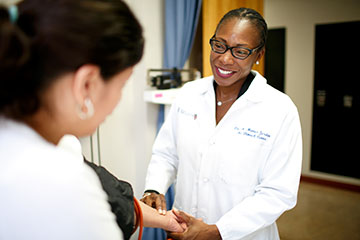 Through a grant of nearly $400,000, the GE Foundation is supporting the HMS Center for Primary Care in its work to improve patient access to behavioral health services, including care for mental health conditions and substance use disorders. A shortage of primary care providers, limited transportation options, and affordability are all factors that impede the ability of both insured and uninsured individuals to access primary care and specialty care services.
According to Russell Phillips, MD, William Applebaum Professor of Medicine and director of the HMS Center for Primary Care, connecting primary care patients to behavioral health services—including mental health and substance use treatment—is often challenging due to disjointed processes and workflows. This is especially true for patients in community health centers (CHCs), which serve populations with limited access to health care.
Through its Advancing Teams in Community Health program, the Center for Primary Care is working to build leadership, teams, and improvement capacity at as many as 50 CHCs across Massachusetts over five years. CHCs select from one of three improvement areas, one of which is to expand access to behavioral health care, with the goal of integrating that care seamlessly into their primary care practices. The program provides care teams with the tools and resources needed to more quickly assess and treat patients' behavioral health needs.
Jennifer Edwards, director of the GE Foundation's U.S. Developing Health Program, says the benefits of integrating behavioral health into primary care are significant. "Patients struggling with mental health conditions or substance use disorder in most cases also have a co-occurring physical health condition, such as diabetes and heart disease. Expanding access to care for both conditions by a primary care provider who the patient knows and trusts increases patient engagement, treatment compliance, and holistic care, which can have a significant impact on the health outcome of that patient," she explains.
Phillips says support from the GE Foundation enables HMS to spend an additional year working with CHCs focused on behavioral health integration. "Two years of shared work is so critical to achieving sustainable improvements," he adds, noting that the original Advancing Teams program was 10 months long.
Safe Surgery
A second grant of more than $5 million from the GE Foundation advances work by HMS's Program in Global Surgery and Social Change (PGSSC) to improve access to safe, affordable, and timely surgery and anesthesia care as part of the Safe Surgery 2020 initiative. More than 17 million people will die this year of surgically related conditions, surpassing the death toll from AIDS, tuberculosis, and malaria combined.
Why? PGSSC Director John Meara, MD, DMD, MBA, and Research Director Mark Shrime, MD, MPH '11, PhD '15, explain that surgical conditions cut across all disease categories. In order to provide safe surgery, the entire health system must function properly.
"In other words, if countries make the investments to provide safe surgery and all that it entails, they simultaneously strengthen their overall health systems and make them more resilient," says Meara, the Steven C. and Carmella R. Kletjian Professor of Global Surgery.
This is precisely why the GE Foundation launched the Safe Surgery 2020 Initiative, bringing unlike minds together from the academic, public, and private sectors to help alleviate the access issue for 5 billion people worldwide and reduce the global disease burden. "It aligns with how GE as a company thinks about innovation," says Asha Varghese, director of the GE Foundation's Global Health Program. "We feel that it is our obligation to take a leadership role and elevate ideas to some of the world's toughest challenges."
HMS leads the monitoring and evaluation arm of Safe Surgery 2020. Its work consists of assessing the surgical systems in place to address the health and financial burdens of surgical disease in target countries and training assessors identified by in-country partners to perform follow-up surveys.
Shrime says partnering with the GE Foundation on this work has been crucial. "The GE Foundation saw the vision early and has decided to fix this problem. With this funding, we hope to show that fixing the surgical infrastructure will have long-lasting effects on the health of a population," he says.
Safe Surgery 2020 Director Erin Barringer says the goal is to define a new model of partnership among ministries of health, funders, and implementing partners to identify and address priorities to transform surgical care in countries.
"At an individual level, our hope is that Safe Surgery 2020 gives mothers in Ethiopia and Tanzania access to safe C-sections, allowing mothers and their babies to survive, become a family, and make valuable economic contributions to their countries. It allows a man involved in a traffic accident to access quick and safe surgery to repair his acute abdominal wound and return quickly to work and his family. And it convinces other individuals—specifically those with money and power—to give greater attention to surgery among other global health priorities," says Barringer.

Through this campaign, we will address the greatest health care challenges of our time to help people live longer, healthier lives. Learn more »
The Benefactor
Partners in Education, Discovery, Service, and Leadership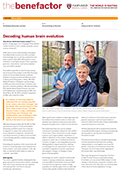 Download and read archived issues of our bi-annual publication to honor and acknowledge our most generous friends and supporters.